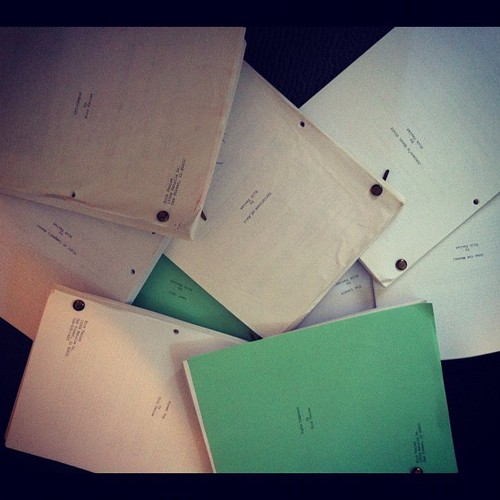 This is your chance to discuss the week's amateur scripts, offered originally in the Scriptshadow newsletter. The primary goal for this discussion is to find out which script(s) is the best candidate for a future Amateur Friday review. The secondary goal is to keep things positive in the comments with constructive criticism.
Below are the scripts up for review, along with the download links. Want to receive the scripts early? Head over to the Contact page, e-mail us, and "Opt In" to the newsletter.
Happy reading!
TITLE: LOWLIFE
GENRE: CRIME THRILLER
LOGLINE: With a newborn in a coma, a small-time enforcer is pushed deeper into a world of violence and deceit when he finds himself indebted to the dirtiest cop on the street.
WHY YOU SHOULD READ: I have spent way too much time polishing this thing to just let it go. It placed in the quarter-finals of the Nicholl's last year and the semi-finals of the Screencraft Fellowship earlier this year, but the real goal here is to have it posted on AOW. I have submitted it before with no results, but this draft is not only the latest, not only the greatest, but the last. I'm moving on to other projects and putting this in my arsenal for now, but not without trying to get it out to my fellow SS commentators one more time.
TITLE: A Cinematic End
GENRE: Contained Thriller/ Dark Comedy
LOGLINE: A man retreats to his secluded cabin to commit suicide. His plans are delayed when movie characters start showing up.
WHY YOU SHOULD READ: Because the logline grabbed your attention. I also whipped up this poster to get some additional interest going: http://imgur.com/LW8xcSq
TITLE: Knit Wits.pdf)
GENRE: Comedy
LOGLINE: After the passing of their mother, three estranged brothers must reunite and take over the family knitting business.
WHY YOU SHOULD READ: "Knit Wits" is a cross between "Horrible Bosses" and "Silver Linings Playbook." It's an edgy comedy with a lot of heart that focuses on three men running a knitting business. Now, I tried to learn how to knit in order to do some research before writing the script, but it was a total nightmare. Much of that frustration is showcased in this spec. Knitting is not for me. However, writing about it in a comedic way is much more my style and a hell of a lot more fun!
TITLE: Simple Acts
GENRE: Dramedy
LOGLINE: A cynical self-destructive film critic finds a new perspective on life through a close-knit benevolent family.
WHY YOU SHOULD READ: Having read hundreds of amateur screenplays on my job and only finding about 2% of them to be competent, I completely empathize with you when so many of the scripts you read get a 'wasn't for me'. I feel the pain dawg! I thought I should give you a script which charms and entertains you enough so that the time and efforts you spend on reading it is rewarded with at least a few chuckles and smiles.
TITLE: The Devil's Hammer
GENRE: Horror
LOGLINE: When an outlaw biker, and soon to be father, attempts to leave the sins of his old life behind, he is pushed by a vengeful Sheriff into the arms of an ancient cult of disease worshiping sadists.
WHY YOU SHOULD READ: I possess a Bachelor of Liberal Arts from Harvard University and have written published columns for multiple notable financial sites such as; Seeking Alpha, Morning Star and Yahoo Finance. On-top of all this, I am a kid from the streets, who grew up in squats, and gang life. This screenplay hits home for me.