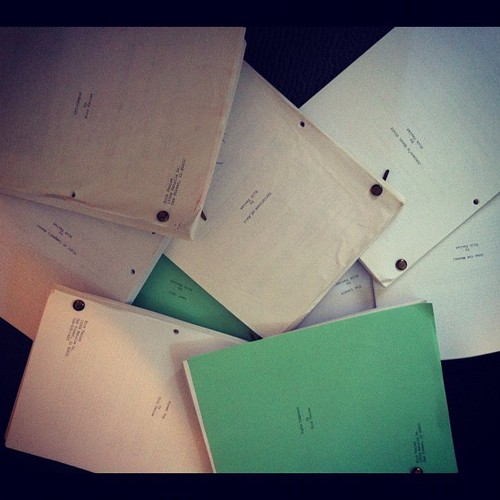 This is your chance to discuss the week's amateur scripts, offered originally in the Scriptshadow newsletter (although the newsletter hasn't gone out this week – we're working tirelessly on it – it might have to wait until Thursday). The primary goal for this discussion is to find out which script(s) is the best candidate for a future Amateur Friday review. This week is a bit different – we have a couple 'comeback' scripts from writers who are determined to show off new and improved work! If you've been featured on AOW before and want another chance, email carsonreeves3@gmail.com explaining what changes you've made and why you deserve a second chance! :)
Want to receive the scripts early? Head over to the Contact page, e-mail us, and "Opt In" to the newsletter.
Happy reading!
TITLE: Static Town
GENRE: Comedy, Coming of Age
LOGLINE: Fed up with the overuse of social media, a teenager purposely causes a power outage in his town in hopes to win over the new girl at his school.
WHY YOU SHOULD READ: A little blurb: I miss the John Hughes days of teen films. Here's a poster I threw together. http://imgur.com/gvgoefV
TITLE: THE WALK-ONS
GENRE: Comedy, Sports
LOGLINE: A disgraced high school baseball coach is hired by a local college that's lost all it's players, and must build a team entirely of walk-ons, including a group of hard partying players he coached in high school.
WHY YOU SHOULD READ: First off, I want to say that I love sports movies, and yet it's a genre that has been hurting for over a decade. This script is about the growing lack of interest in baseball, while at the same time rediscovering how the sport can make a great setting for a movie. I myself never watch more than a few pitches before looking for the remote, yet anytime one of the baseball classics come on, Major League, A League of Their Own, The Natural, Moneyball, I HAVE TO WATCH. Whether you love baseball, once loved baseball, or never played but enjoy a good comedy script, THE WALK-ONS is for you.
TITLE: Primal
GENRE: Horror
LOGLINE: After survivors of a recent hurricane relocate to a quiet Louisiana bayou town, a creature goes on a nightly rampage of terror and carnage. Convinced it is the legendary werewolf known as loup garou, an intrepid teen vows to discover the beast's true identity and destroy it.
WHY YOU SHOULD READ: This script is my take on the classic monster movie. The story moves quickly, is filled with colorful characters and contains a truly badass werewolf. It's placed well in a couple smaller contests and now I want to see how it fares in the AOW thunderdome.
~ COMEBACK SCRIPT ~
TITLE: Facade
GENRE: Drama, Noir, Mystery
LOGLINE: Set in the idyllic 1950's American suburbs, an unknowing police detective investigates the murder of a teenage boy but slowly realizes that not everything or everyone is as they appear.
WHY YOU SHOULD READ: There are some pretty great characters and moments and twists and turns, in an old-fashion noir style. There's a strong theme running through it as well. I like to think of it as "Laura" meets "Ordinary People" with a dash of "Chinatown." Overall, I'm proud of what I accomplished, especially since I began this project when I was 15, but I know there are a lot of things I could improve. I ultimately just want some good feedback and suggestions, and to know what Carson thinks of it. I've never been a finalist at Nicholls or Page or Bluecat, or any other prestigious screenplay competition, nor do I have a Master's in Screenwriting at NYU. I don't have any compelling stories about how my script was optioned by a major studio only to have them turn their back on it at the last minute, bringing all my dreams to crushing end. All I can really say is that I have a lot of passion and pride about this, and it's a pretty darn good script. Give it a shot!
~ COMEBACK SCRIPT ~
TITLE: The Cloud Factory
GENRE: WW2 romantic drama, coming-of-age, LGBT.
LOGLINE: After a near-fatal crash-landing, an American pilot falls for her aristocratic physician, forcing her to confront her sexuality and gender prejudice of class-divided WW2 Britain.
WHY YOU SHOULD READ: It's shamelessly greedy, I know, to try for a second bite at the AOW cherry when so many others are still vying for their first. But I got so much terrific advice from the first bite, and TCF's evolved as a result. This is partly a 'Thank you; I heard you.'
Back on July 18th, 2013, Carson warned about the six types of scripts least likely to get you noticed. These included the coming-of-age script and the straight drama. Needless to say, I didn't get that memo until 'way too late and rolled two types into one script. Mulesandmud commented recently about a producer asking him why he'd ruin his career writing a female protagonist. I didn't get that memo, either, and I've included two of 'em. In poker parlance, I'm going 'all in.' No guts, no glory. But mostly I've just tried to write what I'm passionate about. In this case, a young woman's coming-of-age / coming-out story set against the backdrop of WW2 and her work as a ferry pilot. Fictional protags, but lots of real historical details, events, and a few characters based on real people to heighten authenticity. I humbly invite you to again be the judges, and thank you in advance for your feedback.