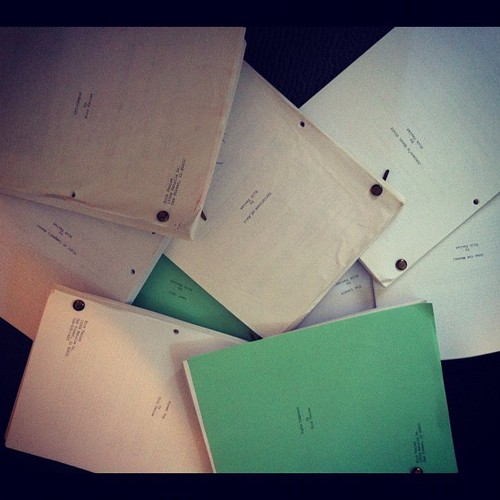 This is your chance to discuss the week's amateur scripts, offered originally in the Scriptshadow newsletter. The primary goal for this discussion is to find out which script(s) is the best candidate for a future Amateur Friday review. The secondary goal is to keep things positive in the comments with constructive criticism.
Below are the scripts up for review, along with the download links. Want to receive the scripts early? Head over to the Contact page, e-mail us, and "Opt In" to the newsletter.
Happy reading!
TITLE: The Sleeper
GENRE: Political Thriller
LOGLINE: When a lobbyist's daughter is kidnapped by a rogue group of protesters attempting to get a bill passed his clients vehemently detest, he must find those responsible before his life spirals out of control.
WHY YOU SHOULD READ: Something interesting? I'll leave you with a quote from a reader on The Blacklist who recently read this: "THE SLEEPER features a taut, propelling pace that makes for a page-turning thriller, and its political themes ground the proceedings in a prescient sense of reality that prevents the story from becoming rote spectacle. Nicholas is an intriguingly flawed protagonist whose dueling desires to both rescue Alison and protect his own career create a fantastic moral quandary that makes him both endearing and morally questionable."
TITLE: The Fearless Advocacy of the Truth
GENRE: Real life thriller
LOGLINE: The true story of a provincial lawyer seeking to uncover the truth that will ultimately bring down Britain's biggest newspaper.
WHY YOU SHOULD READ: "If you do have a high BOI [burden of investment], you better have one whopper of a story" – Carson Reeves
Maybe I shouldn't have chosen the man who owns 21st Century Fox as the villain for my first screenplay, but I think this is a story that deserves to be told. I think this is a whopper of a story.
During the summer of 2011, News International was engulfed in a fire-storm thanks to the phone hacking revelations. I became fascinated by the series of barely believable discoveries, and the actions of one man in particular – lawyer Mark Lewis. This is a script that has a burden of investment, but one which I hope ultimately makes the chain of events that lead to the revelations all the more rewarding. And if not, it also features Prince William rapping to Jay Z.
TITLE: Vampire Rabbits
GENRE: Elevated B-movie Horror
LOGLINE: A whole year after a research rabbit, genetically engineered with the DNA of a vampire bat, escapes from a secluded laboratory-facility, it returns with its spawn, looking for blood.
WHY YOU SHOULD READ: Because I've taken this premise and elevated the shit out of it… this is not your average 'creature feature', this is a greater work of art, taking all the genre conventions associated with 'B' movie horror and illuminating it into something special, something that soars, while also challenging perceptions of this maligned genre with its deeper questions, and profound execution, capturing the spirit of what horror once was, and could still be, it's so much more about great ideas, and fantastic imagination, than the bleak human suffering we're served up today in horror. This script is also very topical in its nature, exploring important themes of scientific responsibility, as well as our attitudes to animal welfare and what we're willing to accept in the pursuit of this science. But of course at its heart this is a horror script, and it's spooky as hell, imaginative at a level savant, and getting never ending mileage from its brilliant premise. It also features an exciting, volatile, chemistry from its great cast of characters, all with their own conflicting agendas and clashing personalities, this driving the story to an explosive never seen before climax. This is a script of the greatest potential, something that's worth taking the time to read through and experience for yourself.
P.S. Here's a cool graphic to go with the script!
TITLE: Black Autumn
GENRE: Found Footage Horror
LOGLINE: A WikiLeaks-type website reveals classified footage of a Marine unit's horrific encounter with a vampire in the wilds of 1971 Vietnam.
WHY YOU SHOULD READ: They say found footage is dead. I'm hoping the rumors of its demise are slightly exaggerated. This is my first crack at the ff genre, and I found the format to be quite challenging. I tried my best to avoid the common pitfalls of found footage scripts, and write a story with a good mix of action and horror.
TITLE: Firewake
GENRE: Science Fiction, Fantasy, Thriller, Animation
LOGLINE: An uptight detective unicorn and his rookie partner must fight corrupt bosses and deadly minions when their loved ones are kidnapped by a psychotic mastermind on a quest for world domination.
WHY YOU SHOULD READ: I miss the heydays of the action cartoon, and the non-superhero action movie. It's my dream to create something full of kick-butt action, or at least help others to do so. This is an attempt at doing just that (and I've got others down as well, including an unrelated animated pilot that scored a 7 on the Black List).
Yes, it's a movie about talking unicorns. Wait, don't go just yet! It's a movie about talking unicorns that fight a psychotic and godlike villain – and his numerous minions – while rescuing loved ones. In the course of the rescue, not only do they use awesome spells, but also laser guns and flying cars. The weakest of the minions are robot wolves, to boot.
Ambitious? Yes. Maybe a little too much. But it's a script I absolutely loved working on, and a script I loved revising. I learned quite a bit while writing this, and hope to learn even more from you and Scriptshadow commenters.