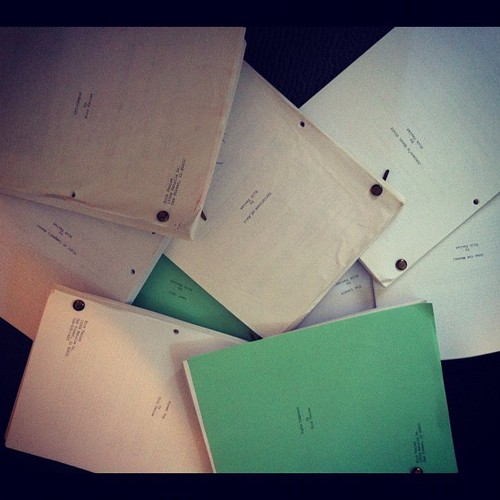 This is your chance to discuss the week's amateur scripts, offered originally in the Scriptshadow newsletter. The primary goal for this discussion is to find out which script(s) is the best candidate for a future Amateur Friday review. The secondary goal is to keep things positive in the comments with constructive criticism.
Below are the scripts up for review, along with the download links. Want to receive the scripts early? Head over to the Contact page, e-mail us, and "Opt In" to the newsletter.
Happy reading!
TITLE: Down to the Wire
GENRE: Buddy cop/Action
LOGLINE: A maimed EOD Technician turned L.A.P.D. detective must work with a troubled young cop in order to bring down a team of cyber terrorists masquerading as Pharmacy thieves.
WHY YOU SHOULD READ: Do you wish TRUE DETECTIVE was still airing on HBO? Do you fondly remember the end of the 80's and the little gem that was Lethal Weapon? Do you crave the perfect blend of action, plot, characters, and jokes? Of course you do!
"Down to the Wire" is a 21st century take on the genre, set to revive your hopes and trigger your nostalgia. This script has been polished with a particular focus on lean, realistic dialogue. The pacing is brisk, the jokes land, and the characters are fleshed out. One of the authors recently placed in the top 15 of the Sheldon Turner Writers Store Contest. Thanks for your consideration!
TITLE: Red River Torrens
GENRE: True Crime Drama/Thriller
LOGLINE: Based on real events, Red River Torrens tells of a closeted governor who struggles to unmask a secret society of untouchable serial killers known as The Family before they destroy his city and butcher his family.
WHY YOU SHOULD READ: Could I convince you to watch Dallas Buyer's Club if Jared Leto was abducted by a network of a dozen serial killers? I certainly hope so. In all seriousness, I didn't set out to write a gay thriller but the facts surrounding the case gave me limited options. I wrote Red River Torrens for a broad audience so I'm eager to hear from both straight and gay readers if they connected with the protagonist.
TITLE: Breaking The Chain
GENRE: Comedy Drama
LOGINE: A gambler wins millions on a crazy bet, yet is unable to
tell anyone. Instead, he resolves to secretly use the money to improve the
lives of those closest to him, and win back the love of his long-suffering
wife.
WHY YOU SHOULD READ: This is regular commenter Bifferspice's script, which was lauded by the hard-to-please Grendl as something quite good. Others enjoyed it as well and now we're giving it a more official spotlight!
TITLE: ARIEL
GENRE: Action/Adventure, Fantasy
LOGLINE: At the end of the world, young loner Pete Garey and his unicorn companion, Ariel, fight to survive in the chaos of the Change, where magic rules and they battle a dark sorcerer who covets the powers of her horn.
WHY YOU SHOULD READ: I have written a fantasy/adventure called "ARIEL" based on the 80's cult classic young-adult novel by Steven R. Boyett. The script won Best Action/Adventure Screenplay in the Script Exposure Screenwriting Competition, and was chosen by Stephanie Palmer to be pitched from the stage at the AFM in November 2013. I first fell in love with this story when I was 14 years old. It really made an impression on me, (mythical creatures and post-apocalypse, whee!) and I always thought it would make a great movie. ARIEL seems to have a lingering effect on many of its fans. So, fast-forward to thirty years later: I optioned the rights and wrote the screenplay. I hope you and your readers will enjoy it too!
ARIEL is an edgy post-apocalyptic urban fantasy, an exciting road adventure, and a surprisingly funny story of courage and trust on Pete's journey to becoming a man.
P.S. I had to laugh when I saw Friday's newsletter and the presence of FIREWAKE on Amateur Offerings. I hope you will not be put off by the idea of TWO talking unicorn scripts – really, what are the odds?? That said, I have read FIREWAKE and the only similarity between the two is a talking unicorn character – they are very different stories.
~COMEBACK SCRIPT~
TITLE: Pilot
GENRE: Sci-Fi/Thriller
LOGLINE: An intelligent spacecraft, crash-landed on an alien world, resurrects its failed-pilot-turned-engineer in the hopes he can repair the damage before the planet collides with a dying star, and in the process, destroying the last remnants of the human species.
WHY YOU SHOULD READ: A few months ago my sci-fi script, Pilot, made it to the final round of Amateur Friday, and even got a few reads from the SS entourage. Ultimately it lost out to The Devil's Jokebook.
Although I swore up and down that I was through with rewrites and was putting this story behind me, the responses I'd received encouraged me to go back and try again. So I took another crack at the script, resulting in some dramatic(and thrilling) changes in character origin, more vibrant scenes to replace ones now amputated, and even streamlined my storytelling voice into one much simpler and easy to follow. Going from 120 pages to 103 didn't hurt either. Even after this top to bottom rewrite, the story maintains the same basic premise I went in with; Castaway in space.
So if you're in the mood for some good ol' fashioned sci-fi, please consider giving Pilot another chance for Amateur Friday. You won't be disappointed.