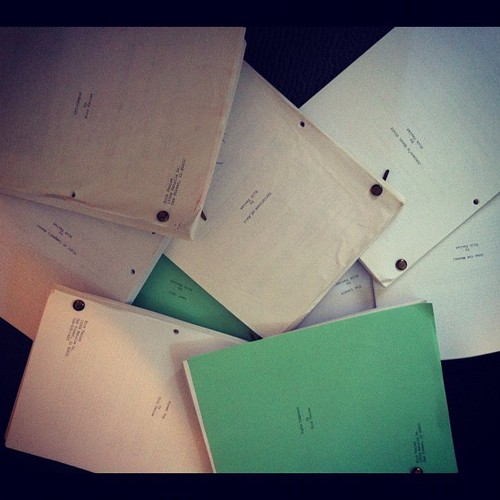 This is your chance to discuss the week's amateur scripts, offered originally in the Scriptshadow newsletter. The primary goal for this discussion is to find out which script(s) is the best candidate for a future Amateur Friday review. The secondary goal is to keep things positive in the comments with constructive criticism.
Below are the scripts up for review, along with the download links. Want to receive the scripts early? Head over to the Contact page, e-mail us, and "Opt In" to the newsletter.
Happy reading!
TITLE: BROKEN
GENRE: Sci-fi/Disaster
LOGLINE: When the human race is forced to evacuate earth for the moon, it leaves behind a crusty old engineer who finds new purpose in the company of a mute nine-year-old girl.
WHY YOU SHOULD READ: I've had a dozen different writers read this script and give excellent, detailed notes on it–which of course called for a complete rewrite. A month later, this beauty's been retooled, buffed and polished; she purrs like a tigress, 95 pages of lean muscle, just itching for baptism in the fiery crucible of the AOW. Hm, was that a mixed metaphor? …Nah.
Other interesting facts? At one point the protagonist is trapped in a bunker while an earthquake rips it apart, while performing invasive surgery on himself, WHILE conversing with a hallucinatory version of his former girlfriend.
And by the end of this script, I hope you'll have fallen in love with a bitter, grouchy, hateful, suicidal old man. Who doesn't save any cats. Thanks for reading, and enjoy!
TITLE: Barabbas
GENRE: Historical Action
LOGLINE: In 30 A.D., a charismatic stonemason bent on revenge leads a band of guerrilla rebels against the Roman occupation of his homeland.
WHY YOU SHOULD READ: This is the story that led up to the biggest trade in human record. It is Braveheart meets Gladiator, with characters on a collision course that splits history in two. Come for the battle, the intrigue, and the epic. Stay for the sacrifice, the betrayals, and the passion that drives a man to darkness.
As co-writers, we work from 3,000 miles apart. Yes, we have two of the WASPiest names imaginable. No, they're not pen names. We've been polishing this script to a trim, accelerative tale that strengthens, weaves, and deepens with each choice our characters make. The ending is the most difficult we've ever worked on, but the feedback on the resolution has been powerful. We have to earn the effect we want a story to have, and with this script we aim to challenge, to provoke, but most of all…to entertain.
TITLE: THE SORCERER
GENRE: Mystery, Bio-Pic, True Story
LOGLINE: When brilliant-but-forgotten inventor Nikola Tesla dies mysteriously at the height of World War 2, a couple of FBI Agents race to discover the whereabouts of his final creation – a devastating and world-changing death ray – before it falls into the hands of the Nazis, and along the way put together the clues that reveal the deepest mystery behind Tesla's life: what drove him to madness.
WHY YOU SHOULD READ: Tesla's life was fascinating. He came from nothing and rose to the height of his profession, battling it out with Thomas Edison and JP Morgan, becoming friends with Mark Twain and George Westinghouse, and electrifying the world…only to die penniless and alone after seeming to lose his mind. He's also a man relatively few people know about when compared to his peers. If you like mysteries without easy answers, smart and ruthlessly powerful men pioneering the future, and/or underdogs who never stop going for their dreams, you can find something for you in this story.
TITLE: Finishing Last
GENRE: Comedy romance
LOGLINE: A third generation car salesman attempts to transform his nice guy personality to save career and in doing so finds himself attracted to a quirky woman who loathes the new him.
WHY YOU SHOULD READ: It's a feel good comedy romance, which has the following:
No sex… well maybe a small amount. In fact, I'd hardly call it sex, more like a reference to it. No gratuitous violence… I don't think a kick in the nuts is gratuitous? Maybe mild violence at the most. No bad language… Okay a few F-words, but you'd have to be a saint to be offended by that.
I don't think I'm selling this very well?
It's a low budget… no, that just makes it sound cheap. It's a story of unrequited love… that sounds better… and written for the sole purpose of having an amusing story that couples could go and see together. It does not pretend to be anything but a humorous love story with some oddball characters… I'm rambling now. I'm really not selling this. I've been told it has some charm… God; it just comes over as being smug.
Anyway, I think you might like it.
TITLE: Reeds in Winter
GENRE: Historical Adventure/Love Story
LOGLINE: Forced to leave the family he loves, a man who misused his wealth to move his family across the country with the infamous Donner Party must do whatever it takes to rescue them from freezing, starvation and cannibalism.
WHY YOU SHOULD READ: If I were to say I wrote a script about the Donner Party, I think I could feel your eyes roll to the back of your head. While the backdrop of my story includes the Donners, they are not the main focus. There were many families who traveled on that infamous journey, and one family, the Reeds, overcame very tragic events and survived intact. I worked hard to keep the bits that I felt would make a great movie, and, if you're interested in history, look them up because that shit really happened. The story made me think about what lengths I'd go through to ensure the safety of my family. I don't know if I could ever do what James Reed had to do, and I hope I never find out.