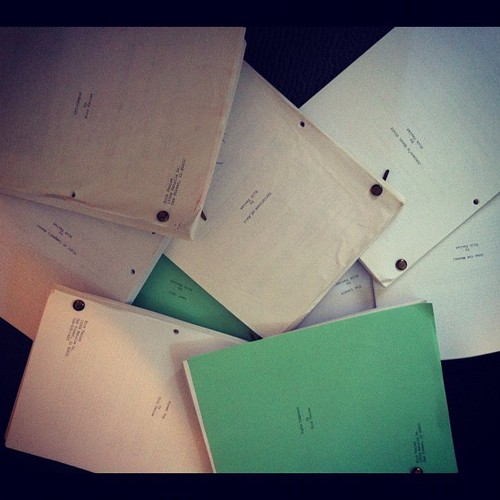 TV Pilot edition! Play nice.
Want to see new amateur scripts delivered to your email? Head over to the Contact page, e-mail us, and "Opt In" to the newsletter.
TITLE: Shrapnel
GENRE: Crime Drama
LOGLINE: An ambitious junkie and his severely traumatized war veteran sister, struggle with working for their manipulative crime boss father's drug trafficking business.
WHY YOU SHOULD READ: The Sopranos meets Breaking Bad…. Could the bar be set any higher? Back in February when I uploaded Shrapnel to the Black List, it was ranked no. 2 overall on the monthly list. At its core, Shrapnel is about a brother and sister fighting their true identities trying to be people that they're not in order to please those around them.Anyway, with the main goal of becoming a TV writer, the purpose of Shrapnel is to serve as a convincing staffing sample for similar genre/tone shows. It is not the most high concept of ideas and as a consequence I don't expect to become the next Mickey Fisher with this project. I simply wrote the show that I want to watch. But concepts aside, the reason why we tune into our favourite shows each week is because of the characters, and hopefully the dried blood of my passion for the characters/story world is evident on the page.
TITLE: Jane
GENRE: N/A
LOGLINE: A woman posing as an IT security specialist lives a secret life as an assassin for hire.
WHY YOU SHOULD READ: I'm an aspiring screenwriter from New York. You should read JANE because it's only 50 pages. It's also very divisive. Two notable amateur Friday alums had this to say about it:
"Until the very, very end, the script has a few storylines that vie for attention but seem inconsequential to one another. Jane's mission in the pilot doesn't really give us further insight into her character despite her resourcefulness and how lethal she can be."
and …
"I want to read it again tonight because, for the second time in a row now, I enjoyed it so much I came away with no constructive notes whatsoever. It's making me feel like a fanboy."
TITLE: Cartella
GENRE: Drama
LOGLINE: After her father dies in a shootout, a single mother finds herself to be the unexpected heir of a Mexican drug cartel.
WHY YOU SHOULD READ: Let me ask you something, AOW vets. When's the last time you wrote an hour-long pilot in a week? I'm talking pitch to polished draft. Well, that's the story behind "Cartella." I was a finalist for the Television Academy Internship in the TV Writing Drama category, and had a week to submit an original script. For months I'd been searching for an opportunity to get this project off the ground, and this was it. After six grueling days, I busted out 49 pages of blood, sweat and tears. Even though I didn't get the internship, I'm damn proud of the result.
I've been doing paid script coverage for almost a year now, while attending school full time as a screenwriting major. So when I say I know this pilot is good, I know it's good. I wouldn't have submitted it to the illustrious Scriptshadow if I didn't believe it had a shot. This is my second original pilot and third TV project.
GENRE: N/A
LOGLINE: Based on true events.  At the beginning of World War 2, America scrambles to assemble the Office of Strategic Services, the wartime intelligence agency and predecessor of the CIA.
WHY YOU SHOULD READ: My writing partner and I are huge history buffs and we think the story of the OSS should be told, and would make an excellent hour long cabler.  You should read this, because it has Nazis!  But seriously, check out the opening Teaser and see if it hooks you to read more.  We appreciate all your constructive criticism.
TITLE
:
A War of Gods
GENRE
: Sci-fi, Action
LOGLINE
: In the faraway future, a bitter hitman is sent aboard a sentient space station to kill his next target, but finds himself embroiled in a complex time loop among a series of psychopathic characters all hunting him down for his new found time machine.
WHY YOU SHOULD READ
: This script has grubs the size of cars, cannibalistic priests, cults that worship machines, androids that kill, a civil war, an Abbé Faria, and finally… A 
John Titor
. What more could you ask for?
On a more serious note. After finishing a little less than a dozen features, I decided I'd finally try my hand at a pilot. More importantly, one dealing with time travel and greed set amongst the depths of a poverty ridden space station. I tried to blend techniques like Primer's bulldozer approach regarding time travel, whilst mixing in the visuals of Enter the Void, coupled with the action and world building of sci-fi films like Total Recall and Blade Runner.
This was simply the result.