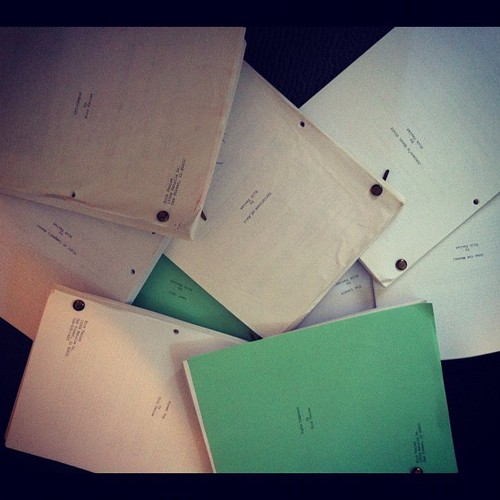 Read this week's Amateur Offerings collection and offer constructive criticism below, plus your vote for which script should be reviewed on Friday!
TITLE: ADAM
GENRE: Sci-fi Thriller
LOGLINE: A bio-mechanical man wakes with one memory: he must bring the woman he loves back to life. But his creator is on the hunt to catch his experiment, before the secret gets out.
WHY YOU SHOULD READ: A biologically engineered superhuman whose mind is half computer on the run through a post World War Three metropolis. Chased by cannibals, a cyborg with an identity crisis, a mysterious thin man, and corporate kingmakers. Helped only by an apathetic news anchor with hedonistic tendencies. — This is a story about the inevitable melding of man and machine, the digital world and the real one. The future of the internet and the human body. It questions how we will maintain our human identity in the face of exponential technological growth. — It's Bourne+Blade Runner+Frankenstein with a hint of Hitchcock style thriller, Cronenberg and the Matrix.
TITLE: Haves and Have Nots
GENRE: Noir
LOGLINE: An investigative reporter returns home, delving into Las Vegas' underground of addicts, prostitutes, and degenerates, to find her missing brother.
WHY YOU SHOULD READ: Carson writes that a lot of great specs are derived from the concept of taking a "seen-it-before" story and flipping it on its head. I took a noir, threw in a female protagonist and set it in Las Vegas. I integrated all of the set pieces of Vegas (casinos, strip clubs, pimps, vast expanses of emptiness) with the hallmarks of the noir genre: (tight, stylized dialogue, grittiness, femme fatales, a troubled hero with a cross to bear). I hope I did well.
TITLE: Tuesday's Gone
GENRE: Dark comedy, meta-horror.
LOGLINE: Tuesday Wilson is a new mom. She spends her free time on Facebook. Uploading pics and bragging about her baby. When an ornery high school girl and her friends leave bad comments about said baby…she tracks each commenter down and takes their lives in funny, horrific ways. All the while a famous Hollywood actor and an old broken Detective are hot on her trail.
WHY YOU SHOULD READ: My name is Derek Williams. I had a pretty fucked up script called Goodbye Gene reviewed on AF early last year.
I'm now submitting my next script. It's called Tuesday's Gone. Nobody gets raped. No child molesters pop up. In the AF review Carson said, "the next thing this guy writes is probably going to get made. That's what my gut is telling me." Well…here it is. Let's see how well you know your gut, sir.
This is a satire about "Facebook Moms." Come on. We all know an annoying Facebook Mom.
TITLE: Big Bear
GENRE: Action/Thriller
LOGLINE: Two married elite special operatives infiltrate a southern California terrorist cell in order to thwart a major terrorist attack and ultimately take out Bin Laden's successor– a man who is under increasing pressure to carry out a fresh act of headline-grabbing terror to cement himself as the new #1.
WHY YOU SHOULD READ: This script placed in the top 15% of the 2012 Nicholl Fellowship Screenwriting contest. (Somewhere between 720-1080 out of 7200 scripts!!) Considering that this script is far from a Nicholl-style script, I believe it fared pretty well. And since then, it's been optioned, and undergone a few rewrites. BIG BEAR is an independent action movie. I personally wanted to focus more on the struggle between two married special operatives on the mission of their lives than blowing shit up. Bottom line: It's different. I'd love to put the script out to your readers to see if it can be upgraded further.
~*COMEBACK SCRIPT*~
TITLE: THE HARVESTER
GENRE: Horror
LOGLINE: Murdered to advance the construction of an exclusive golf resort, a mountain man is resurrected by Death himself to take revenge as an undead killing machine.
WHY YOU SHOULD READ: I'm a lifelong horror fanatic and very much a product of the VHS generation. This is my sincere attempt at horror the way I lovingly remember it; gruesome and gory, but also imaginative, cinematic and, most importantly, FUN! THE HARVESTER is a high-concept, blood-soaked blast of old-school carnage with an ending so wild and explosive that it needs to be read to be believed. Hope you enjoy!