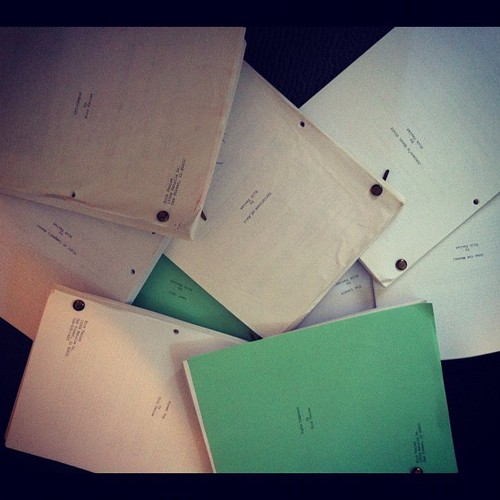 Well, the debate's been raging for the past couple of years, and with big names like Halle Berry jumping into the TV world, one enormous question keeps coming up: Is TV surpassing film as the 'better' entertainment medium? In order to find out, we've included a knock-down drag-out battle between the two. This week's Amateur Offerings gives us BOTH pilots and features. May the best type of entertainment win!
TITLE: No Guts No Glory
GENRE: Zom-Com
LOGLINE: When an experimental steroid turns a team of supreme athletes into super-zombies, mankind's only hope of avoiding a zombie apocalypse is a ragtag group of fat campers.
WHY YOU SHOULD READ: Not another zombie script, right? Actually, this one subverts the genre in an interesting and fun way. If you give it a chance I think you'll like it. I'd love to develop this script with a manager/producer/director and turn what I believe is a great concept into a great script.
TITLE (TV PILOT): NOT SAFE FOR WORK
GENRE: Strip-com
LOGLINE: Dodd and Ollie think they've hit the jackpot when they inherit a strip club, but they soon find out it just might be the worst place on Earth.
WHY YOU SHOULD READ: I notice you've been doing more TV stuff lately. Tina Fey's sitcom and then the AOW of TV dramas. Maybe it's time for an Sitcom amateur Friday? How can you resist? It's one fourth the work of reading a screenplay!
Now that you're completely sold on the idea, here's why you should select my sitcom pilot. It's an R-rated workplace comedy designed for pay-cable or the internet. My idea was to take the typical big, dumb network sitcom and give it a cable edge. Imagine something like "Cheers" with drugs and nudity. It's in the vein of some of my influences: Peep Show, Eastbound and Down, and It's Always Sunny in Philadelphia.
TITLE: WILDFIRE 3D
GENRE: Action/Adventure
LOGLINE: A search and rescue ranger leads a mission to rescue his daughter when the group of archaeologists she's working with are trapped by a dangerous wildfire.
WHY YOU SHOULD READ: Given that we're in the season of big budget blockbuster releases, I thought this would be a great time to try my luck with Amateur Friday. Wildfire 3D is a script I've been working on for a few years now. I was able recently to send it in to WME and Zero Gravity. I love writing movies. I feel bad for people who don't write movies. It's an amazingly challenging process, so anyone who tries it is someone I admire. And Scriptshadow? What can I say, I wish I had discovered this blog years ago. Reading Carson's work here is just fun.
TITLE (TV PILOT): Marble Falls
GENRE: Mystery/Thriller
LOGLINE: Two young boys are brought together and controlled, one through fear and the other through deceit, to assist in the wicked biddings of a mysterious entity that manipulates the citizens of a small Texas town during the early 1950s.
WHY YOU SHOULD READ: Pick up any pilot right now and I'll bet the lead character is an adult, usually male, occasionally female. Not Marble Falls. Here it's the kids who take center stage, something that is rarely the case (minus the laugh track shit on Disney and Nickolodean.) Think Goonies, but with a Twin Peaks vibe.
Marble Falls delves into the sins of a small Texas community and a mysterious entity, the "invisible hand", who uses the weakness of kids to help him manipulate and wreak havoc. It's homage to who I consider the master of storytelling, Stephen King.
But the best reason for reading Marble Falls is: you have two boys who you sympathize with, who you care for, who you fall in love with, who will murder people.
TITLE: Momo
GENRE: Drama/Foreign
LOGLINE: After a mysterious foreigner appears in her life, a dedicated Japanese housewife finds her world changing as her means turn to goals and vice versa.
WHY YOU SHOULD READ: So you're big in Hollywood. But then again, so is your neighbour, and your neighbour's neighbour. Now, if you're wondering where you could possibly go from here, ask yourself: are you BIG IN JAPAN?
Delicately crafted to both appeal to Japanese traditions and sensibilities and to accomodate for western themes and values, "Momo" is an opportunity to rise to ocean-spanning acclaim as well as distinguish yourself amongst peers and neighbours alike.
The elevator pitch: "The Piano" meets "Brasil"…IN JAPAN