Read and vote for your favorite script in the comments.  I'm really excited about this week.  A long time reader, D, has submitted his script "The Brothers Ternion."  I've exchanged e-mails with D for a long time and know he's a huge student of the craft.  So to finally see a script from him is awesome.  Excited about the other entries as well.  Axiom of Evil, in particular, caught my eye.   We even have a script from the past coming back for another look.  But this isn't about me.  It's about you.  So get to reading and let me know what you think!
Title: The Brothers Ternion
Genre: Comedy
Logline: Three brothers, long estranged from one another, are reunited by chance in the small town of Mumford.
Who I am: Long time reader, first time submitter
Why you should read: ". . . funny, touching and extremely well written . . . I've never read a script in this competition that felt so complete, so much like a movie that was ready to be filmed tomorrow. I can't say enough good things about this script. It was just a fully realized and brilliant piece of work." – Nicholl Contest script reader for The Brothers Ternion. This quote was also featured on Nicholl's Facebook page in May as their daily reader quote. I just found this out now, since they e-mailed reader comments to all current quarterfinalists (like myself) this week.
Why you SHOULD NOT read it: It's NOT a GSU script (the other Nicholl reader described it as "If Wes Anderson had written Stepbrothers II").
​Title: The Berzerkers
Genre: Action/Thriller/Comedy
Log​line: A team of disabled vets reluctantly reunite when their former commander drops a bombshell on them: the terrorist who caused their disabilities is in America to pull off a devastating attack, and they're the only ones who can stop it.
Why You Should Read It: It's a 2014 Page Awards Semifialist, a 2014 Creative World Awards Quarterfinalist, and it made the top 15% of 2014 Nicholl fellowships. There's a wide array of reactions to the script, and I'm really curious at to what the SS readers (and you) will say. As for the script? Action galore, fast-paced, complex female characters, wild twists, dark humor, and a strong theme. Oh, yeah, GSU up the wazoo.
Title: Axiom of Evil
Genre: Horror
Logline: A womanizing psychologist trying to disprove the existence of evil must confront his beliefs when he sleeps with his much younger patient, who may be possessed by a demon.
Why You Should Read: Axiom of Evil differs from typical demonic possession films in that it delves deep into the cerebral aspects of this phenomenon that other films usually neglect. It explores the reasons why possession occurs and illuminates the mind of both the possessed and the demonic. It is a story that seeks to be as intellectually engaging and arousing as it is scary. I have put over a year of research into the subject matter and I am confident that this is a unique and original approach to the exorcism sub-genre.
Length: 112 pages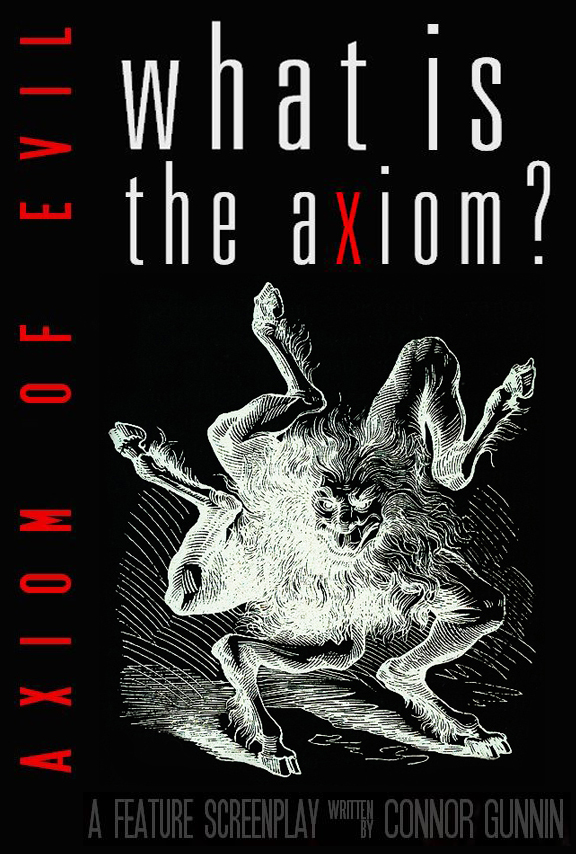 Title: Misamerica
Logline: Beverly Hills bad girl Abbey Lopez reluctantly rises to teen pop music stardom, while her one hit wonder Mother tries "making it" in the neighborhood by throwing her a million dollar Sweet Sixteen.
Pitch: "Mean Girls" meets "Pitch Perfect" in a musical teen comedy about fame, fortune, and family dysfunction.
Why You Should Read: Like the rest of them I moved to LA with not much more than a script in my back pocket… Three years and nine drafts later I eventually found myself working for a Producer and so broke that my next career move was going to be sleeping in my car. Defeated, I quit the biz and took a job at a local beauty supply store… Selling makeup… Again. — After a year of cleaning off lipsticks (and not writing), I one day found myself helping the mother of the starlet who I had written my screenplay for. I pitched it, she said to email it. A week later I got an call from that starlet's agent at CAA. — Thanks to that fateful day my script has found her way into the stacks of some great desks, but she needs to keep going… — Carson, my baby's name is "Misamerica", I would love for you to meet her.
RETURN SCRIPT!
Title: Sunny Side of Hell
Genre: Action/late era Western
Logline: 1932, Texas – When a farmer's wife is kidnapped, he races across the dustbowl-ravaged panhandle to save her from being murdered. Up against corrupt cops, the mob, and worst of all, the elements, the only man he can turn to for help is the best friend he betrayed and left for dead ten years prior. Midnight Run by way of Unforgiven.
Why You Should Read: This is the Scriptshadow trifecta right here! Original writer John Eidson had a draft reviewed on Amateur Friday close to a year ago. And the general consensus at that time was: Dude is a helluva writer, now needs to work on becoming a helluva screenwriter… Since then, he has brought on fellow Scriptshadow-ite Patrick Bonner to work in tandem, completely revamping this thing. We have utilized Carson's original AF review, the Scriptshadow community's feedback, and then had Carson look at the script independently, to completely tear this thing down and rebuild it as a lean, mean, GSU machine. And it's really fucking good.