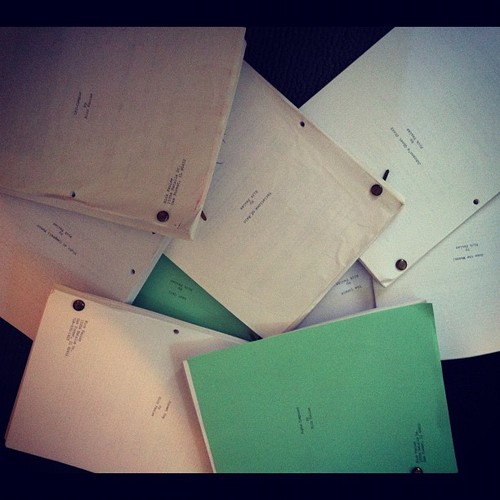 We just found a
worth the read
script
on Friday
.  Let's find some more!  Remember the rules.  Whatever you open, read til you get bored, whether that be page 1 or the end of the script.  If you quit early, let the writer know what page you stopped at and why.  On top of looking for good scripts, we're trying to help writers understand what's working and what isn't.  I can already hear some of the pipers piping up from the rafters.  A "Juvenalian Satire?" What does that even mean??  Let me just tell you guys, 7 out of 10 scripts submitted to me either a) contain a bare minimum grasp of the English language or b) sound incredibly boring.  Even the writers of the boring scripts seem to concede how boring they sound.  Screenwriting 101.  If you want someone to read your script, write a script that people are going to want to read! Also, I'm limited by time.  If I had time to vet a hundred scripts for every Amateur Offerings, I'd do it.  But I just don't. I do what I can!
TITLE: Saul Roth's Band of Merry Felons
GENRE: Crime-Comedy
LOGLINE: A crew of gangsters take a road trip to deliver millions of dollars in stolen casino money to their flamboyant mob boss, along the way getting into misadventures involving drugs and sex, and fighting off rival mob crews.
WHY YOU SHOULD READ: There are quite a few reasons why you should read my script Saul Roth's Band of Merry Felons. It is funny, it is edgy, it has colorful characters, and it has new interpretations of the types of characters often seen in the gangster genre. Another reason why you should read it is because I have been reading the scripts you have been putting out there for amateur offerings, and quite frankly I haven't been too impressed by what I've been seeing. My script is better.
TITLE: Space Invaders
GENRE: Sci-fi Action Comedy
LOGLINE: The invasion came. Humanity lost. The processing of billions of corpses into bio-fuels begins.
By avoiding human interaction, a loner computer gamer survived the alien plague. But the only way she'll survive the alien harvest is by joining in with a close-knit militant family journeying to humanity's final fortress, NORAD.
WHY YOU SHOULD READ: Awhile ago, Carson reposted a comment I made about the choice between writing something personal and writing something commercial. I figured I may as well leverage that post into a review. So I'm throwing-down with a good ol' alien-invasion script.

TITLE
:
Let Us Touch The Sun
GENRE
: Euro Horror
LOGLINE
: A Transylvanian Countess struggles to conceal her dark inheritance from two investigators when she finds herself drawn to a bereaved English girl. A love letter to European vampire cinema of the 1970s.
WHY YOU SHOULD READ
: Because I'm NOT writing for the US market! As much as I love ScriptShadow, my influences primarily come by way of the European imagination. As such, LET US TOUCH THE SUN is drenched in the climate of its mysterious female antagonist, unerring sense of place, and all-pervasive sensuality. Indeed, my Black List reviewer commented: "The sensuality of vampires is a long-standing obsession for filmmakers, but this stands out even in that canon as being an exceptionally hot-under-the-collar version of the classic tale."
TITLE: 50 High Street
GENRE: Juvenalian Satire
LOGLINE: A secret room in the cellar of an old New England mansion may hold the key for a stay-at-home dad fighting for custody of his children.
WHY YOU SHOULD READ: I recently asked a friend who sold his spec how many drafts he wrote. He said a hundred. Well that's about where I'm at with 50 High Street. I certainly could have never brought it this far without all the notes from all the people who took the time to read it. I wrote a Juvenalian satire because those are the kind of films I enjoy the most, Fight Club, V For Vendetta, the films of Billy Wilder. In that tradition 50 High Street is a thoroughly researched, scathing indictment of the no-fault divorce industry. I hope Carson chooses it because I can't recall any Juvenalian satires ever having been reviewed on AF. And I think the feedback could be interesting.
TITLE: Liar. Coward. Judge.
GENRE: Horror/Survival
LOGLINE – Deep winter in Civil War Era Missouri – A Union Deserter, a Priest and an Assassin must fight for survival when they are stranded in the wilderness and hunted by a terrible Sasquatch.
WHY YOU SHOULD READ: Liar. Coward. Judge is a script that has been written out of frustration as much as ambition. As a conscious reply to those horror scripts that turn a blind eye to character, theme and subtext it is a pitch black descent into madness that treats the Sasquatch myth with rare seriousness. It is a savage horror with a truly unique setting that is driven not by the relentless movement from jump scare to gore gross-out but by the development of characters.
Most of all though you should read Liar. Coward. Judge because it doesn't just ask that cliché question; "who will survive?" but wants you to ask yourself; "does anyone deserve to?"