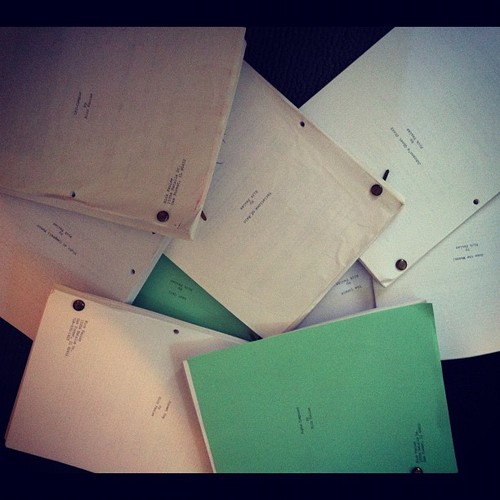 Amateur Offerings is back once again! Check out the scripts below and offer constructive criticism, and then vote for the best of the bunch!
TITLE: Exodus
GENRE: Sci-fi
LOGLINE: The interstellar migration of the human race has failed. On our new planet a widowed construction worker learns of a message from an eccentric journalist on Earth; one that unravels a conspiracy that has crossed light-years – one that puts him firmly in the sights of the government's most dangerous agents
WHY YOU SHOULD READ: We are two brother's from the UK with the itch to tell a story. That story has culminated with the labour of love that you have sitting in this email.
Influenced by sci-fi classics such as Blade Runner Exodus is story that crosses light-years, but crucially we feel it remains personal – with its core centred around the human struggle with grief and loss. Onto this grounding we layered all the elements that we look for ourselves from a story – elements such as a genuinely conflicted hero, a three dimensional antagonist and dialogue that doesn't make you cringe when you read it.
We have had strange anomalies with a previous reviewer, rating it excellent across the board before rejecting it when it entered their competition for grammatical errors.
Undeterred we returned to the drawing board and are hoping to get our voice heard. Take a shot on us two from across the pond, you will not be disappointed.
TITLE
:
Dawn
GENRE
: Comedy-Horror
LOGLINE: A high school football star's bright future turns bleak (and bloody) when his popular girlfriend turns into a vampire.
WHY YOU SHOULD READ: I've started a few screenplays before but Dawn was the first one I ever completed. It was the first of the two screenplays I wrote during my year at Vancouver Film School. I managed to option it a week before I graduated. That option has since dried up but I figure if it's option-worthy then it must be pretty good.
I'd say my biggest influence on the writing of this is my personal favorite comedy-horror: Lost Boys. Now I'm not that full of myself to compare Dawn to that classic 80's flick, I'm just saying it inspired it quite a bit.
TITLE:
TRUNK
GENRE:
 Crime/Comedy
LOGLINE:
 After a robbing a gas station, two small time criminals steals a car with a kidnapped man in the trunk, and has to stay hidden from two rival gangs, while they try to collect money for one of the criminal's daughter.
WHY YOU SHOULD READ:
Because it's a fast paced crime comedy with two female leading roles. I wrote it because it's simply something I'd watch, with characters I'd watch.
Oh, minor detail. I'm from Sweden. Yep. The land of Ikea and Ingmar Bergman. Just a heads up.
LOGLINE: A family of pirates navigating an alternate world of islets, and otherworldly beasts are forced to embark on a perilous journey to return cargo they accidentally stole from the ruthless Queen of Hemantep island.
WHY YOU SHOULD READ: In a past article by Mr. Reeves entitled "Navigating the IP Era" he provides seven solutions; "The Aabadocks" falls into the category of Solution #3 "Spec Universe." This is not a great script, but it is a great film that is meant to transcend the 18-35 year old male demo, and appeal to anyone with a sense of adventure (i.e. Alice in Wonderland); providing the type of fun experience that will get families out of their homes and into the theaters.
GENRE:  Crime/Drama
LOGLINE: Having been kidnapped in South Africa, a resilient young traveller is forced into criminal activity by his captors in order to repay the ransom his family could not afford.
WHY YOU SHOULD READ: I got notes for this [from Carson] about a year or two back. Following some rewrites, it's had a couple of producers on and off the project, getting closer each time. I'm looking to find out why this script hasn't gone beyond getting interest into getting made.