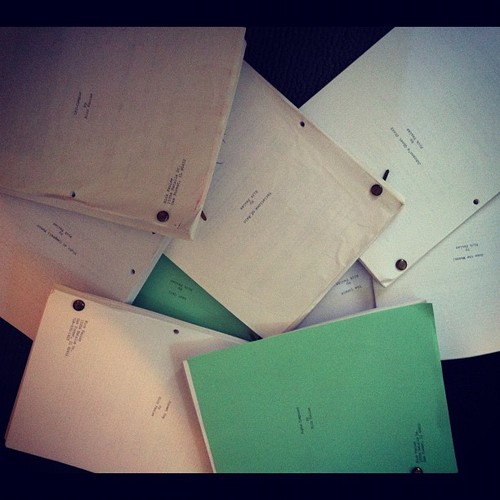 Read the latest amateur scripts below and vote for the best while offering constructive criticism! Want to receive the scripts in advance? Opt in to get the newsletter!
TITLE: Big Brother
GENRE: Drama
LOGLINE: When a busy executive travels to a small village to investigate his brother's disappearance, the locals and the atmosphere have an unsettling and lasting effect on him.
WHY YOU SHOULD READ: This script made the top 15% in the Nicholl and the second round in the Austin. It is largely free of spelling errors.
TITLE: Blood of the Butcher
GENRE: Crime Thriller
LOGLINE: Diagnosed with terminal leukemia, a corrupt desk-jockey FBI agent enlists the help of an aging hit-man to hunt down the savage serial killer that she let loose.
WHY YOU SHOULD READ: After reviewing so many amateur scripts here on Scriptshadow I thought it was time the masses got their opportunity at payback. The script was written as part of the Industry Insider competition, so my only hope is that it upholds the high standard set by previous finalists who have had favourable reviews on SS. Thanks.
TITLE: The Shrike
GENRE: Horror
LOGLINE: A young girl struggles to understand her connection to an ancient monster that impales its victims in the trees.
WHY YOU SHOULD READ: Because this is horror with heart. It is also the cleanest, tightest, and most original amateur script of the year. Enjoy.
TITLE: REBEL CITY
GENRE: Crime thriller
LOGLINE: Over the course of one night a reformed father must step back into his murky past to find his criminal brother who is the only suitable donor for his dying son…
WHY YOU SHOULD READ: I think it was Tarantino that said he'd been staring through the window at the industry for so long prior to Reservoir Dogs' success that it felt normal for him to be on the outside now. At times I very much feel the same. I've had the agents, the managers, the lawyers and done the water bottle tour too. I've had scripts go out to all the major studios and prod cos and placed highly or won most of the major contests worth entering. I've written/directed my own award winning short films that allowed me to go around the world to various festivals and meet audiences first hand, and I've had pilots go into networks and yet I'm still here bashing away, whilst staring through that looking glass and working as a bartender. So, I decided to take stock, go away and write something that I'd want to see at the cinema. A movie me and my buddies would find cool. It's taken me 13 feature scripts and 4 pilots to "find my voice" and I'm keen to show it to a script writing community that's as passionate about writing great stories as I am. This is REBEL CITY – with echoes of Michael Mann's Thief and The Friends of Eddie Doyle – it's a neo noir crime flick… Hope you like it as much as I enjoyed writing it.
TITLE: The Greenhouse
GENRE: Psychological drama
LOGLINE: Seven-year-old Blaire knows nothing of life outside an environmentalist cult led by her mother — but will her grandparents' fight for custody succeed in time for her to have a chance at a normal childhood?
WHY YOU SHOULD READ: I'm a 22-year-old, recent college graduate with approximately zero screenwriting experience and a devout love for the collaborative environment of this site. My first screenplay, The Greenhouse, was inspired by my relationship with my mother, Ingrid in White Oleander, and a curiosity of the ways subcultures evolve as mainstream culture does. A slightly-less-edited version of this screenplay placed in the top 10% of the Nicholl Fellowships competition, but it's in need of additional eyes – and opinions on the controversial ending – to help me take it to the next level!