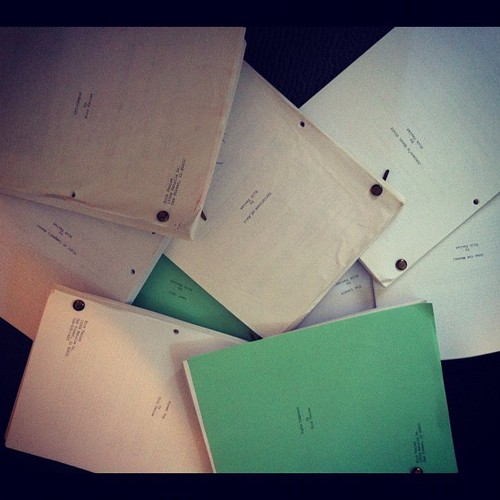 While everyone clamors to perfect their Scriptshadow 250 entries, a bold group of screenwriting gummy bears choose to place their letter spaghetti in front of the interconnected computer sphere in hopes of rainbow transformation. May we wish them a transition to a higher state of being.
Title: To Boldly Go
Genre: Biopic
Logline: In 1964, writer Gene Roddenberry struggles to get his vision on television – a show called "Star Trek".
Why you should read: Three reasons. One – unlike other biopics which give you the whole Wikipedia routine, my script focuses on a year-long period in a man's life, during which he has a clear goal. Two, it could generate a discussion on the act of using licensed properties you do not own in a spec written as a sample. (Like "Wonka", which I am certain will not be made unless Roald Dahl's zombie corpse approaches a production office, gobstopper in hand, and signs off on it while offering casting notes: "Two words: Get Gosling."). And, three, my script comes from the heart. My father passed on in '91, when I was kid, and one of the things he instilled in me was a love of science fiction, particularly "Star Trek".
Title: The Camelot Club
Genre: Comedy
Logline: A religious man and his sexually deviant cousin unexpectedly inherit a run down strip club and have two weeks to make fifty thousand dollars or be killed by a seven foot transsexual pimp.
Why You Should Read: What do you get when you add together a 6'3" ginger Pole and an average height, golden tan Croatian? The Camelot Club, a combination of tanned, god-like overconfidence and the inherit self-loathing that comes with being orange and pale. We came together to write this script so we could split the crushing despair that comes when someone inevitably tells you your scripts reads like German is your native tongue (an actual criticism I received on my very first script, which hurt even more considering the only language I know is English). In the end we are just a couple of struggling artists looking to be accepted into the soft, voluptuous bosom of the screenwriting community (an agent and management would be nice, too). After learning the English language more better, and getting the screenwriting turds out of our systems, we put our minds together and produced The Camelot Club. And now I would like to end on a testimonial from my bi-polar, alcoholic brother, "…this script was so good it made me wish I was tri-polar…". Enjoy!
Title: The Stone Addendum
Genre: Action
Logline: An Israeli secret agent has less than two days to prevent a terrorist hostage exchange in the U.S., but he must rely on help from an innocent Muslim woman that he's ordered to kill once the mission is complete.
Why you should read: This script appeared in AOW a ways back to pleasant but uneventful reviews. Since then, with the help of Carson's notes, it's gone through a major makeover, and registered a Page Quarterfinals, a BlueCat Top 5%, and most recently a Top 25 in the Tracking Board. The latter billed it as TAKEN meets THE HURT LOCKER, and "the perfect blend of brains and brawn." I think I'm in the red zone on this one, but can't seem to punch it into the end zone with producers. Feedback from the SS community would be more than helpful. Thanks in advance to anyone taking a look.
Title: Tammy
Genre: Comedy
Logline: A young man from a strict religious family awakens from a severe head injury with the personality of a vulgar, slutty party girl named Tammy.
Why you should read: (from Tammy) heyyyy. so like, i didnt write this er whatever. the movie. but its awesome. mainly cuz its about me. myy names Tammy… & yes, im way hotter then that slam pig melissa mccarthy who took my name and shat on it. i like to party & get schwasty, unlike my dumpy foster mom. but seriously. u hafta read this. normaly, id suck u off, but i cant do that thru email… so quit beatin ur ham & open this script. u wont be sorry & if u r… gimme ur address & ill make it up to u. im like UPS… i deliver my box to strangers ;)
Title: Tampa Bay
Genre: Buddy Action
Logline: An old, homophobic, U.S. Marshal must seek the assistance of a gay FBI agent to solve the murder of a neighbor's daughter.
Why You Should Read: I think it's about time we had an action hero who just happens to be gay. He should be a badass first, and gay second. So that's exactly what I wrote.