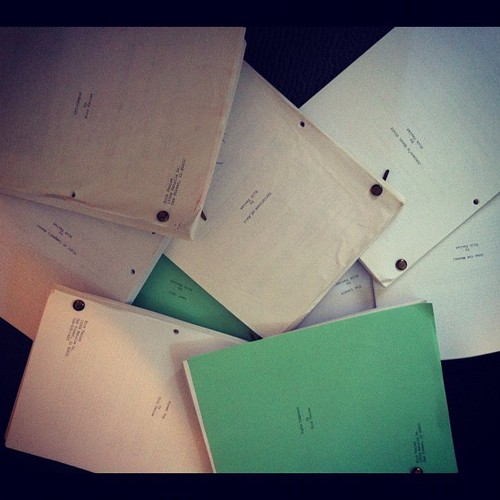 Keep those Scriptshadow 250 entries coming. In the meantime, here's another batch of scripts to check out. The amount of horror scripts sent in this week outranked all other genres 4 to 1. You guys really like horror! I was able to slip in a few non-horror scripts though, for those who don't want to get their scare on. Make sure to give the writers feedback in the comments section!
Title: Vampires in Sunland
Genre: Horror
Logline: A young girl coming into adulthood must battle a motley group of vampires who have taken her boyfriend hostage.
Why you should read: I wanted to try my hand at something more commercial, for my scripts usually are not, and so "Vampires in Sunland" (Sunland, California) was the result. As a fan of the film Lost Boys, I wanted to bring a little of that flavor back into the vampire genre, but not without adding my own dash of spices. In this case a demonic element. I also wanted to play with gender roles, in this the female is the heroic action star and the male is the "mansel" in distress she must save. As well as a main villain who can change genders whenever it wants to best suit its victims.
Title: Ghostlight
Genre: Horror
Logline: When a series of strange murders occur during rehearsals for the school play, an awkward drama geek must find out who or what is behind the killings- or there will be no opening night!
Why You Should Read: I've been a drama teacher for the past ten years, and been in the theatre for over twenty- I know theatre, it's superstitions and mystery. I also know teen agers, what they like and how the speak. I have had my students read the script, and across the board they love it and are begging me to get it made. Think "Cabin in the Woods" meets "Glee."
Title: Inspired
Genre: Crime/Drama
Logline: During the hedonism of 90s Hollywood, a desperate writer's career unexpectedly blows up when he starts writing about the crimes he's committing, putting his Hollywood success on a collision course with the law.
Why you should read: My previous submission (Devil in You, Oct '14) was relatively well received, "the minimum level of quality required to get made" is basically how it was described. So not outstanding, but still readable. — I believe I've progressed with this script. Hopefully I've been able to take on board some of the notes from yourself and the SS community about issues in my previous script in order to take 'Inspired' to the next level. — 1990s Hollywood was a crazy time, the town's wealth was reflected in the insane 'spec wars', huge actors salaries, and notorious parties. I hope all of that and more is reflected in the script.
Title: The Big Decay
Genre: Film Noir/Horror
Logline: A private detective finds himself embroiled in a scandal that involves junkies with zombie-like behavior.
Why you should read: Some of my favorite films are classic film noirs such as Out Of The Past, Double Indemnity, and The Asphalt Jungle. My other favorite genre is horror movies. I thought to myself, "What if I combined these to create something unique?" With that as my basis, The Big Decay was born. I'm not sure if I'm considered a professional, or amateur. I've written and produced a straight to DVD horror film, and I've produced other feature films. Technically, I guess I'm a professional. However, I have no industry contacts, and no agent.
Title: Universal Love
Genre: Romantic Comedy
Logline: A female writer suffering from writer's block develops a romantic bond with a man who she thinks is perfect, unaware that he is the alien from her story.
Why You Should Read: I am Kristopher M. Newcome. I enjoy writing and reading screenplays. The film's logline took second in the Ultimate Logline contest. It won in March under the title, "Space, Time, and Beyond." The category was female protagonists. I get to attend Scriptfest at the end of May. I get to listen to several speakers including Diablo Cody, and pitch my script to Twenty executives. I think it is really amazing what you do, and I hope you enjoy the script if you pick Universal Love to review.