Today's script has marketable written all over it, and it was highly touted, even by non-vampire fans. But does its second half live up to its first?
Genre: Vampire/Thriller
Premise: (from writer) After their medical rescue aircraft crash lands above the Arctic Circle, a terminally ill flight navigator must lead the crew to survival in the face of plunging temperatures, the impending arrival of 6 months of permanent darkness – and a horde of vampires taking refuge in a nearby shipwreck.
About: This is…. Amateur Week SMACKDOWN – 5 scripts, all of which have been pre-vetted by the SRF (Scriptshadow Reader Faithful), vie for the Top Prize, an official endorsement from whoever the guy is who runs this site. Good luck to all!
Writer: Eye Gore (at least that's what it says on the title page)
Details: 95 pages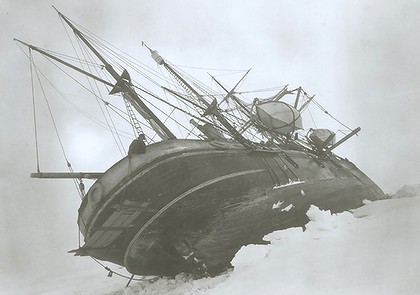 Well, if there's a script this week that had the best chance of being purchased based on the logline alone, this would be it. We have the eternally marketable vampires in the mix. We have a contained situation. We have a spooky Arctic backdrop. I'd say you'd be a rotten producer not to at least consider this screenplay.
As for me, I'm torn. I love set-ups like this. I love planes crash-landing in cold desolate places, crews stranded in the middle of nowhere (as evidenced by my love of The Grey). I'm just not sure how I feel about vampires sinking their fangs into this mix. There's a certain lack of irony or any sort of logical connection at all when you think about it. Vampires in the middle of the Arctic? I mean, I could imagine werewolves. Some sort of deep-north wolf-were-hybrid you can only find in snowy places. That could be cool. But that ain't the case. The only real logical way to connect vampires to a ship in the Arctic is if it would have been the Ship of the Demeter, which carried Dracula. Then again, what the hell do I know about all this? And in the end, it all comes down to compelling characters and a compelling story anyway, so let's see if Mr. Eye Gore achieved that.
Ship of the Dead starts off a long time ago with a ship that picked up a couple of sick folks floating around in a raft. One of those sick folks turned out to be VERY sick, as in "Vampire" sick. That's, like, the worst kind of sick. Since you're DEAD.
So this Robert Pattinson wannabe starts biting everybody in sight, turning them all into vampires before the ship is compromised and drifts off up towards the Arctic. Vampires are really good at sucking blood, but apparently terrible navigators.
Cut to present day, where a U.S. military plane flying near the Atlantic can't handle the extreme cold and goes crashing into the ice. Luckily, these guys are a lot better flyers than those vampires were navigators, as they're able to save everyone during the ditch. But this ain't no Flight of The Phoenix. There's no fixing this plane up. It's dunzos. And since their S.O.S. signal apparently didn't go out, nobody knows they're stranded here. Well, that sucks.
Lucky for them, a mile down the snowy road is an old ship stuck in the ice. If you look closely, you'd notice this is the SAME ship our Twilight fans were sailing in. Uh-oh. Thing is, it's really cold out here, and our guys need wood for fire. So they have no choice but to go say hi to Captain Vampire and his crew. They don't know there are vampires yet, of course, since there are no such things as vampires. But they're about to find out that fairytales do come true sometimes.
There are a ton of characters here, but Lieutenant navigator Reno turns out to be, well, our navigator. Reno's had a tough life. His kid and his wife died, he didn't graduate flight school, and he's also got this really rare blood disease that's probably going to kill him within the year. As a result, he's not exactly organizing karaoke nights for the crew. He's the human equivalent of a mumblecore movie.
One person who no likey Reno is the always agitated co-pilot, Hawke. After pulling in a surprise 35 million at the box office this weekend, you'd think Hawke would be a cheery dude (wait– this isn't Ethan Hawke, we're talking about?). But plane crashes tend to bring out the worst in people, and he doesn't like that Mr. Don't Talk To No One is in charge of getting them out of this situation alive.
Eventually, after a couple of wood runs, the long-gestating vampires attack our flight crew and start turning THEM into vampires, a situation that is so sucky it bums pretty much everyone out. And to make matters worse, the Polar Night is coming, which is like a 6 straight months of night deal wherein the only benefit is a non-stop Late Night talk show marathon. Unfortunately, before the debate can begin on who's better, Jimmy Fallon or Craig Ferguson, the vampires leave the safety of their ship and attack the plane, hellbent on not leaving until they can officially call this place Vampire Land.
Ship of the Dead was a bit like reading a political article. At first you're just trying to figure out what's going on. Then it becomes surprisingly interesting. Then as you get to the end, you're a little let down, wondering why the heck you clicked on a political article in the first place.
The first thing that threw me was I didn't know Reno was our main character until about 20 pages in. So many characters are introduced during the plane crash that he got lost in the mix. There's no rule that says you can't do this, of course. In a chaotic plane crash, people will be introduced chaotically. But I just don't like to be a fifth of the way through the script and still unsure who I'm supposed to be relating to and rooting for.
The good news is, once I was able to discern who all the characters were, "Ship" got a big burst of wind. I thought the setup was clever, with this Vampire ship being their only lifeline (needing it for fire), and the conflict that emerged from that (vampires attack!), while derivative, was still compelling. When you think about it, if you can set up a compelling conflict in your story, you've taken care of most of the story. Scenes will emerge naturally from that conflict and all you have to do is write them.
With that being said, once we hit the third act, I was feeling a bit exhausted. The vampire attacks were getting repetitive, and there seemed to be very little character development to keep us invested on an emotional level. Reno's special blood disease that killed the vampires was a nice twist, but it was so forced that it never sat right. Reno has a dead son and wife. He's a flight school drop-out. He's supposedly responsible for this crash. And on top of all that, he's dying with a rare blood disease. I'd wipe out all the other backstory and focus exclusively on this character who – coming into this crash – knows he's dying because of this rare blood disease. That way it'll seem more natural when his disease actually ends up saving him.
I'm going to be honest. I'm not entirely sure why the second half of the script didn't work for me. At first, I thought it might've been because it was sloppy. I see this a lot. Writers spend so much time working from the top down, that the second half of their scripts inadvertently get 1/5 (to as much as 1/10) as much attention. So a script that feels deftly crafted in the first half, all of a sudden feels sloppy and rushed in the second.
Then again, this structure is built to descend into madness. At first, everyone's organized and focused, but as we get to the end, since everyone's dying, it's more of a mad scramble for life. There's less talking, and more trying to stave off vampires. So you could argue it's messy by design. Then again, I remember Aliens, which is constructed in a similar fashion, and Ripley always has a plan. No matter how crazy shit gets, she's always got goals (get the remote ship down here, find and save Newt), so amongst the chaos, there's still some order. I'm not sure I ever felt order in this third act, and for that reason, I mentally checked out.
With that said, there is something here. Without question, if I had to pick a script as a producer to go with this week, it would be this one. It just hits all those necessary market-ready sweet spots. So maybe there's someone out there who wants to do the work and guide this one to a script sale. But as it stands, despite its potential, it was a little too messy for me.
[ ] what the hell did I just read?
[x] wasn't for me
[ ] worth the read
[ ] impressive
[ ] genius
What I learned: Beware too much clipped sentence writing ("CAPTAIN'S there. Waiting. Directing. Wishing he had a wife instead of a brigantine." "The door CREAKING closed. Turly at the table, holding on. For balance. Then grabbing a FACE, yanking it. SLAPPING it.") It shortens your sentences which keeps the page count lower, but too much of it and your prose loses its natural flow. The first act of this script has way too much clipped sentence writing.
What I learned 2: Don't over-backstory your character. Too much backstory, though you may THINK adds more depth to your character, actually confuses or detracts from him. You don't need multiple tragedies or sicknesses or issues. You only need the backstory that's relevant to your present-day story. So in this case, with our antagonists being blood-sucking vampires, all you need to bring up is your protagonist dying from a rare blood disorder.
Why this script isn't ready for a script sale: The second half needs to have the same commitment as the first half did. Too many writers spend all their time making their first half (or first act) amazing, then get sloppy. Readers can spot a drop in quality immediately, so don't think for a second you can get away with this.