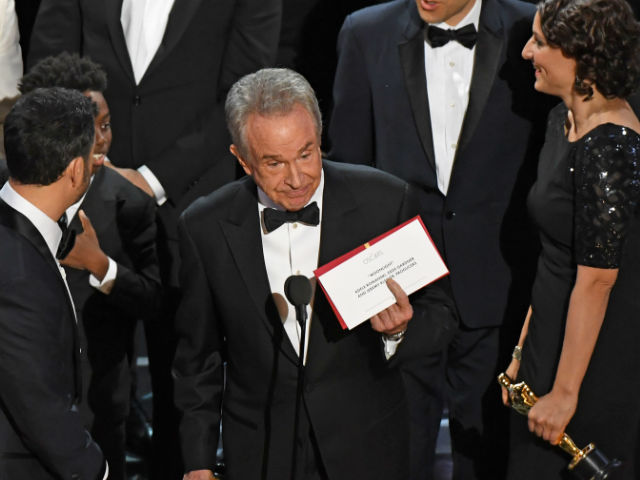 Wow.
So. Um. Okay.
Let's get this out of the way first: Wow!
Only in Hollywood can an Awards Show have a twist ending.
Feel bad for the La La Land guys. "You just won best picture!" "Hurrrrraaaay! I'd like to thank my father, who's up in heaven right now, my dying daughter, and Charlie, back in Jamestown, who's suffering from MS. Charlie! If you're out there watching, brother, I love you…" "Oh! Um guys!? Actually?? Don't mean to interrupt your speech but we made a mistake. You lost."
But you know what? I'm sure they'll forget about it by tomorrow.
However, that's the perfect entry point into my thoughts about last night's Oscars, as Moonlight, La La Land, and Manchester By the Sea were the big winners of the night. And all three were the worst written films of those nominated.
Let's start with La La Land. I'm actually happy this movie did well. I didn't like the screenplay (I felt it was cliche at every turn that didn't involve the dance numbers). But the thing about La La Land is that it's a movie. If you've got singing and dancing, you have MOVEMENT on the screen. That's why they're called MOVE-IES.
Moonlight and Manchester By the Sea, on the other hand, had about as much movement as an Alaskan sunset.
But to be honest, I don't have a problem with Moonlight winning Best Picture. I understand that when you're talking about a film, you're talking about everything that goes into it. The direction, the acting, the makeup, the cinematography. And it's no secret that The Academy of Motion and Picture Sciences wants their winners to represent something bigger. Therefore, their nominees are heavily slanted towards social commentary and the human condition. So I get why the film won the big prize. Its message is, indeed, an important one that shines a light on a community that needs to understand that exclusion shouldn't stop at race, but extend to one's sexuality as well. I mean, we definitely need less cringe-inducing moments like this one…
However, what I do have a problem with, is when the Academy weights social commentary and the human condition to such a degree that those variables become more important than whether the film is actually good or not.
Moonlight and Manchester By The Sea won the Adapted and Original screenplay awards respectively. And they're both terrible screenplays. There isn't even a discussion to be had on the matter. They're awful screenplays that display no skill in the screenwriting department whatsoever.
How can I say such a thing? One of the easiest ways to judge a screenplay is to ask, "Can someone else have written this?" Is the skill on display at a level where other writers could've written something similar? I can say without hesitation that there isn't one writer of the 10,000 members in the WGA who couldn't have written either of these scripts.
All you had to do was write a scene of a character who looks lost, write another scene where someone just died or got high on drugs, write another scene where the character looks a little bit more lost, write a few scenes where the character talks to other people, either about being lost or not wanting to admit they're lost, then repeat that process for 2 hours. ANY WRITER can do that. It doesn't take a lick of skill.
Screenwriting skill comes from the ability to convey your message through an entertaining dramatic narrative. It's saying the things that those two movies are saying, without dragging you through an endless collection of melodramatic cliches that hit the same dramatic beat over and over again. It's being unexpected. It's taking you to places you didn't think the story would go. It's exciting you. Being able to do that? That's storytelling.
Recent examples of this include Drive, The Edge of Seventeen, Nocturnal Animals, The Big Short, The Imitation Game, Hell or High Water, and Sicario.
Unfortunately, there's a bigger issue at play here. And that's that the industry has designed the narrative behind these movies so that if you disagree with their greatness, you are either a) racist/sexist/bigoted/etc. or b) stupid. It's almost laughable in the case of Manchester by the Sea. In the handful of times I've asked people about this movie in a public setting, the response has been, "Oh, it's so meaningful. It's so intense." Yet every time I've asked a person about it privately, the answer is always the same and sounds very close to this most recent response, which I heard last night: "That was the most boring movie I've ever seen. It had three good minutes in it."
What the Academy tends to forget is that a work of art, no matter how well-intentioned, is never beyond reproach. Moonlight is a script that would've failed miserably had it been featured on this site for an Amateur Friday review. And rightfully so. It hides its weaknesses behind beautiful cinematography and strong performances. But when you strip those away, you have 20+ minute segments of a boy walking around in a neighborhood. I'm sorry but that's not screenwriting. It takes zero screenwriting skill to write, "The boy walks down the street" for 20 pages.
And that's just the beginning. Moonlight has one of the most passive heroes in Academy nominee history. The guy just stares out while everyone else around him acts. I'm fine with a passive character if the writer has a reason for them to be passive. But I honestly believe this writer didn't know the difference between passive and active, which is one of the easiest ways to identify a writer who doesn't understand the screenwriting medium.
I'm a believer that you can write any story you want, as long as you entertain us in the process. And that doesn't mean you have to include dinosaurs. It means understanding and implementing the tenets of drama. Goals, obstacles, stakes, urgency, mystery, suspense, conflict. Give me a script that shows a mastery of those skills and you've got my endorsement for an Oscar nomination. But if all you're doing is drudging through one passive melodramatic scene after another, I'm sorry, but you haven't written a screenplay, nor are you a screenwriter.
It's not surprising to me that both of these movies were writer-director projects. While that combo can lead to some great films, such as when Quentin Tarantino or Spike Jonez have the reins, it is a hack that allows really bad scripts to slip through a vetting process designed to keep slog-fests like these from ever getting in front of the public.
If you don't believe me, go watch Manchester by the Sea and Moonlight and strip away all the Oscar shine. Watch them for what they are. Tell me they aren't anything but movies you see so you can tell other cultured people that you saw them. Once this happens, a dance will begin. You'll look into each other's eyes, and if those eyes give you the green light, you'll be able to confide that, "That was a really boring movie, wasn't it?" If not, you'll both have to pretend how profound cinema can be, keeping the secret of these screenwriting imposters alive.
Maybe one of these days, the Academy will start celebrating movies that were actually well written as opposed to well-intentioned.