Genre: Crime-Thriller
Premise: An alcoholic woman who becomes obsessed with a couple whose home she passes every day on the train, is convinced she knows what happened when the woman in the relationship goes missing.
About: This is Paula Hawkins' first official novel, but she has written a few chick-lit books under a pseudonym, although you couldn't' get her to tell you the titles if you tried. A former financial analyst and journalist, Hawkins explains The Girl On The Train as her last-ditch attempt at becoming a novelist. Hawkins says of how she came up with the idea: "I used to commute when I was a journalist, from the edges of London. I loved looking into people's houses. The train went really close by apartments, so you could see in. I never saw anything shocking, but I wondered, if you saw anything out of the ordinary, an act of violence, who would you tell and would anyone believe you?" Dreamworks has optioned the book, although the film doesn't have a star or director attached yet. That could change soon. The book now has 10,000 Amazon reviews (Gone Girl had 20,000 when David Fincher became attached).
Writer: Paula Hawkins
Details: 326 pages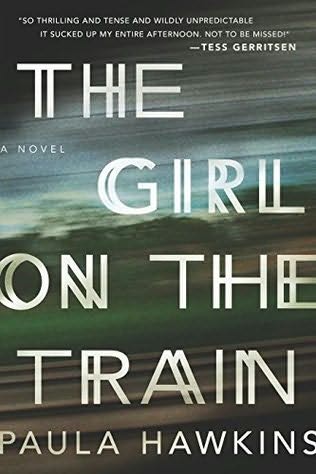 Just Monday we had a guest author chime in on how much freedom one has when writing a novel – being able to play with the narrative, taking different points of view – and boy does today's novel support that claim.
There will be, of course, people who shrug The Girl On The Train off as a Gone Girl clone, a book that came along at just the moment Gone Girl movie mania was sweeping the nation. The novel, like Gone Girl, is a crime-thriller, takes us through different points of view in regards to a missing woman, and, in case you hadn't noticed, has the word "Girl" in the title.
But what might surprise you is that "Train" is better than Gone Girl. I don't say that easily. Gone Girl's amazing first half and mid-point twist help it win the "first half of the book" award. But whereas Gone Girl starts running out of steam once it leads to its inevitable conclusion, "Train" only gets better as its climax approaches.
That was always my big problem with Gone Girl – the book, and then the movie. As much as Gillian Flynn tried to convince us that her dark weird ending was the way she preferred it, it was clear that she simply wrote herself into a corner – confirmed later in an interview where she confesses to not outlining – one of the most important aspects in writing a great ending. The Girl On The Train has no such issues.
Middle-aged Rachel Watson has pretty much given up on life. She ruined her marriage to the perfect man by drinking too much, then watched as he moved into the arms of a younger prettier woman. Rachel moved out of town, got fat, and now rides the train every day to a job she doesn't have anymore, but which she must pretend to have in order to keep her flatmate from kicking her out of her apartment.  And oh yeah, she's rarely sober.
The lone light in Rachel's life is Jason and Jess, a perfect couple who live in a house she passes on the train every day. The two are always outside, kissing, hugging, living that perfect life Rachel once had. Of course, their real names aren't Jason and Jess. Those are the pretend names Rachel has given them, which seems appropriate, given her happiness exists only in a fantasy world she creates.
Rachel first noticed Jason and Jess because their home is a few houses down from where she used to live. Her ex-husband still lives there, now with his perfect replacement wife, Anne. Rachel would like to say that she's a big girl who's moved on from that world. But the truth is, she gets drunk every night and stalks her husband, both on the phone and at the house. We learn very quickly that Rachel isn't exactly… stable.
Then one day, everything changes. As she's passing by in the train, she sees "Jess" outside her house with ANOTHER MAN. Her fantasy world destroyed, she's unable to process this information for days. However, it's what happens after that really shakes her foundation. "Jess" goes missing, and no one has any information on what happened to her. No one, that is, but Rachel.
Rachel, excited to actually have a purpose in life again, goes to the police to inform them about the man she saw outside with "Jess" (real name: Megan). But they dismiss her as a sad middle-aged drunk woman. It's for this reason that Rachel must take on the case by herself.  Well, at least in her opinion that is.
The book jumps back and forth between the points of view of Anne (Rachel's replacement), Megan (the missing woman before she goes missing), and of course, Rachel. What makes the investigation so fascinating is that Rachel is wasted half the time, so she's just about the most unreliable narrator ever.
She wakes up each morning only vaguely remembering the night before, making her investigation a puzzle where all the pieces are upside-down. The whole time we're excited as we get closer to the answer. But we're always wondering: Can we really trust anything we know here? Or is Rachel just a sad lonely woman who's making this all up?  Or is the answer much worse?  Could Rachel somehow be… involved?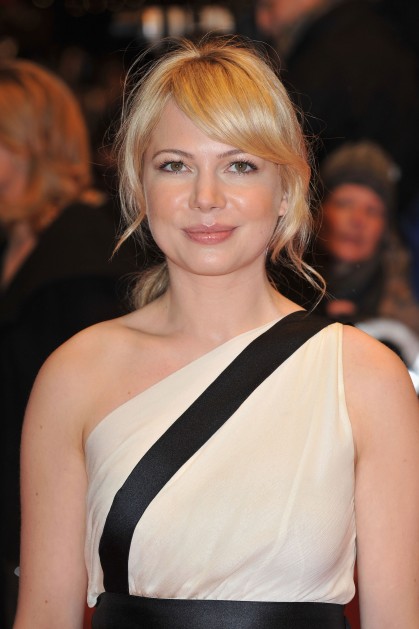 Michelle Williams, Hawkins' dream acting choice for Rachel.
Whether you're writing a novel or a screenplay, there's one thing you'll almost certainly need to succeed – and that's a compelling main character. I don't know if characters get more compelling than Rachel Watson. Imagine being inside the mind of a train wreck who does the most horrible things, but can justify each and every one of them, and maybe even convince you they're not so terrible too.
At one point in the story, Rachel steals a baby. Let me repeat that. THE MAIN CHARACTER STEALS A BABY. And we still root for her!
Sound impossible? Well, there's a bit of a trick going on here. In a movie, it's hard to have a character do something like steal a baby and the audience root for them. That's because we only see their actions. We're not in their head with them. Girl On The Train has the advantage of placing us inside Rachel's head. So when she explains WHY she steals the baby, it doesn't sound all that crazy. I mean, she still shouldn't have done it. But we can at least understand what she was thinking at the time.
This is why you'll often hear voice over in movies when bad characters are the protagonists. The writers know you'll never justify their actions from afar. But if you're in their head with them, it's possible to understand where they're coming from. (House of Cards Season 2 spoilers). For example, in House of Cards, Frank Underwood is always talking directly to us, explaining why he's doing the horrible things he's doing. So even though we might not agree with him, we see where he's coming from. When he throws Zoe Barnes into a train, killing her, a few words explaining how dangerous she was makes the pill a lot easier to swallow. And "Train's" Rachel Watson benefits from this same "first person perspective" halo.
Another reason we're lenient towards this character's terrible tendencies is because she's ACTIVE. Readers and audiences like characters who DO STUFF. Characters who are passive, who watch the world go by and do nothing, we have no patience for these wallflowers. But no matter how "bad" someone is, if they're at least trying to do something, we'll want to see if they succeed. And Rachel, while not exactly Sherlock Holmes, throws herself into this investigation with gusto. She wants to solve the mystery, so of course we want to see if she pulls it off.
In addition to this, Rachel is, at her core, doing a good thing. She's trying to solve a murder. Sure she's lying to everybody. Sure she steals babies. Sure she gets blackout drunk every night. Sure she stalks her ex-husband and leaves 20 screaming voicemails on his phone every night. But she's trying to solve a murder and expose a killer.
As crazy as it sounds, I've read versions of this story where there is no killing. There's just a drunk main character who stumbles around the city feeling sorry for him/herself the whole time. I'm much less inclined to root for that character than I am one who wants to solve a murder, who has an honorable goal to execute.
I don't want to spoil too much here because the brilliance of this book is in its surprises, but I will leave you with one more thing. MAKE YOUR CHARACTERS LIARS. Everything becomes so much more interesting when people are hiding things. Part of the deliciousness in Girl On The Train is that Rachel lies to everyone. Seeing if she's going to get caught is part of the fun.
For instance, when she approaches "Jason," the missing girl's husband, to let him know that she saw "Jess" with another man, she can't tell him that she's watched them every day for the past two years on the train. That would make her sound crazy, right? So she makes up a little lie about knowing "Jess" from her art gallery. Of course, as their relationship grows, Jason requires more information about her friendship with Jess, and Rachel is forced to add more to the lie. At a certain point, she's locked into a story that's completely made up. And when that story gets exposed to other people, like the cops, Rachel has to come up with more lies to explain away that lie.
I know a lot of you don't have time to read books but this one reads like a screenplay. It's really fast. And I highly recommend it.
[ ] what the hell did I just read?
[ ] wasn't for me
[ ] worth the read
[x] impressive
[ ] genius
What I learned: Use LIES WITH LEGS over simple lies. A simple lie can result in a fun scene. Frank secretly takes some money from his wife to go gambling, comes home to see his wife home early, she asks him where her money is, and he makes up a lie. The lie doesn't quite make sense to her, so she questions him about it. The suspense comes from whether he'll talk his way out of the suspicion or not. But a much more powerful lie is a lie that has legs. It's a lie that the character HAS TO KEEP BUILDING ON. That's what's so great about Girl on The Train. Rachel tells all these little lies. But they're lies that matter in a detail-oriented missing-woman's search. So they're brought up again and again to her (How does she know "Jess" exactly?) and she has to come up with more lies to cover for her previous lies. That's one of the areas where this book really shined. A lie was never just a simple lie. It was forced to keep growing.