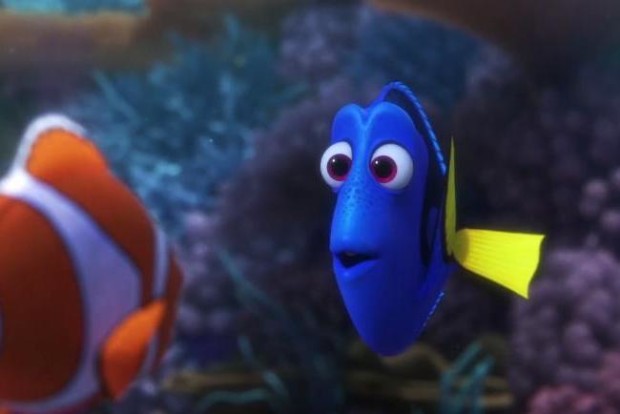 I don't know what to make of Finding Dory's success or what it means to screenwriters. There have been few sequels less necessary than this one. How do I know this? Because in ten years, I've never heard someone say, "I wonder when they're going to make a Finding Nemo 2."
I suppose we can chalk it up to a couple of things. Number 1, there is NOTHING good out right now. Nothing. And there hasn't been in months. People are desperate for something good – heck, even AVERAGE will do. And boy is this movie average. The plotting and exposition are some of the laziest in Pixar's library. And it feels like entire sections were borrowed from Toy Story 3.
Which leads us to number 2: Never underestimate family films, particularly animated ones. The hardcore screenwriters don't think much of them. But these are the movies that keep studios afloat, no pun intended. It's the Parent Principle. Leaving young kids at home while you go see a movie is a major hassle for parents. Which means no one shows up. But give parents a movie they can take their kids to, and both of them show up.
So what's the secret to getting nobody to show up? Ask Independence Day 2, which squeaked into the box office number 2 slot with a little over 40 million bucks. The irony here is that Will Smith just gave an interview where he admitted that studios can't fool audiences anymore. You can't go seven days at the theater before word gets out that your movie sucks. These days it happens on social media instantaneously.
The studios are still trying to control things though. Fox wouldn't screen this for critics before its release. Here's the funny thing about that. People are using social media to talk about how the studio isn't letting critics see the film, which actually creates more of a negative buzz than had they just let critics see it in the first place.
Now this may seem like a weird vendetta I have against the film. But I'm really happy this happened. The original film ended with someone uploading a mac virus into the alien computer system. To me, that's highway robbery. You pulled us in with this fun invasion story, and you concluded it with an ending a 3rd grader could've written. You are stealing money when you do that. I'm serious. It's borderline unethical. So I'm happy that they're paying the price for that now. I guarantee you, if that movie had ended strong – or just where it was clear that they tried, people would've begged for a sequel.
I know I sound like a broken record. But you need to start writing better scripts if you want us to show up. There's no summer that's proven that more than this one. Audiences aren't responding to your lazy concepts (part of writing) and lazy execution (the nuts and bolts of writing). People in positions of power are going to have to look at themselves in the mirror come Labor Day and ask if they're still okay with churning out risk-averse product. Sure, they can keep throwing ancient IP at us, like Tarzan and Universal's upcoming monster universe, but they'll pay the price if they do.
And let me be clear about something. Writers, directors, producers – these people are DYING to create original content. The only reason they're not is because the studios won't let them. The studios hold the keys to all movies that cost north of 40 million bucks. If you want to play in that sandbox, you have to make the movies they want to make. So the people that need to be targeted for the garbage we're seeing are the studio heads and their executives.
The one highlight from the weekend is the showing of The Shallows. This is a spec script that made 16 million dollars on a 19 million dollar budget in its opening weekend in the heart of summer. For comparison's sake, that's a little less than half of what Independence Day 2 made, yet Independence Day 2 had a budget NINE TIMES that of The Shallows. It goes to show that if you choose a juicy subject matter (sharks always sell), and create a clever storyline that keeps the budget low, you could see your spec script opening strong against major tentpole franchises in the heart of summer. Pretty cool.
Before we wrap up, I want to share a conversation I had with a professional screenwriter this weekend. And he vocalized something I'd always considered but never had a term for. He calls it "burning reads." And I thought it was apropos with our script rewrites coming up this Thursday.
The idea is this. Every time you read your script, you become one step more numb to it. More numb to the plot machinations, to the characters, to the dialogue exchanges, to the jokes, to the emotional beats. This becomes dangerous because, after a certain amount of reads, you feel nothing when reading your script. You know everything so well that it's just words on a page. And how can you continue to improve your script if you can't feel anything while writing it?
Because of this, this writer rarely reads his script from start to finish. He'll identify a problem section (say, the sequence after the mid-point) and work on that individually. And he'll do that for a number of other sections as well. Then only once he's applied changes to everything does he go back and read the script all the way through.
And when you think about it, it's a good strategy, because the more you can mimic the experience of a reader reading your script for the first time, the better. Now I realize this is an imperfect and somewhat tricky science. But I do believe in the principle of it. Only burn full reads when you absolutely have to. Otherwise, you're numbing yourself to everything that works so well in your screenplay.
We'll discuss more about rewriting on Thursday!
Until then, eat a crumb cake.