Might today's action spec be the most manly ever reviewed on Scriptshadow???
Genre: Action
Premise: A group of badass mercenaries are hired for the most difficult security detail in the world, protecting a Mexican politician targeted by the biggest cartel boss in the country.
About: Originally written by Predators scribe, Alex Litvak, Five Against a Bullet pulled in the king of cool, Joe Carnahan, to rewrite the script and direct the film.
Writers: Joe Carnahan rewrite (original script by Alex Litvak)
Details: 121 pages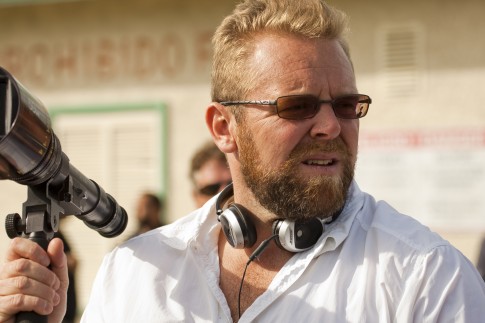 Here's my question. How do you turn a script like this into the next Fast and Furious franchise as opposed to the next straight-to-digital franchise? Cause honestly, it could go either way. It's got five cool testosterone-busting leads for actors, the kind of badass parts you could see action actors playing over and over. Yet if they don't get the right mix of hot faces and money, it doesn't matter how good of a director Carnahan is. This will never get a wide release.
"Five" follows five badass dudes, starting with the leader, Frank, a man of few words who can get out of any situation by always expecting the worst. There's Simon, a mouthy Australian desperate to prove he's got the biggest dick in the room. Terry, a weirdo Japanese-American who can hardly be bothered to look up from whatever video game he's playing. Vic, a slimy private detective who will bang your wife the second you hire him to see if she's cheating on you. And finally, Rico, a former bodyguard who failed to protect his boss from one of the most ruthless cartels in the country.
These five are brought in to protect Alvaro Diaz, a Mayoral candidate in a large Mexican City. All they have to do is keep him alive for three weeks, until the election is over. The problem is, every cartel member and their step-mom wants to off this guy as he's the only candidate with the balls to stand up to them.
The script follows our team as they try and figure out how to navigate even the most mundane of tasks, like traveling a few blocks. When the bounty on Diaz's head is raised to 20 million, even the girls playing hopscotch are libel to slit your throat. And the longer this goes on, the more Frank worries he may have gotten himself in over his head.
When the heat of the campaign eclipses the heat of an average day in Mexico, Diaz decides to confront the man who wants his head, Montero, face-to-face. He lets him know that he's not backing down, and if Montero wants to kill him, he's going to have to pull something out of his ass. Frank, for the record, is not a fan of that challenge.
Eventually, when gang members start showing up at locations in advance of our team, Frank figures out they've got a mole. If he doesn't flush out that mole quickly, there is no way they'll make it anywhere close to election day. And we're not just talking about Diaz. We're talking about every single one of them.
So what is the difference between a straight-to-video balls-to-the-wall action flick and the next Fast and Furious franchise? Fuck if I know. But if I had to guess, I'd say eliminating as much generic as you can from your action movie. If all you have is guys shooting at each other and getting in car chases, it's likely you have a boring action movie.
With Fast and Furious, as cheesy as the original was, it took place in a world (underground car racing) that hadn't been explored much on the big screen. This is the unheralded benefit of a unique concept. Just by the nature of it being unique, most of the scenes you write will be unique without you even having to think about it.
Five Against A Bullet straddles the line between that world and the generic world (we get plenty of ubiquitous Mexican standoffs) but comes out on top strictly because of how good of a writer Carnahan is. I'm serious. This guy writes action better than anyone in town, and there isn't anybody even close. When a car crashes in a Carnahan script it doesn't "flip five times before coming to a stop." It "barrel rolls over and over, vomiting metal and glass as it slides to a shuddering halt in the middle of the freeway." I grew a beard reading this script it was so manly.
Also, Carnahan knows that the secret ingredient in an action movie is non-action scenes. If every scene is people shooting each other up, the audience gets bored. You have to find ways to mix it up.
One of the best scenes in Five Against A Bullet is when our guys are driving through town at night and get stopped by a police blockade. The police chief, obviously in bed with Montero, tells Diaz that his team is illegally carrying firearms and that the cars they're driving aren't up to code. Unfortunately, he apologizes, he'll need to take both. This leaves the entire team in the middle of the city, in the middle of the night, without vehicles or a way to defend themselves. The suspense and anticipation this situation presents is far more engaging than yet another "Pew pew pew! Got'em!" gunfight.
Then there's the mole stuff. Someone in the group is informing Montero where they're going to be ahead of time. So Frank has to figure out who it is. I was far more engaged in this mystery than I was the next car chase. And a lot of newbie action writers don't realize this. They just write the most elaborate gun fights they can think of.
My big problem with the script was the structure. I've mentioned this before. I don't like stories that are built on waiting. I like it when the characters are actively going out and trying to achieve a goal (like a heist, which is what one of the recent Fast and Furious films was about).
Five Against A Bullet is all about waiting for someone else (Montero) to make a move, and then repeatedly reacting to that move. It's not to say that can't work. There's a level of suspense involved in "Where is the next attack going to come from?" But movies tend to work best when the main character is pursuing something as opposed to waiting on others to pursue something. The latter results in a more passive story, which is particularly dangerous when you're writing a testosterone-filled action film.
But again, Carnahan is such a good action writer, he makes it work. And to that end, I implore ALL action writers to find and read this script. Particularly, pay attention to the detail Carnahan adds. It makes everything he writes feel so much more tactile than your average action spec. You really feel like you're there. For example, here's how he has one of his characters introducing the cars they'll be using to drive the team around: "V-12 short stroke switchout engines. These cars will turn 600 horses apiece and look like everyday drivers. Reinforced bumpers, so we can punch through roadblocks. Run flat tires. UL Level 10 Bullet-resistant glass. And that's as much as 50k gets for three cars." A bit different from your average newbie description of "A badass muscle car" no?
[ ] What the hell did I just read?
[ ] wasn't for me
[x] worth the read
[ ] impressive
[ ] genius
What I learned: Look beyond the action for the best scenes in an action movie. Use tried-and-true storytelling tools to find scenes instead. Mystery (which one of them is the mole?) and suspense (place them in the middle of town, at night, with no way to defend themselves). You obviously want action in action movies. But if ALL you're offering is action, then all you're offering is boredom.