Genre: Drama/Thriller
Premise: A young man raised by his overbearing father in a remote forest is forced to reevaluate everything he's learned when his father goes to jail and he's introduced into society for the first time.
About: This script finished low on the most recent Black List. Not much is known about the writer, Jacques Edeline, other than that he's spent the last few years writing and making short films.
Writer: Jacques Edeline
Details: 98 pages – undated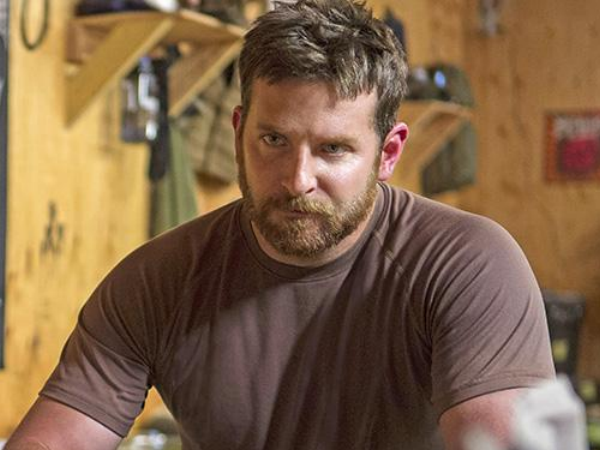 This could be a spiritual sequel to American Sniper for Cooper
As we come off a weekend where Batman vs. Superman, a film some believed would be the biggest movie of all time, was dethroned in only its third weekend by a second-tier Melissa McCarthy comedy, we have to ask the question: Are audiences finally getting tired of superhero films?
A producer was trying to convince me of this a few months ago – that once these superhero movies started to run up too close to each other, audiences would bolt. For the record, I told him he was crazy. Remember, people have been announcing the end of superhero films for almost a decade now. Director Matthew Vaughn famously predicted that his film, X-Men: First Class, would be one of the last superhero films. But the damn genre is like alien teflon – it doesn't just repel. It grows stronger!
However, as I watched recent trailers for Suicide Squad and Captain America, I noticed a new feeling bubbling up inside of me. It wasn't hate. It wasn't apathy. It was exhaustion. I know I will see these movies. But I'm not sure I'm looking forward to them anymore. There are only so many colors you can use for a cape.
Make no mistake, there would be SO MANY PEOPLE in Hollywood THRILLED by this news. Contrary to popular belief, that all Hollywood cares about is moola, the creative side of the field – the people who love the process of making movies – they're DONE with superheroes. They're praying every day that they die.
And maybe if that happens, we'll get more movies like today's, a script I went into with zero expectations, and came out of with a giant smile on my face. Which is kinda disturbing once you hear what it's about.
42 year-old Charlie Nasy lives out in the Appalachian wilderness with his 15 year-old son, Will, a young man who's basically a clone of his father. And what a father that is. Charlie's life is that of a "prepper" on steroids. They farm the land, they kill their own food, they read, they stockpile, they train.
As you'd expect, Will's perception of the world is a little warped. Charlie's taught him that society is evil, that everyone's a puppet, that all people want to do is manipulate you, that you should never trust anyone about anything.
So when the cops show up one day and take Charlie away for a lifetime of not paying the tax man, Will's placed in a temporary foster home, where an older couple watches over him. Will goes to school for the first time, and despite being miles smarter than everyone else, plans to lay low until his father gets out in a year.
That plan is thrown into disarray, however, when he develops a relationship with an offbeat artsy stunner, Renee. Renee starts to show him another side to life – namely that you can have fun – an activity Will's never been privy to.
Through flashbacks, we learn that Charlie is way worse than being an overbearing abusive weirdo, and has actually been planning a series of terrorist attacks against the U.S. Call it serendipitous then, that Will is encouraged by Renee to try out for the Presidential Scholars Program, a program whereby if you win, you get to meet the president himself.
Charlie flips when he hears this, and through their weekly prison visits, comes up with a plan for Will to kill they president when they meet. Will is totally down at first, but as he falls deeper and deeper in love with Renee, he begins to question not just the plan, but everything he's ever known about his father.
So before committing to this script, I actually read the first few pages of four other Black List scripts. I said to myself, whoever had the best first-3-pages would get the read. Homegrown won because it introduced me to the most interesting character of the bunch – Charlie.
Why was he the most interesting? Simple. The make-up of Charlie's character brought conflict into every scene he was in.
Conflict, my page-filling friends, is the magical pixie dust that brings scenes alive. So you want to look for it wherever you can. We talk about goals, stakes, and urgency. But remember that the right dose of conflict can power a scene that doesn't contain any of those elements.
This is actually what TV does. TV can't always give you that strong goal, those high stakes, and that impending urgency, because the story needs to last for years. If you GSU the shit out of every scene, you're going to burn the reader out. So how does TV keep you entertained? That's right: CONFLICT. Find the conflict in the scene and you will have an entertaining scene.
What Jacques does here is he embeds resistance into the core of his co-lead, Charlie. Charlie hates people. He despises happiness. He's always an ill-timed tap on the shoulder from snapping. So what happens when you place that kind of person in a conversation? There's conflict! Right? Because he doesn't want to be in the conversation.
We spot this mechanism in action right off the bat. Charlie's forced to sell fish at the farmer's market for extra dough. A flirty woman approaches him and asks him questions about his fish, about his process for catching them, and Charlie just shuts her down. We feel the tension in the conversation. We feel the conflict between them. It acts as current to electrify the scene.
And conflict's important because the script doesn't have urgency. "Homegrown" takes place over an entire year. It's a reminder that screenwriting is a lot like cooking. You don't always have the ingredients (in this case, urgency). But that's okay. Because you can compensate by adding more of another ingredient (in this case, conflict).
Another thing I liked about Homegrown was that usually in these localized character-driven scripts, the stakes are low. I mean sure, the personal stakes are high. If the characters don't get over their haunting pasts, they'll never be whole again. All of that is wonderful and liberating. But what if you could do that AND make your story feel big at the same time? You can. Add a story element with high-stakes.
When we find out that Will could actually assassinate the president of the United States, this story goes up a level. Now there's something on the line here. This kid could change the course of history. That was a clever addition.
And finally, this has such a nasty villain – Charlie. He's easily the most vile character I've read all year. And I always say, if you can write one character into your script that the reader won't forget any time soon, you've succeeded. Because most writers can't write a character the reader will remember five minutes after they put the script down.
Homegrown is a great "break-in" script. It shows that the writer can write on a character level but also incorporate that bigger storyline Hollywood likes. And on top of all that, it makes you think. It's a really smart screenplay.
[ ] What the hell did I just read?
[ ] wasn't for me
[xx] worth the read
[ ] impressive
[ ] genius
What I learned: Writers think that to pull a reader in at the beginning of a script, you need to do it with a murder, or a mystery, or a flashy scene. But don't rule out hooking the reader with a unique character. That's what drew me in here – Charlie coldly dismissing a beautiful woman hitting on him. Charlie depriving his son of any happiness or connection with the outside world. I wanted to know more about Charlie. That's what pulled me into this story.