Genre: Sci-fi/Fantasy
Premise: A ragtag group of rebels attempt to steal the plans to the biggest weapon in the galaxy.
About: Rogue One is the first movie in the "standalone" Star Wars universe. Its production struggles have been well-documented, as over 40% of the film was reshot. Look no further than the first trailer for Rogue One to see how bad it got. Barely anything we see in that first trailer is in the final film. The film was directed by Godzilla director Gareth Edwards and comes out… TODAY!
Writers: Chris Weitz and Tony Gilroy (story by John Knoll and Gar Whitta) (based on characters by George Lucas)
Details: 2 hours and 13 minutes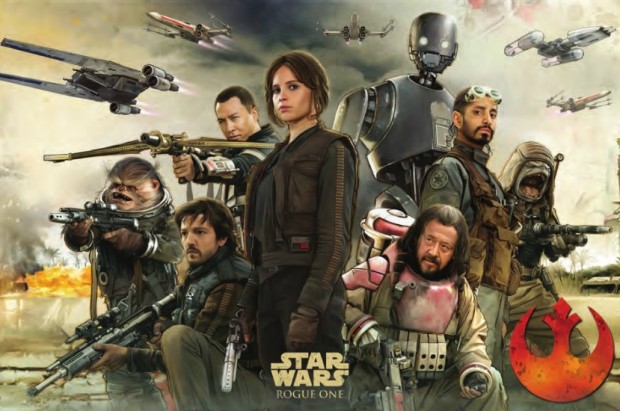 I'll get right to it.
I was so disappointed by Rogue One that I considered not writing this review.
I thought this movie would at least be decent. Most of the people I trust online liked it. But everyone seems to be wearing their Star Wars goggles (Star Wars Goggles is a phenomenon by which you love a Star Wars movie right after you see it, then several months later realize you hate it).
I'm struggling, ten hours later, to find anything that I liked.
Everything about this film was either bad or weird. And the only times it felt anything like a Star Wars movie was when it cross-referenced the other films.
THERE WILL BE SPOILERS BELOW!!!
For those who don't know anything about the plot, the infamous Death Star's killer planet ray was created by a dude who hated what he was doing so much, he built a secret flaw in the system that would allow anyone who knew about it to blow the whole thing up. The Rebel Alliance recruits the man's daughter, now a criminal, to find her father and retrieve those plans. She, in turn, teams up with a rag-tag group of nasty dudes to go perform the mission.
It's a pretty good plot, to be honest. So where does it go wrong?
The characters. Oh my God, the characters.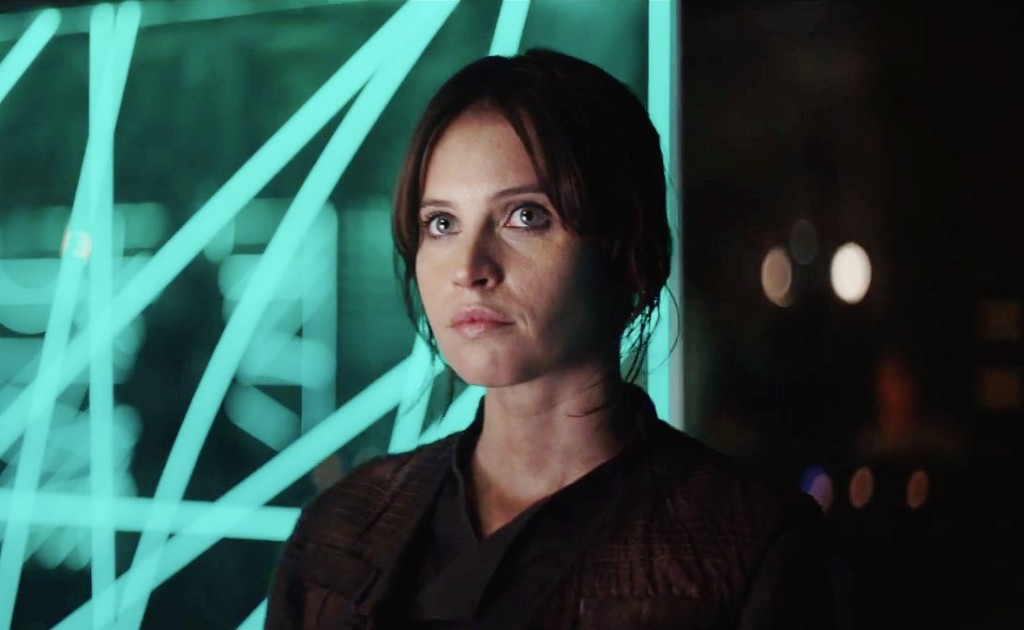 Jyn Erso – Easily the least charismatic lead character in any Star Wars movie. And that's hard to pull off when you're competing against the prequels. Holy shit was this character boring. She just looked angry a lot of the time. We don't need to look further to know why this movie failed. If your lead character isn't interesting. If we don't care whether they succeed or not, the most adept screenwriting plotter in the world can't save the film. I felt 1000 times more emotional watching William Wallace (an obvious inspiration) lose his father as a kid than I did Jyn Erso cradling her dead father. And I'd known William Wallace's character for one scene. Boring boring boring boring. People can hate on Rey. But one thing Rey was not was boring.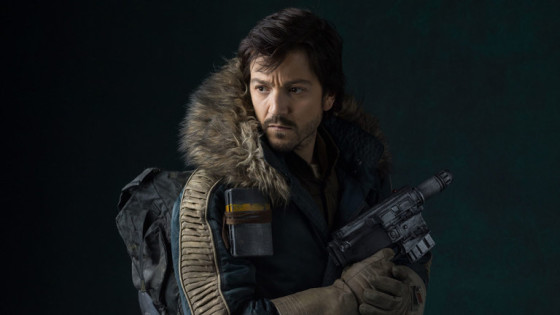 Cassian Andor – So we've at least gotten the worst character out of the way, right. Nope! There's a character who's, somehow, even more boring! Cassian Andor! I think this guy was supposed to be the Han Solo of the group, but here's the problem. He had no wit and no charm. Like most characters in this movie, he kept his thoughts close to the vest which meant we never got a chance to know or care about him. This is the problem when everyone has a secret motive, is we don't get to know them as people. And if we don't know them, we don't care about them.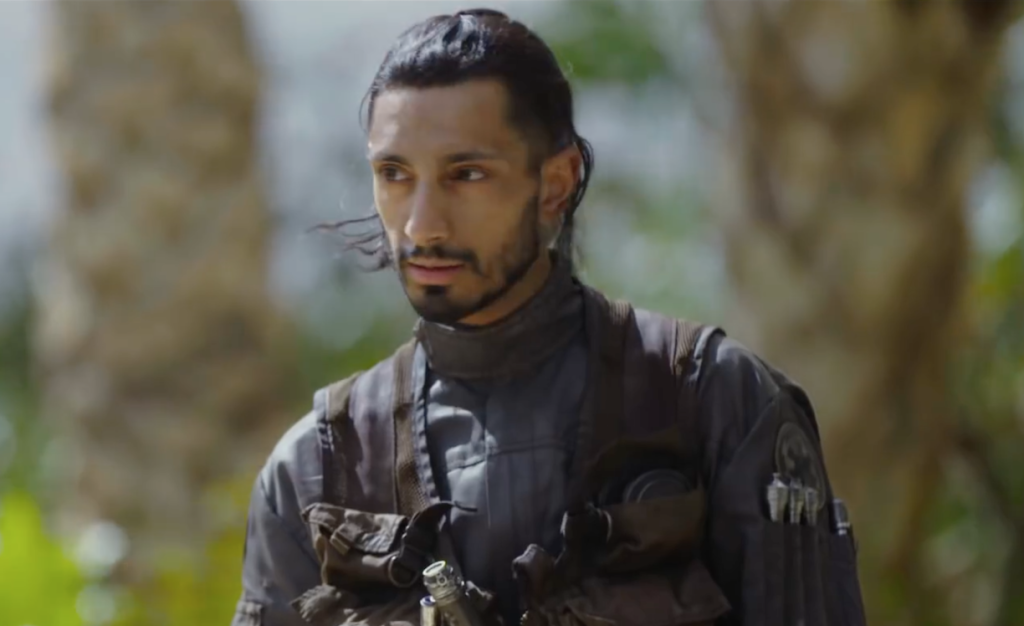 Bodhi Rook – Okay, phew. We're done with the scathing character assassinations, right? I mean, it can't get worse than that. Oh no, it can get worse. It can get so very worse. I am officially announcing Bodhi Rook as the second most annoying character in the Star Wars universe behind Jar Jar Binks. WHAT THE FUCK WAS GOING ON WITH THIS CHARACTER? Half the time he was mumbling to himself. The other half he had to be told to do something eight times before he understood it. Riz Ahmed better thank his lucky stars that The Night Of came out this year. Or there's a good chance this role would've ended his career.
So did I like anyone? Yeah, Ben Mendelsohn was solid as Orson Krennic. Donnie Yen was cool as a blind dude with Jedi aspirations. And K-2SO was good with a few funny lines. But it was like using the Chicago Fire to roast marshmallows. Are these performances really that tasty when the rest of the movie is burning down all around you?
And don't get me started on the special effects. There hasn't been a moment I've felt more uncomfortable during a movie all year than when General Tarkin's CGI character appeared. He looked and moved so robotically, it was like I was transferred back to 2002 CGI. This is Star Wars. There isn't a production that has better resources in the special effects department. Hell, Star Wars CREATED the special effects industry. And this is what they give us??? Some video game CGI character that takes us right out of every scene he's in?
Then there's Vader.
No.
Just no.
Everything about Vader in this movie sucked. Meeting Vader on his nerdy Lava Hideout (an early iteration of Vader's home that previous Star Wars teams scrapped because it was so dorky) for a scene that made no sense other than to… well, have a Vader scene. And then, to resort to giving Vader a 1980s Arnold Scwartzennegar zinger???? "Make sure not to choke on your aspirations?" It was cringe-worthy to the millionth degree. I felt like I was watching two 12 year old's rendition of what a new Darth Vader scene should look like.
And then in the end, we get this Vader song and dance kill a bunch of people in a hallway scene that WAS THE MOST UNNECESSARY SCENE IN THE MOVIE. Not only does it show that the writers don't understand why Vader is cool (Vader is cool cause he's stoic), but think about this for a second. If you're a kid who's never seen a Star Wars movie, and you're watching this film, you'd be like, "Why is that guy in the dark suit who was in one pointless scene all of a sudden the star of this ending?"
Then there was the score.
What the hell did this new guy do to the Star Wars score???? He turned it into one of those scores you hear in Star Wars parody videos where it's clear they didn't get the rights to the music. So they changed up the second half of the chords to stay out of legal trouble. That's what Micahel Guggianico's entire score felt like. You kept waiting for the iconic melody and it never came. It was like bad sex. Never any climax.
And I don't usually talk about score cause I don't know shit about it. But there is no franchise more tied to its score than Star Wars. Maybe after a second viewing I could appreciate it more. A lot of good music tends to grow on you. But honestly? I don't know if I'm going to watch this again. And you're talking to someone who's watched every Star Wars movie at least five times (even the prequels!).
Is there anything, ANYTHING, that I liked here? Let's see. I thought Jedha was a cool idea. That was one of the better sequences. And I thought the tropical island location was a fresh way to explore a Star Wars battle.
But you know what bothered me? This plot was BEGGING our characters to sneak onto the Death Star, yet they never go there! Think about it. The original Star Wars was limited in its ability to explore the Death Star due to budget. This movie could've explored the intricacies of the Death Star on a whole new level. The most iconic villain lair of them all. Yet we never go there. It was an odd choice to say the least.
Rogue One helped me better understand why Star Wars worked. Star Wars was a simple story about a boy with big dreams. It's so relatable. All this shit about "STAR WARS MUST BE DARK" is a big part of why this movie failed. All the characters were rebels and resistors. There was no purity, no one truly good to get behind.
It resulted in a beautiful to look at film with no soul.
[ ] What the hell did I just watch?
[x] wasn't for me
[ ] worth the price of admission
[ ] impressive
[ ] genius
What I learned: If your main character is boring, you're fucked. Plain and simple. And let's go further than that. If the bulk of your main character's personality is introverted, it's hard for that character to stand out. You can only have a character stare out forlorn for so long before we get sick of them.