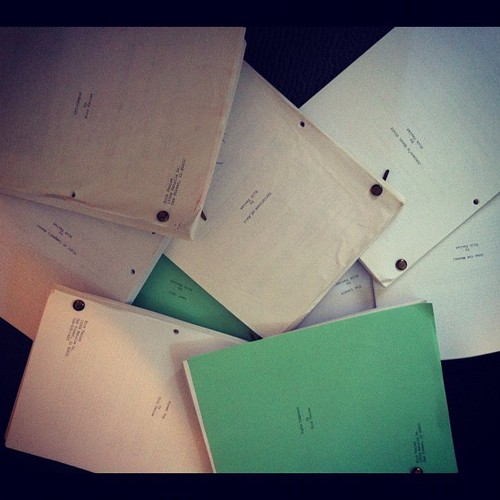 Again, Amateur Offerings is when YOU the Scriptshadow readers submit your own scripts in a Battle Royale format. The script that gets the most votes in the Comments section gets a Friday review, where, if the script is good, good things are known to happen. And it's a special Amateur Offerings post since one of the scripts comes from an idea of mine! Shadows Below is based on an idea I threw out there in an earlier post. Gregory took that idea and he and his partner ran with it. I don't want to weight script reads though. Try to read as many scripts as you can. Then vote for your favorite in the comments!
Title: Shadows Below
Genre: Action Thriller
Logline: After terrorists attack China on the 4th of July, a submarine commanded by the President's Daughter and a team of Navy SEALs are all that stand between the US and Nuclear Armageddon.
Why you should read: Hidden around the world are submarines with only one mission: Nuclear Counter-strike in the event of war. Known as doomsday subs for their ability to destroy the world, redundancy protocols give their Captains absolute authority to launch ballistic missiles if communications with command ever stops. — SHADOWS BELOW is a modern day action / thriller that revolves around the President's Daughter and the US submarine she comes to lead. After American terrorists nuke China's Naval Command on the 4th of July, a Chinese doomsday sub Captained by a legendary Admiral goes rogue and has just under four hours to start a war by nuking Washington DC. — SHADOWS BELOW highlights every aspect of our Navy, from SEALs to Top Gun Pilots, submarines, and aircraft carriers, all engaging in a desperate battle just off the coast of DC to save America. — It is INDEPENDENCE DAY meets THE HUNT FOR RED OCTOBER with a female protagonist.
Title: Nerd Got Game
Genre: Teen Comedy
Logline: A high school science prodigy attends a State science convention where he meets a local girl who turns his world upside down.
Why you should read: Nerd Got Game has been through ten plus drafts, including a page one rewrite. The end result is a lean 90 page script that's ready to go. I love the old John Hughes films from the 80's and more recent teen comedy efforts like Sex Drive (2008), Easy A (2010) and The DUFF (2015). But teen comedies, like romantic comedies, seem to be a rare bird these days. Time for a comeback.
Title: Sessions of Lead Belly
Genre: Biopic
Logline: A Southern black folk singer walks the line between a violent criminal life and becoming a great American musician.
Why you should read: Inspired by the likes of "Raging Bull" and "Thirty Two Short Films About Glenn Gould", "Sessions of Lead Belly" is stylistic bordering on surreal and strives for quality even at expense of authenticity. — The nonlinear structure throughout different periods in Lead Belly's life of the early 1900's is patterned to best draw interest and convey information, exploring who Lead Belly is and why, as well as the futility of triumph and meagerness of survival against all odds. — Every sequence is nearly standalone, playing out as ambitious mini-stories and innovative short films, each with a calculated build and unique style.
Title: The Feed (based on the novel "Feed" by MT Anderson)
Genre: Sci-fi
Logline: In the 22nd century, a complacent teenager's life is thrown into disarray when a rebellious girl shows him that his Utopian world isn't as perfect as it seems.
Why you should read: Yes, this is another teen dystopian sci-fi story. In 2100s America, our brains have been supplemented with "Feeds". Feeds are amazing sources of information, communication and connectivity. Yet people are further apart than ever, unable to express anything but boredom and materialism. It's a script full of big ideas like dependence on technology, corporate control, and big-brother paranoia. But more than any of those things, it's about people. People who are still people, despite being profiled as consumers, targets, and cogs in the machine. — This is my first attempt at a feature-length script, something I finished working on last summer but was just inspired to submit (as I think adaptations are ineligible for SS250). I've written two shorts; one was made into a tiny indie and the other was the recipient of a large cash award within my university. The Feed is based on a novel I truly love, and I hope that the script shows that love for the core story and characters.
Title: LEGACY
Genre: Horror
Logline: A newlywed discovers her family has secretly been hunting down werewolves for centuries and must now choose between the life she has and continuing the family legacy.
Why you should read: This is a dark monster tale with some humorous character interactions to ease the ride. It is a telling of how secrets and betrayals can remold us while perpetuating the cycle of revenge no matter how desperately we fight against it. We are, after all, human. I am a nobody putting my spec out there hoping for an "Immaculate Reception" just to get it read. I have submitted this before to you, and you are probably sick of hearing from me however, I am persistent. Although I thought it was ready for contests, and I did send it to Scriptshadow 250, I highly doubt it will make the cut in any contest, because after I sent it, I found errors (I truly suck at proofing), but there may be other reasons it won't make Carson's list, or any list this year. However, since that time, it has gone through some revisions that I believe have removed these reasons, while painfully proofing it, and:
— In June 2015: LEGACY was requested by 2 production firms to read.
— Has nabbed a Wildsound contest WIN for a screenplay read, and is scheduled for August 2015.
— Made the semi-finals for 1/2015 "Table Read My Screenplay" Park City, Utah contest.
So, that's progress, which I would like to continue by having it reviewed here by the SS community, so I have to ask, Carson, are you my 'Franco Harris?"