Genre: Crime/Drama/Foreign (French)
Premise: (from IMDB) A young car thief kills a policeman and tries to persuade a girl to hide in Italy with him.
About: "Breathless" was one of the most famous films of the French New Wave. The French New Wave was a movement in the 1960s where filmmakers began rejecting the traditional straight-forward methods of writing and directing a story. Essentially, before this, most movies were told in a very linear obvious predictable way. Directors were encouraged to be unpredictable in their methods of cutting and storytelling. Francis Truffant (the writer of this film) and Jean-Luc Godard (the director) were both film critics for the French magazine, Cahiers, which is where they first formulated their ideas for the French New Wave.
Writer: Francis Truffant
Details: 90 minutes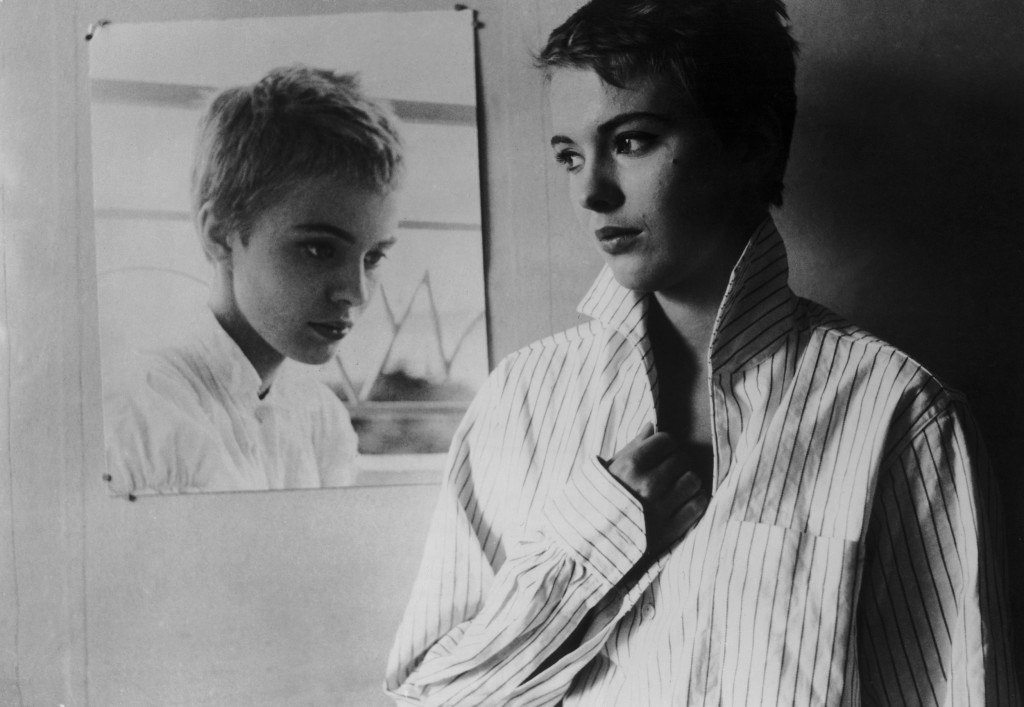 I've never really been a fan of the French New Wave. I think that's because it's one of those things in film school that they tell you you HAVE to appreciate. And, of course, being young and rebellious, that makes you want to NOT appreciate it. Ironic since The French New Wave was created in part by young filmmakers rejecting a film industry they were told they HAD to appreciate.
Also, a lot of the techniques the French New Wave films had introduced (such as jump cuts) had become so widespread by the time I saw it that seeing them used in an old black and white French film didn't have much of an effect on me.
Also, I don't care what kind of techniques you're using in your film, whether they're revolutionary, weird, different, what have you. All that matters to me is: WAS IT A GOOD STORY? Did I enjoy the characters and the journey they went on? That's what bothers me whenever people try to do something different, is they're more focused on doing the thing that's different than they are telling a compelling story.
I have to admit, after watching Breathless, I needed Wikipedia's help to flesh out my understanding of the plot, but basically the story is about a Frenchman, Michel, who for whatever reason is obsessed with Humphrey Bogart. He dresses like him, tries to act like him, and tries to bed as many ladies as possible, presumably like him.
After stealing a car in Marseilles, Michel ends up shooting and killing a policeman. He heads to Paris, where he hits on as many women as possible. There is one woman who he actually likes though, an aspiring journalist from America named Patricia. They slept together a few months ago but she's not sure she wants to sleep with him again because she's afraid to fall in love.
But Michel doesn't give up easily. He tells Patricia he wants to run away with her to Italy. She goes back and forth on the idea, culminating in a 30 minute bedroom scene where the two discuss life, love, sex, and running off together. Eventually, the police catch up to Michel, who must dart around the streets of Paris to avoid them. That is until Patricia gives up his location, all because she'd rather not fall in love. She hates that feeling. And poor Michel's going to take the fall for it.
Fin.
Oh man, I hated this movie so badly in film school. But it wasn't as bad as I remembered it this time. I mean, if you know what you're in for (zero plot, lots of experimentation, endless scenes) you provide yourself with a sort of shield of bearability. I wouldn't say I enjoyed Breathless, but it had its moments, and could be strangely charming at times.
Now I realize that the French New Wave movement was more about deconstructing the way movies were directed, but by association this affected the screenwriting side as well. If you're going to be making jarring jump cuts all over the place, you are affecting the story whether you intend to or not. However, from what I understand, Godard and Truffant took that a step further here. They almost relished the lack of a plot in their script.  Boy, would they not be fans of Scriptshadow.
And again, this is because, before the French New Wave, France only celebrated these very straight-forward linearly-constructed period pieces. These guys wanted to turn all of that on its head. No more period. No more linear. No more obviousness. The foundation of the story would work to unseat the audience's expectations.
I normally like that. But only if the story you're telling is an engaging one. There is no story here. There's a freaking THIRTY MINUTE SCENE with a guy and a girl in an apartment talking about nothing! It's pretty ridiculous how long this scene goes on for. Ironically, it's the biggest thing the movie brings to screenwriting. The dialogue here is completely unstructured and non-mechanical, a problem in many movies pre-1960. It encourages a more natural approach to characters conversing, which gives the scenes a new kind of energy previously unseen in film. And it's something you still see in film today.
Of course, it's important to note that it's REALLY EASY to make dialogue realistic and natural when you have a 30 minute scene and your movie has no plot. The characters don't have to push any story along, discuss any backstory, or inform the audience of anything important (exposition). On top of there being no time limit, they can literally talk about anything they want, so of course it's going to feel naturalistic. Try to do that in a 3 minute scene in a movie with an actual story and you're going to run into trouble. Still, the spirit this approach invokes is a great one for screenwriting.
The other thing Breathless brings to the screenwriting world is its encouragement for storytellers to take more chances in the how they structure their narratives. Not everything has to be "A happens then B happens then C happens then D happens." It's okay to start with D first, then move to A, then C, etc. Not that Breathless is told out of order, but its randomness promotes that approach.
Again, however, introducing this option to screenwriters has been both a blessing and a curse. Many think that randomly jumping around in a story automatically makes their movie "cool." They don't know enough about movies or haven't studied enough about screenwriting to understand that there must be a REASON one chooses this route. If you're doing it just to do it, your script/movie will feel empty. If there's a purpose to jumping around in time (like the awesome script, Nautica), it's going to come out much better.
Now a couple of French folks I spoke to have explicitly told me that the French New Wave ruined French film forever. I haven't watched enough French films to say whether this is an accurate statement or not, but the ones I have watched have definitely pushed me in that direction. The New Wave basically stated that the director is an author, and therefore must leave his IMPRINT on the films he tells. He must enforce his style on the film so that you know it's his.
The problem with this is that each film then is LITERALLY more about style than substance. The "substance" we're referring to here is, of course, the screenplay. It's the story that's either going to captivate the audience or not. If the French film system continues to operate like that, then you're never going to get any well-written films. You're just going to get a bunch of directors jacking off, trying to be the most stylistic douche on the block.
I actually have some well-respected film folks in my corner on this. Jean-Pierre Jeunet, director of Amelie, when asked about if the French New Wave influenced his film, replied, "Fuck the French New Wave" (to which the press junket he was in cheered). And Martin Scorsese, when asked about Breathless, cryptically responded, "I like it" (unconvincingly), then followed that up with an ass-covering, "I don't understand it. But I like it."
And actually, Martin Scorsese is a perfect example of a director with a very recognizable style who STILL places emphasis on the script. And that seems to be where the French are still stuck in the mud. They love leaving their marks as directors on a film, but haven't been able to admit the importance of the screenplay in the equation, leaving much of their films in the "rambling unfocused mess" category. Whether that's because of the French New Wave is debatable, but that's certainly what it looks like from here.
[ ] what the hell did I just watch?
[x] wasn't for me
[ ] worth seeing
[ ] impressive
[ ] genius
What I learned: Breathless reminded me to be more playful with your dialogue. Unlike a story, dialogue doesn't always have to make sense. When people speak, the combination of mood, distractedness, sense of humor, sarcasm, weirdness, etc., should result in some fun/playful/strange exchanges, such as this one from Breathless: "I saw a man die." "How'd he die?" "It was an accident." "Take me out to dinner?"