Genre: Psychological drama. I think.
Premise (after reading): Unhappy with her life, a housewife visits a physicist who transforms the way she views the world – and her own mind.
About: Carson received an email the other morning proposing I, Miss Scriptshadow, review our very own Grendl's script. I have the female perspective on my side, which Grendl insisted was crucial. I know nothing about this script and I barely know Grendl outside of occasionally hearing Carson say things like, "The psychoness continues" while reading comments.  The only stipulation for this review was a promise not to represent Grendl in a sketched caricature.  So, instead, I'm including a suggested image by Grendl himself.
Writer: Grendl
Detail: 118 pages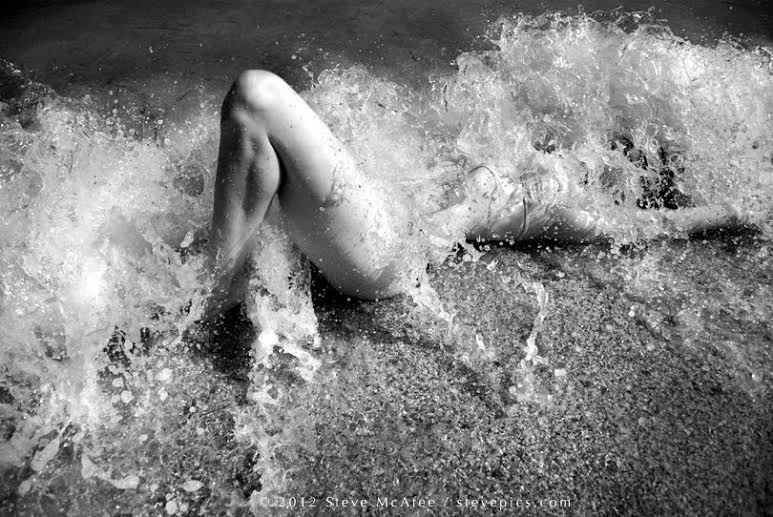 I honestly don't know how to start.
Grendl, dearest Grendl, has chosen moi as the prime-time reviewer of yet another supposed masterpiece: Undertow. I remember very clearly my day of reckoning, as if it had wandered to me in a lucid dream…
Carson awoke with drowsy requests for a crepe breakfast, and the cat was agitated and restless, seemingly unaware of my impending call to glory. I grumbled about the day's chores, and rolled out of bed to mix up a batch of my very best crepe batter, prepared for yet another amazing day.
Unsavory rap music now thrumming through the apartment, I suddenly heard from the bedroom a tentative, "Um, there's an interesting email from Guess Who. And it involves you."
The email itself was tame, still not without a touch of the Gren's signature, eerie flair – the above-featured black and white photo of a woman basking in ocean water taunted us from beneath the text. Why? We don't know. We probably never will. I suspect it represents an 'undertow' of some nature. Either way, the woman looks to be having a grand time. I hope she's not drowning. But, knowing Grendl, she's probably already dead.
We start quietly with Veronica, a bored housewife, meeting her artist ex-lover Dean in a cafe as they discuss the probability that Veronica's husband Eric is cheating with a redhead: a hair has been found plucked from his pants zipper, and it certainly doesn't belong to Veronica. That hair makes for light conversation, something one-and-done for Veronica, and we quickly move into discussion about Dean's big art showing at the MET.
Dean concludes their meeting by mentioning psychiatrist-but-not-really, Dr. Michael Saeghardt, and how the darkness in his life has all but gone as a result of Michael's 'radical' work. Intrigued, Veronica visits Michael later in a spooky building after deciding she is simply 'not happy,' only to be greeted by a scary-as-hell janitor and the implication that all is not what it appears.
In fact, Michael is a physicist, an expert on 'slip streams' or channels of mental energies that surge across our planet, accessible through levels and lucid dreamlike states of mind. Veronica must use the escape word to get out of the stream: "hand." Once uttered, Veronica 'wakes up' and sees her own naked body suspended in a clear chamber. She runs out of the room to see a black and white cat, which melts into a psychedelic, zebra-striped concoction of goop that splashes every surface as it chases her from the building. She 'wakes up' again on a beach to see a man named Harrington (not his full name, mind you), and then a little boy, Kyle. Kyle pulls her into a WWII-style shoot-out with laughing Germans.
But, wait! Veronica's now in a movie theater with an old high school flame. Then she's on a game show set where the janitor, Haberdasher, brings out the living corpses of each ex-boyfriend from her past so we can gloss over their histories with Veronica. In real life (supposedly) Dean reveals he found his soulmate through one of these 'experiences.' Veronica hopes for the same, but it never really happens for her – she's still stuck with Eric. We finally end up in a courtroom wherein it is suggested Veronica made everyone up, and is actually a serial killer hell-bent on forcing unsuspecting men to her delusional will. The cat makes another appearance here, by the way.
It is now Dean who 'wakes up' from this experience (his? hers? I don't know!) and waltzes out to meet up with a beautiful blonde who's lost her… cat. Is it black and white, he asks? Nope. It's gray.
Fade. Out.
I didn't know how to start this review, and I certainly don't know how to follow up a summary like that. I have never read anything so trippy in my life, which is really saying something since I delight in trippy. It's what turned me on to film, the capacity for exploratory visuals, and worlds. Scenarios otherwise impossible and laughable in real life.
Yet, Undertow is perhaps exploratory to a fault.
While the dialogue is at times full of gems and the imaginative elements are unparalleled, everything just drags on and on. Conversations that could've ended in two pages instead last ten. Nothing connected for me even when it seemed to be laid out – the cat meant something, right? There was also a special ring, like an Inception token, to discern 'slip streams' and real life. Again, whether it really meant anything, or even connected as a common thread, is lost on me.
Grendl is truly tapped into the visual complexities of such an unusual world, such unusual circumstances. But that's where the logic stops for me, and the confusing barrage of a dream world gone haywire, starts.
The biggest problem I noticed after really getting into the story was tonal inconsistency. I told Carson after getting through the first fifteen pages that I was getting a Blue Jasmine vibe: Privileged 'bitchy' woman is perpetually unhappy.
Then it got weird, with naked bodies in chambers tied to a 'true' physical world – okay, that's the Matrix. Right?
Then, slip stream 'levels' and hypnotized dream sequences. That sounds a hell of a lot like Inception.
The rest is a psychotic Alice in Wonderland, if Alice were to face all her ex-boyfriends.
Reality-bending scripts are incredibly difficult to make work – not only does there need to be a clear establishment of rules and boundaries, but we need to have a little fun with it, too. Then it needs to service a plot that makes sense, and vice versa. It can't be whatever just because we say it is. It can't be entropic just because a physicist in the script explained it all away as free-flowing energy. Reality needs to be reality, and dream worlds need to be dream worlds. There has to be that distinction no matter what. I'm sure there were plot twists I missed because of subtle reality-dream-world mingling, and that's the kind of movie I don't want to watch in my free time. This is, without a doubt, a script from Shane Carruth's wet dreams.
Carson once described the proportionate work required in reading a specific script as the 'burden of investment': When a script is aesthetically dense, too difficult to read in one sitting, mapped out so chaotically it gives you a migraine, etc., then there is a certain 'investment' you make as a reader in order to understand the script in its entirety. The 'burden' part is simply the taxation of mental energy. Undertow maintained a HUGE burden of investment. I didn't know which way was up or down after I got to fade out, and I'm not sure I wanted to know. My head was spinning. It's good to make a reader think about your words after they've closed your script, but this was the sort of thinking that's driven normally sane people to suicide.
The hardest part of this review is knowing deep in my gut that this was a laborious passion piece, a work Grendl perhaps holds very close to that Grinch-y heart of his. Undertow is not without intellect. It is not without observing human ills. It is not without an inkling of theme, or characters with real problems, scenes built on wild abstraction.
I just don't get it, that's all.
Hell, not everyone's understood my work – it happens to all of us writers, beholden to artistic liberty and all at once the ability to tap into a commercially-viable well of generic human experience. A rock and a hard place.
This script could be something quite fascinating – pare down the dialogue, make it clear what is reality and what is not. Focus on one major narrative, one smaller narrative. Kill your darlings. Assuming this is meant to be in salable condition one day, the goal would be to take the bizarre – the shades of Shane Carruth – and churn it into something the layman would go see on a Friday night.
And if it's never to be sold? Then I suppose the above doesn't matter. Do with it what you will. As for my 'female perspective,' I understand some of the underlying issues Veronica faces are perhaps meant to draw in a female audience, but I prefer to believe gender has nothing to do with it. If a character is great, it's because of their actions. Not gender.
[x] what the hell did I just read?
[  ] wasn't for me
[  ] worth the read
[  ] impressive
[  ] genius
WHAT I LEARNED: When dialogue scenes last too long, as many of these did, it's usually because the writer isn't tuned into the point of the scene (understands what each character in the scene is trying to achieve).  If you know each character's goal in the scene, you know exactly when they've achieved or failed, and therefore to end the scene and move on.