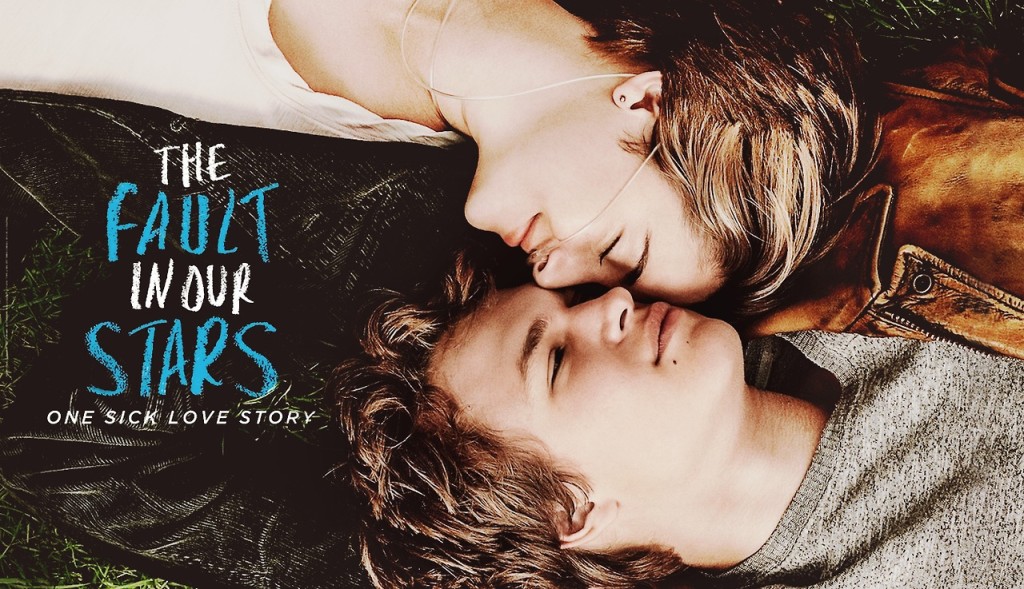 It's Monday morning and the talk of the town is how a little movie about cancer kids beat Tom Cruise in the middle of Blockbuster Season. The little film that could (The Fault In Our Stars) grossed 48 million to Tommy Boy's (Edge of Tomorrow) paltry 28 million. That's not just a beating. That's a slaughter. Twenty years ago – heck, even ten years ago – this never would've happened. So why is it happening now? Anybody who tells you they know for sure is a liar. And I don't know either. But what's so interesting about this particular battle is that there are a ton of factors involved. And they're all so damn juicy that I can't wait to get to them!
1) Is Tom Cruise a movie star anymore?
If you're going to put your money on one horse for Tomorrow's lackluster showing, it's probably that Cruise isn't a movie star anymore. His last three films (Oblivion, Jack Reacher, Rock of Ages) failed to hit 100 million here in the States. Whether this has to do with Cruise getting older, Cruise going through his crazy streak, or people just losing interest in the actor isn't clear. But it's looking like his glory days are over. The question is, is this representative of a much larger trend?
2) Is the movie star dead?
As people stood on the hilltops and claimed the death of the movie star these last few years, I didn't buy it. But a look at this year's crop of summer films says otherwise. From X-Men to Godzilla to Spider-Man 2 to Rise of the Apes. The star in all these movies is the property. The owners of these properties then plug in the casting holes with whomever they deem worthy. You're seeing less and less movies being made like Die Hard, where the star's the star. With that being said, this is mostly (at least for now) a symptom of the summer season. As we get into the last quarter of the year and ACTING is actually required to make the movie good, movie stars are needed. How long that lasts, we will have to see.
3) Was the concept too weird?
Even though I loved the script for Tomorrow, the one thing I worried about was whether a mass audience would buy into the concept. I get nervous when you mash two big ideas into a single film, because, typically, audiences will only buy into one. They can accept aliens invading. They can accept time-travel. But can they accept an alien time-travel movie? I'm still not sure.
4) The title sucked.
I don't talk about movie titles much because it's one of the most objective parts of the business. But if Hollywood isn't given a property that already has a name, they almost always fuck it up. "Edge of Tomorrow??" What the hell does that even mean?? It's the most generic title ever and reeks of compromise. Edge of Tomorrow dudes, let me help you out here. When you have a property that nobody knows about and you're trying to compete against properties (X-Men, Spider-Man) that have been around for decades?? You don't want a title that's going to make you MORE invisible. You have to take a chance and use something that stands out. The script's original title, "All You Need Is Kill," would've been so much better. It's way edgier, and probably would've brought in more of the key demo you wanted – teenagers.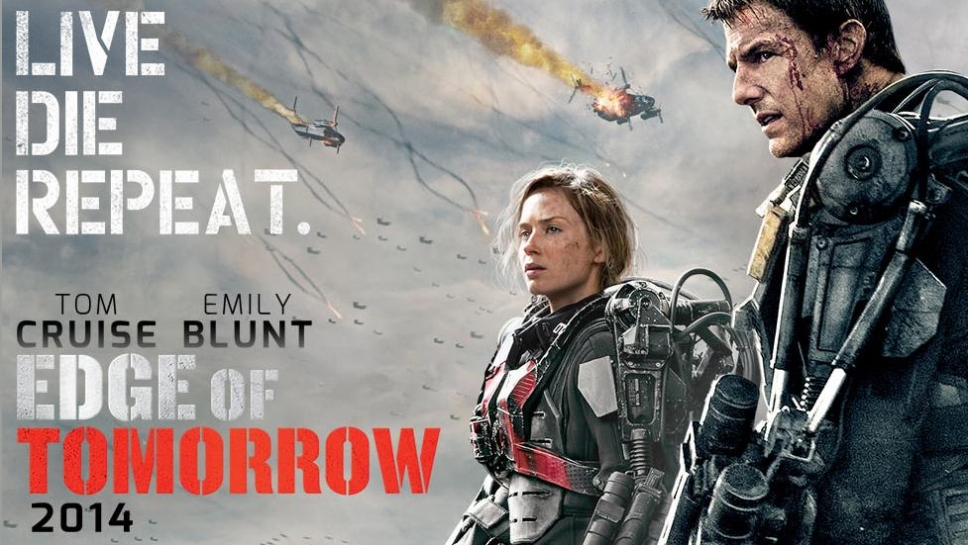 5) Does this fuck things up even further for spec writers?
While "All You Need is Kill" was based on a graphic novel, for the most part, it was a spec script. Nobody knew about the graphic novel. And it was written on spec (and sold for a million bucks). With the failures of high-profile specs this year like Transcendence, Draft Day and now, to a lesser extent, Edge of Tomorrow, is Hollywood going to be further terrified of betting on non-IP? Also, if the movie star system is dead, what are screenwriters supposed to write about now?  It used to be, write a male lead inside a marketable genre.  If that's gone, and the studios are only dealing with high-profile IP anyway, then what's the strategy of the average screenwriter?  Should he even write original material anymore?  Will it be like TV used to be, where you write a spec episode of your favorite show?  So writers would write a feature in a long-standing franchise, like X-Men or Batman, in order to break in?  Probably not, but it's not clear where this is going yet.  So we'll need time to figure it out.
6) Did Fault really win the weekend?
Ah-ha, now we get to the part of the box office that the media still hasn't figured out yet. Fault did beat Tomorrow at the domestic box office, but it's not going to come anywhere NEAR Tomorrow internationally. Tomorrow has already racked up 80 million dollars internationally, putting it at 110 worldwide. When it's all said and done, it should make close to 300 million. Fault will be lucky to make half that.  The thing is, for the last 20 years, the media has put so much focus on domestic, they still think that's the race to talk about. They understand that race. But movies make more overseas now than they do at home. Sometimes a hell of a lot more. But how do you write that definitive worldwide box office column when one of the key movies hasn't even hit all of the available territories? It's kind of a confusing byline ("Edge of Tomorrow maybe won the world box office this weekend…as it was in 65% of the territories but hasn't hit the major European circuit yet and still hasn't bowed in Peru, where Tom Cruise is enormous" doesn't have the same ring to it as "Shailene takes down Tom!"). Since the domestic box office is definitive, I'm guessing they'll continue to use it in stories. But at some point, this has to change.
7) People still read?
Probably one of the most confusing things about the modern-day box office is this whole reading thing. Studio heads, executives and producers claim the sky is falling because young people don't want to spend two hours to see movies anymore when they can play on the internet, watch all that awesome TV, and play video games. It sure sounds logical, except that one of Hollywood's biggest sources of income over the last 15 years has been book series adaptations. Harry Potter, Twilight, Hunger Games, Divergent, now Fault in our Stars. Movies are becoming antiquated but people still have time to engross themselves in a 2000 year old medium for 10 hours a story? Clearly, if people are spending that much time reading to the tune of adding billions of dollars to the box office, producers can't bitch that it's getting too hard to compete for people's time.
8) Cancer curse.
Hollywood is TERRIFIED of cancer. People don't want to be reminded of death when they go to the movies. They generally want to be happy. They want to be reminded of why life's awesome. So how did Fault in Our Stars overcome that prejudice? Well, partly because it IS a movie about life's awesomeness. The characters here have a lot of fun together. It goes to some dark places, but for the most part, there's lots of positive energy here. The reason it beat the curse though is because it's a really well-told story. It's got a nice narrative drive (with the Amsterdam goal) and the characters rarely do or say the obvious thing, which gave it a fresh feel. The thing is, it was able to prove this in book form first, so people already knew it was good. I'd go so far as to say this wouldn't have made 10 million opening weekend if it wasn't a book first. I'll say this though. I've never seen a movie this aggressively market itself as a cancer flick and do so well.
9) Tomorrow is good!
The big tragedy here is that Edge of Tomorrow is a really good movie! Not that I can say that myself yet (I was home sick all weekend), but a dozen site readers e-mailed me to say it was awesome, some going so far as to say it was the best movie they've seen all year. Usually, when a movie's good, even if it doesn't open well, it'll make up for it with a long healthy run. But Edge of Tomorrow is planted right smack dab in the middle of the Summer Season, where even monstrous movies can disappear on their second weekend. Then again, it's only real demographic competition the next two weeks is 22 Jump Street and Jersey Boys, and neither of those films directly crosses over with Tomorrow. So let's hope that word-of-mouth spreads and the movie rebounds. If not, it might be the fault in Tom Cruise's star.