Will Smith experiences some less-than-stellar box office returns. Was it the script's fault, the director's fault, or a certain casting choice?
Genre: Sci-fi
Premise: (from IMDB) A crash landing leaves Kitai Raige and his father Cypher stranded on Earth, 1,000 years after events forced humanity's escape. With Cypher injured, Kitai must embark on a perilous journey to signal for help.
About: After Earth has a story created by Will Smith in order to work with his son, Jaden. The script was penned by Gary Whitta, who five years ago broke in with his hot spec, "Book Of Eli." Smith hired M. Night to direct the film, who did enough script work to garner a co-credit on the writing. The film underperformed at the box office this weekend, and critics gave it some of the worst reviews of any Smith film (it is currently at 12% on Rotten Tomatoes). This isn't the first time Smith has worked with his son, who he teamed up with five years ago for The Pursuit of Happyness.
Writer: Gary Whitta and M. Night (story by Will Smith)
Details: 100 minutes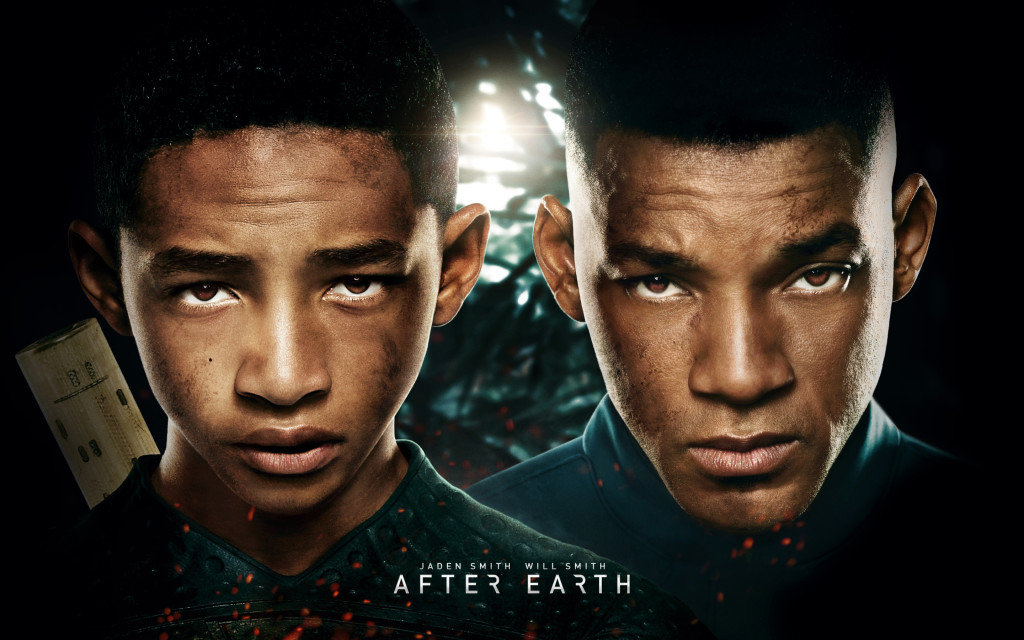 After Earth has had an interesting journey leading up to its release. It started out with a surprisingly cool trailer that everyone was abuzz over, but then, over the subsequent weeks, those same people began to rebel against it.  I'm guessing this has something to do with the nepotism involved here.  I understand why Smith wants to work with his son in his movies. If I were a giant movie star, I would want to work with my son too! But I'm not sure he considered how the pairing might be perceived. In America, we like and respect people who earn their way. In fact, that's why we supported Smith's ascent into the biggest movie star in the world. He embodied the American dream, coming from nothing, working his butt off, and becoming something.
So for him to just hand out film roles to his son, it looks bad. And I know Karate Kid did well and they did Pursuit of Happyness together, but Jayden Smith is not yet seen as someone who can do it on his own. He didn't have to fight his way up the ladder like every other actor in Hollywood. It was handed to him. And there is something about him now being anointed as an action star just because his dad decided he could be one that's annoying – and it probably had something to do with the movie underperforming this weekend.
When you then throw M. Night into the mix, it takes the bizarreness to a new level. What a strange choice, to pick a director who's so vigorously alienated his audience. Personally, I think Night is a good director (just a bad writer). But to bring him in on a project like this, where you're already gambling, feels like – I don't know – almost like you want to prove you can do anything. You can make your son an action star and save a flailing director's career all in one swoop.
All of this factors into the finished product in a fascinating way. If you strip away all these variables and just judge the script by itself, it's actually pretty good. It has a clear goal, urgency, high stakes, character development. But it becomes very hard to see all of this when you're so focused on the fact that Will Smith and his son are on the screen (as opposed to Cypher and Kitai, the characters the father-son duo are playing).
It's 1000 years in the future. Humans have moved off the dying Earth to a much fresher planet. But on this planet are a lot of large, nasty alien creatures who are always giving them shit. These creatures can physically smell fear, which is how they take down their human prey. Cypher (Will Smith) is one of the few soldiers who have no fear (known as "ghosting" in this universe) and can therefore fight these creatures without them even knowing he's there.
Teenager Kitai, Cypher's son, is the opposite of his father. He's racked with fear. He can't fear enough. So (and this is where the story got a little confusing so bear with me) I think Cypher decides to take a ship and his son to another planet, along with one of these super-creatures, to train him on how to ghost. Why they don't just do this on the planet they're on is anyone's guess. Along the way, the ship encounters a meteor shower and they crash-land on the planet humanity left 1000 years ago, Earth.
Everyone dies in the crash except for Cypher and Kitai, but Cypher is hurt badly, with a broken leg. If they don't send a beacon back home for help, Cypher will most certainly die. So Kitai has to send the beacon. Here's the rub. The beacon is in the tail section, which has crashed a hundred kilometers away. Kitai will have to travel there to get it. The problem, as Cypher points out, is that everything on Earth since they left has evolved into killing machines. So it looks like poor Kitai is going to have to have a crash-course in facing his fears.
The story consists, then, of Kitai traversing through the jungle to get to the tail section, all while Cypher guides him via a video and audio link. Throwing a huge wrench into this plan, finally, is the fact that that damn creature has survived the crash too, and humans are its favorite meal. So if Kitai is going to get past it and save his father, he's going to have to learn how to ghost, a talent that will require him to overcome his flaw.
Okay, so like I said, the screenplay here was pretty well-plotted. We have a clear goal: Get to the tail section. We also have tons of urgency: Cypher is getting worse by the minute, and needs help immediately. And Whitta cleverly adds oxygen packets to the mix – little packets Kitai must take to be able to breathe on earth, where the atmosphere has worsened since we left. When two of these packets break, Kitai doesn't have enough to get to the tail, adding even more urgency to his journey. And of course, the stakes are their lives. Dad's dead if he doesn't do this, and Kitai's probably dead too. So the structure to this story is in place.
We also have some character development in the mix. Kitai's flaw is clearly his fear, something he must overcome by the end of this journey if he's to succeed. And we also have a somewhat broken relationship with his father that needs fixing. Along with Cypher's lack of fear comes lack of emotion. He treats his son like a fellow soldier as opposed to a son, something that clearly affects Kitai, and something that will also need to be resolved before the journey is over. I don't think Whitta and Night nailed either of these, but they did a pretty decent job with them.
In my opinion, the script has two major problems and a few minor ones. The opening was confusing. I didn't understand why they were transporting this monster or where they were going exactly (I just kinda guessed). Part of that confusion stemmed from a choppy flash-forward flash-back opening that made following the story more difficult than it needed to be. You can't have confusing openings because openings are what set up everything that comes after them. If there are confused questions there, those questions will linger in the back of the audience's mind for the rest of the film.
I also thought it was strange that Cypher kept saying "Everything on Earth has evolved to kill humans" when the only thing that was truly dangerous was the thing that they brought there. But neither of those were script killers. The major issues boiled down to flashbacks and too simple of a story. It's why I remind you guys whenever possible not to mess with flashbacks. They're so hard to get right and even when they're used correctly, the chances of them hurting your script are far greater than them helping it. Here we get endless repetitive flashback scenes where we see Kitai, as a young kid, watching his sister being mauled by the creature. I understood its intent (it established Kitai's flaw – his fear – it built more of a rift between him and his father, who's resentful that Kitai didn't do more to stop the creature, and it made his final battle with the creature more personal), but it took a story that couldn't afford to slow down and stopped it cold every ten minutes.
The reason the story couldn't afford to slow down was because the story itself was too simple. It wasn't complex enough with enough threads going on to earn the right to slow down.  I liked the goal, the urgency, and the stakes, but GSU or no GSU, the story has to keep you guessing or else you get bored. And we were way ahead of the story here the entire time. There were no surprises, no twists, and I think that's ultimately (story-wise) what critics and audiences are responding so negatively to: there just wasn't enough happening in After Earth.
When you combine that with Smith anointing his son an action hero and us not feeling like he's earned it, you get Smith's poorest reception ever. Personally, I don't think this movie is nearly as bad as people are saying it is. I think a couple of script mistakes and one casting choice hurt it. But it's certainly better than some of the other, more heralded, summer movies I saw this year.
Script Review
[ ] what the hell did I just read?
[ ] wasn't for me
[x] worth the read
[ ] impressive
[ ] genius
Movie Review
[ ] what the hell did I just watch?
[x] wasn't for me
[ ] worth the price of admission
[ ] impressive
[ ] genius
What I learned: Flashbacks are tough. There are certain things they can add – like giving us key backstory on a character, but what you lose through using them is often more than what you gain. The biggest downside to their use is that they slow your story to a crawl. The reason this is an issue is that the vast majority of scripts out there move too slow. To STOP the story so you can GO BACKWARDS is basically like saying to your audience, "You can go to sleep now." I'm not saying you should never use flashbacks. What I'm saying is that because they usually do more bad than good, you should seriously weigh your options before including them and make sure you believe that there's no other way to tell your story.