Genre: War Drama
Premise: (from IMDB) Allied soldiers from Belgium, the British Empire and France are surrounded by the German army and evacuated during a fierce battle in World War II.
About: After Interstellar, people were wondering if Christopher Nolan had lost his mojo. So the film-loving Netflix-hating secretive director decided to reinvent himself by writing his first war movie. It's been awhile since anyone opened a big-budget serious film during the summer months, making a July release for Dunkirk a bit of a gamble. But the flick made 50 million dollars over the weekend. Not bad for a movie with zero superheroes.
Writer: Christopher Nolan
Details: 1 hour and 45 minute running time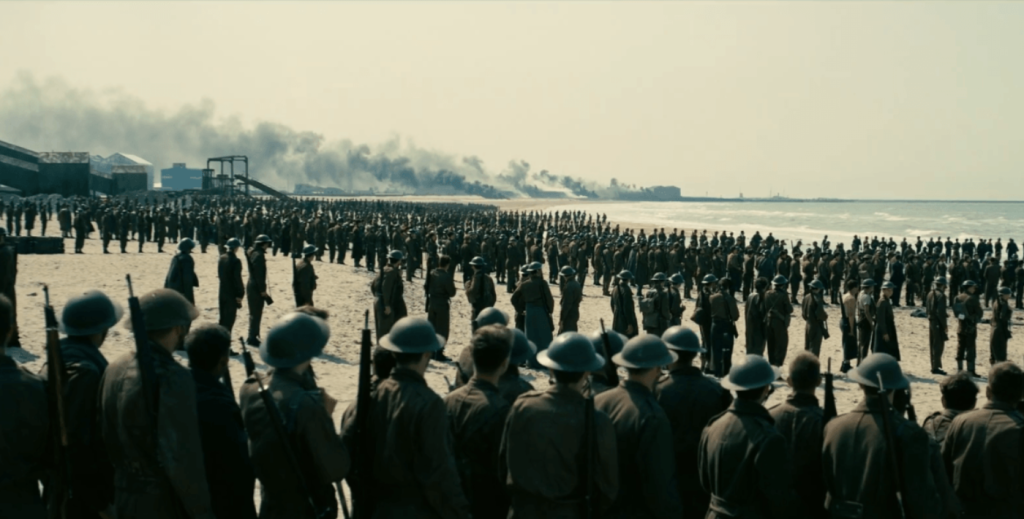 Remember Lessthanstellar, Christopher Nolan's last film?
I do. It was a messy sci-fi catastophe that fell apart the further into its 8 hour running time it got.
And it's responsible for teaching us today's first screenwriting lesson.
Movies work better with tighter timeframes.
Without getting into specifics, the longer your timeframe is, the more room there is to screw things up.
This is why Dunkirk is a masterpiece compared to Nolan's last film. By focusing on a brief timeframe of only one week, the story is able to charge forward and tell a tense tight story. Now Nolan plays around with that timeframe, which is something we'll get into. But if you guys leave this review with anything, leave knowing that a tight timeframe improves your chances of writing a good movie.
For those of you who have no intention of seeing Dunkirk, I'll summarize it for you. It's about a famous moment in World War 2 where 400,000 (mostly British) Allied troops were stuck on a French (?) beach waiting for extraction. The problem was, supply ships and army vehicles were stretched thin, leaving these soldiers sitting ducks for enemy planes to swoop in and bomb them.
Nolan divides his focus into three storylines. There's the soldiers on the beach, represented by baby-faced soldier Tommy, who attempts to get off the beach by any means possible. There's three fighter pilots, led by Farrier, doing whatever they can to keep enemy airplanes from bombing the beach. And there's a civilian ship that's aiding the rescue mission, led by old-timer Mr. Dawson.
But Dunkirk is no straight-forward mission. Farrier's storyline starts 1 hour before the rescue. Mr. Dawson's storyline starts 1 day before the rescue. And Tommy's storyline starts 1 week before the rescue. Nolan then cuts these storylines up non-linearly. For example, Mr. Dawson will save a soldier from a sunken boat, only for us to see that same soldier a few scenes later, getting onto that boat before it sank.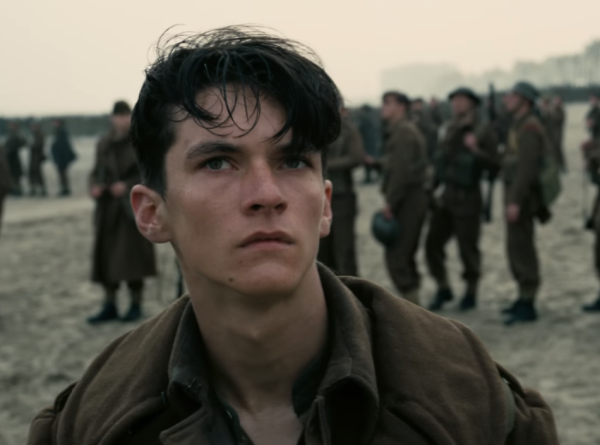 If you're looking for ammunition to attack Dunkirk, that would be where you'd start. The other day we were talking about taking chances. One of the options, I explained, was playing with time. And Nolan's done that here. The question is, did he need to? Would the movie have played the same, or better, had he told it linearly?
Nolan is notorious for something I'm going to call the "binary viewing experience." He believes that a straight-forward story is boring. For a story to work, your mind should be working on two different levels. Here we have the story of soldiers trying to get off a beach before being massacred. But while this is happening, our brain is ALSO attempting to re-order the out-of-order narrative.
I was against this choice at first and I'll tell you why with an analogy. In football, when the other team starts using trick plays, it means they don't believe they're good enough to beat you straight up.
The same can be said with storytelling. Once the writer starts trying to do all this weird tricky shit, it's an indication that they don't think the story is good enough to work on its own.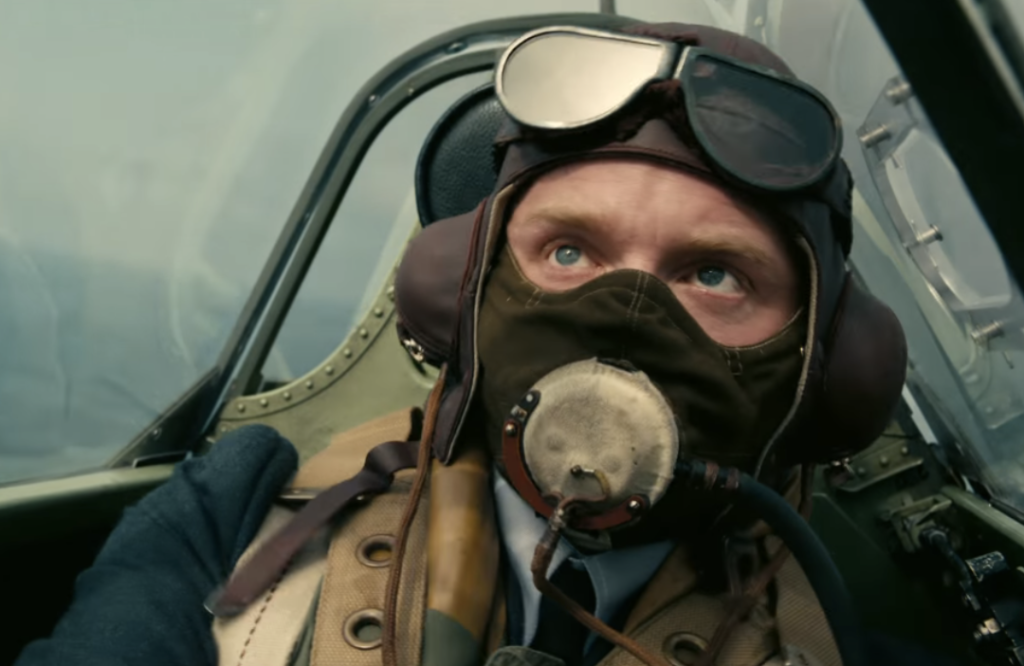 The one amendment to this is when the writer has a specific reason for why they're incorporating trickery. 500 Days of Summer, for example, used its time-jumpy format to draw attention to the chaos of relationships. By showing us a perfect date (Day 30 of the relationship) mashed up against a brutal fight (Day 230 of the relationship), we were able to look at relationships in a way that wouldn't have been the same had we traversed the 200 days between those two moments.
So I was trying to figure out if Nolan was trying to distract us from a story that would've been boring otherwise, or if there was a method to the madness.
I'm still not sure what the answer is. I suppose the jumping around makes the story slightly more interesting than it would've been otherwise. But I'm not convinced it was necessary. At no point did I think, "Oh, there's NO WAY this movie works if you don't tell it out of order." And if that's the case, then why tell it out of order?
While time-manipulation may be the major geek talking point of Dunkirk, I was far more interested in the sparse storytelling and lack of traditional character development.
Nolan ONLY has his characters speak when they have to, leaving large swaths of his canvas dialogue-free. And I thought it was great.
We've become way too dialogue-dependent as an industry and that's because it's easier! It's easy to patch in some on-the-nose conversation to move the story along. It's MUCH HARDER to figure out how to get through a potentially confusing section with images and actions alone. Which is why writers avoid it.
For example, Tommy and another soldier, Gibson, run into each other at the beginning of the story near a dead soldier's body. This is followed by a bombing scene, a bunch of soldiers on the beach getting injured, and then those injured soldiers getting priority evac onto the only ship leaving the beach at the moment.
We then see Tommy and Gibson carrying their "injured" soldier in order to cut through the lines and get onto that ship. There is never a word spoken between the two about their plan. We experience it dialogue-free.
Had this been any other script, I assure you we would've gotten a scene – maybe even two – with Tommy and Gibson discussing their plan. "I have an idea." "What?" "We can cut through the lines if we pretend he's injured." "But what if they catch us?" "Who's going to check?"
Also, when you don't do dialogue, you force yourself to build characters through actions and choices, which is always the most effective way to do so. Consider Tommy, who's willing to pretend a dead man is injured to cut his fellow soldiers and get out on that first boat. That tells us so much about the character without saying a word.
With that said, dialogue-free scenes should be saved for situation-dependent scenarios. For example, when a group of guys needs to escape a building that's being bombed, you don't need dialogue for that scene. But when it comes to large plot points, going dialogue-free doesn't make sense.
And that was my one big beef with Dunkirk.
I didn't understand, for example, why they were on this beach. Had they just won a battle? Had they just retreated from a battle? I didn't even know what country they were in, to be honest. I also didn't understand why, if they were "surrounded" like the flyers said, that the Germans didn't attack. There's a throwaway line from one of the generals explaining, "Why waste tanks and troops when they can just shoot fish in a barrel with their planes?" Okay, that would make sense… IF THERE WERE MORE THAN 3 PLANES!
The clever thing that Nolan does though – and I don't know if this was intentional or not – is create a non-stop scramble so intense, we stop thinking about the bigger questions. We just want these individual characters we've met to get out alive.
In the end, that relentless energy is what kept me so engaged. So despite the gripes I mentioned above, I would easily put this in the "must see in the theater" category. It's an unusual movie that gets a lot right and puts Nolan back on the map as a filmmaker.
[ ] What the hell did I just read?
[ ] wasn't for me
[xx] worth the price of admission
[ ] impressive
[ ] genius
What I learned: It's always a more powerful viewing experience when the audience gets to add things up themselves. When the writer does the work for them, it's not as fun. For example, that scene I mentioned above about Tommy and Gibson carrying the fake-injured soldier onto the boat – me figuring out what they were doing without being told made the moment much richer because I felt rewarded for my work.