Genre: Action
Premise: A group of hot-shot car enthusiasts help a secret government black ops group take down a terrorist, all while avoiding the vengeful brother of a man they put in the hospital.
About: This is the latest installment of The Fast & The Furious phenomenon, and easily the most talked about. That's because one of its key actors, Paul Walker, died, ironically, in an unrelated car accident during shooting. They had to stop production for a few months to rewrite the script, since they only shot half of Walker's scenes. They eventually brought in Walker's lookalike brothers to finish the film, and went to Peter Jackson's WETA digital effects company to do some cut and paste jobs with Walker's face. The film came out this weekend and was the first to make 9 gablillion dollars at the box office.
Writer: Chris Morgan
Details: 137 minutes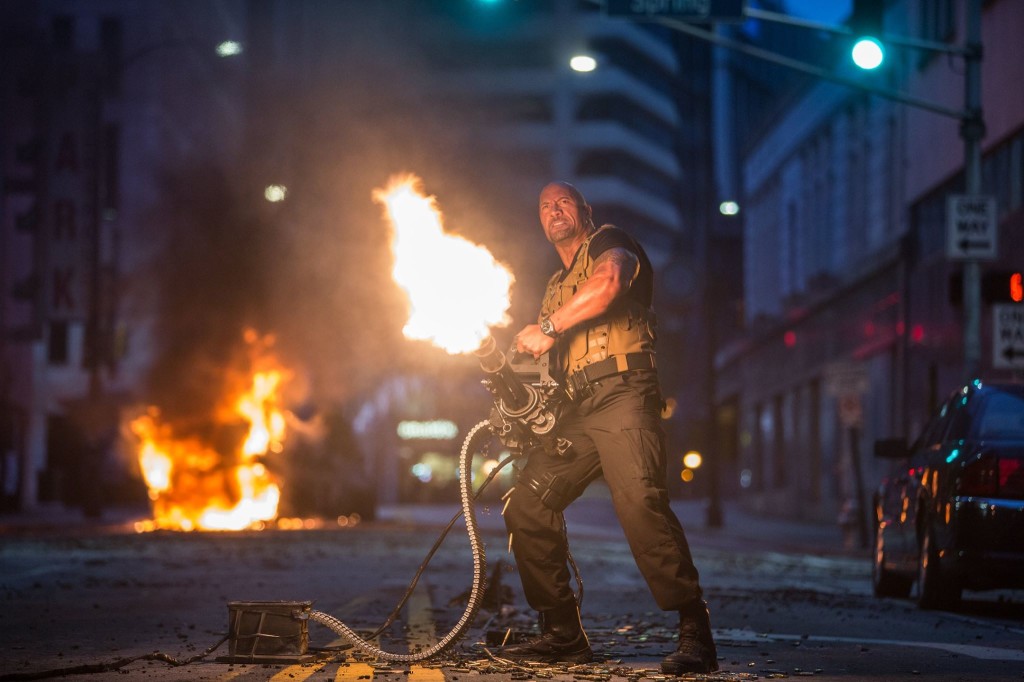 So let me see if I got this right. Michelle Rodriquez has amnesia and can't remember she's married to Vin Diesel. A guy named Deckard Shaw, who's part of a double secret probation London Black Ops organization, destroys a hospital because he's mad that they're not giving his patient brother enough attention. He then leaves his brother in said burning hospital to go fight the people who hurt his brother in the first place.
There's an international terrorist named Mose Jakanda who's kidnapped a hacker who's created something called the "eye in the sky" which can find anybody in the world within two hours. Snake Plissken, who's now an army general for an American Black Ops team that specializes in having really expensive cars around, promises to help Vin Diesel get Deckard Shaw before Shaw gets him if he'll go reverse-kidnap the hacker who created the eye in the sky.
The thing is, this new terrorist only travels on roads that are inaccessible to cars (huh?) so Vin's crew has to parachute the cars onto the road via plane only. After Vin steals the hacker back from the terrorist, Deckard Shaw shows up to try to kill Vin, despite not having access to a plane that parachutes cars out of it. Vin survives, and somewhere around this point I realize that I've never seen Furious 6 even though I was absolutely positive I had.
For reasons that never become clear, Mose Jakanda teams up with another American Black Ops unit that has access to predator drones and uses one of these drones to stalk Vin and his buddies in Los Angeles. In the meantime, Deckard Shaw, who it's still not clear if he's working with Jakanda or just always shows up when he's around, also attends this Los Angeles showdown, where he corners Vin on the top of a parking garage and fights him with crowbars, all while Tyrese yells a series of phrases through an unknown radio channel that all basically amount to, "Oh hell no! That shit did not just happen!"
To try and hold Furious 7 up to the standards of proper screenplays is kind of like trying to hold the McDonald's drive-thru guy who needs you to repeat your order three times up to a Michelin chef. It's not really fair.
And that's a problem. Young screenwriters who want to write cool action movies are going to see this and think it's what you need to write to sell an action spec. It's not. Furious 7 is a series of set-pieces held together by threads so loose, they feel like an autistic child trying to socialize at a birthday party.
There's a desperation as characters try to explain what they're doing, and despite the writer's best attempts to distract us from this reality (distractions that are almost always Tyrese yelling something like, "Oh hell no! This shit is WHACK!"), it's clear that unless action is involved, Furious 7 is like a hipster at a biker bar.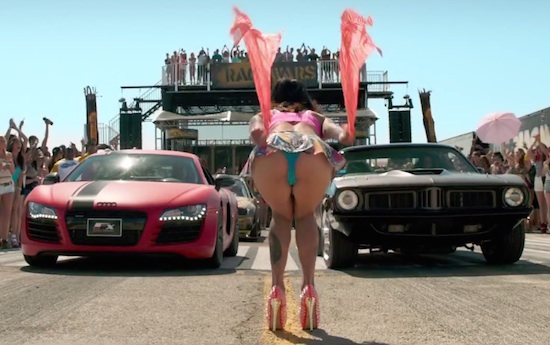 So I'm watching all this go down and wondering, like many in Hollywood, what makes these films so successful. They started out doing solid numbers, but the third installment was a B movie and made 27 dollars at the box office. Episodes 4-7, though, became box office titans, competing with the most powerful comic book properties for yearly domination.
You might say, "Well yeah, it's got hot women and fast cars. Of course it's going to do well." Ehh, but so did Need for Speed. Why didn't that film do Furious numbers? Or you might say, "Duh, it's because of Vin Diesel." The problem with that theory is that Diesel isn't exactly tearing it up at the box office outside of the Furious films.
And then, as I was watching this film, it came to me like a ray of light shining through a lone hole in the clouds. It's no secret that the franchise plays extremely well to Latinos (they make up the highest audience for the films at 37%). What do Latinos value over everything else? Family. Family is extremely important to the Latino culture. What are the Fast and Furious films about? You got it. Family. The Fast and Furious group considers themselves a family. The characters are getting married and creating families. Vin's sister is married to Paul Walker.  Paul Walker's character now has a child. The Rock reveals he has a kid in the movie. The word "family" is uttered somewhere in the neighborhood of 732 times (Vin Diesel to Shaw: "I don't got friends.  I got family.").
There's no doubt that fast cars and hot women are going to bring in moviegoers. But for a film to become a phenomenon, there's got to be something more to it. You got to find a way to connect with the audience on another level. Here, that level is emotion. It's the importance of family that makes this franchise more than a bunch of car chases.
And this is actually good news for writers. For everyone who thinks you have to sell your soul to break into Hollywood – this proves that audiences want to connect on a deeper level with their movies. Do I think Furious 7 rivals the emotional intensity of, say, The Imitation Game? No. But the fans of this series obviously do.
Now before you go off to write Terms of Endearment with cars, let's back up to the make-or-break component of any action script – the set pieces. The key to writing a saleable action spec is to write set pieces that haven't been seen before. So here we have cars jumping out of planes. We have cars jumping from skyscraper to skyscraper. These were things we hadn't seen before. They were stupid fun – sure – but they were original stupid fun.
If you're going to accomplish anything in your action script, make sure it's to give us UNIQUE SET PIECES. If I read a set-piece in a script that I've already seen before, I'm done with that script. Just like in a horror script, you have to give us unique scares. Just like in a thriller script, you have to give us unique thrills. In an action script, the one job you gotta get right is to write unique action.
Speaking of action, I want to finish with a warning to all future action writers out there. Beware of writing huge crews into your action scripts. As convoluted as the plotting here was, I have to give it to Chris Morgan for juggling all these characters. In each action scene, he was usually cutting between a dozen different characters. For any of you who've had to write scenes like this, you know how difficult it is to keep track of that many people.
Usually, you only have one or two featured segments in an action scene. But if you have 12 characters, you now have to keep the audience abreast of where they all are. You can't just focus on the Vin Diesel part for the whole 10 minutes and then show Michelle Rodriquez at the very end or everyone will go, "Where the hell was she the whole time?" This forces you to come with things for everyone to do. And the more people you're cutting between, the harder to follow everything is.
If you have a clear goal (get the hacker from the bus) a set piece can survive this complexity. But if the goal is even mildly unclear (as is the case with Furious 7's climax – why the hell was a terrorist coming to Los Angeles again????), cutting between that many people can destroy the sequence. It's yet another reason to celebrate movies like Star Wars. They make it so damn clear what the ending goal is that the set piece can survive any level of complexity.
Now you might think with all this criticism that I hated Furious 7. Actually, that's not true. As sketchy as the screenwriting is here, the action is borderline amazing. Like I said before – we see things in this movie that we've never seen before. And this installment of the franchise seems to be more reliant on real stunts than the others, making for a much more realistic experience. I mean they really did drop cars out of planes for that plane drop sequence. I'm not sending any aspiring screenwriters to the theater to study Furious 7's script. But if you want to enjoy the hell out of some amazing action, there are worse ways to spend your evening.
[ ] what the hell did I just watch?
[ ] wasn't for me
[x] worth the price of admission
[ ] impressive
[ ] genius
What I learned: Figure out who you're targeting and write what matters to that group into your screenplay. The writers and producers of Furious 7 realized they were targeting the Latino audience here, so they focused the story on family. A few years ago, The Blindside knew it was targeting Christians, so it infused a lot of Christian values into the script. Know who you're writing to and then give that group what they relate to.