Genre: Action/Adventure
About: The stars aligned for Gareth Edwards, a man who made the micro-budgeted "Monsters" a few years ago to show off his proficiency with special effects. The unscripted film followed a couple into a quarantined jungle where giant monsters lived. Naturally, when Godzilla execs saw what this man could do for 20 grand, they imagined pure movie-going nirvana at 200 million, resulting in the single biggest budget jump for a director in Hollywood history. The writer of Godzilla had his own megawatt rise to fame. Max Borenstein, a Yale alum, wrote and directed his first film back in 2003, called "Swordswallowers and Thin Man." But it wasn't until 5 years later that he was heard from again, when he landed on the Black List adapting Kenneth Feinberg's memoir, "What is Life Worth?" He apparently landed on Legendary's radar (the producers of Godzilla) writing the 2009 screenplay, Jimi, which chronicled Jimi Hendrix's life.
Writer: Max Borenstein (story by Dave Callaham)
Details: 123 minutes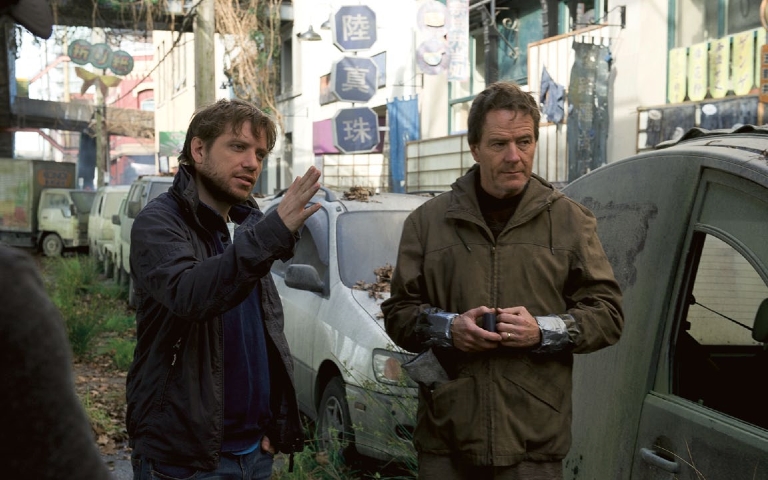 Gareth and Bryan
Gareth Edwards is one of the most exciting young directors out there. He's got a directing street pass for his next five films as far as I'm concerned (I'll be there opening day no matter what he makes).
What's not exciting is the script he had to work with for Godzilla. Now, look – I don't claim to know what it's like to work on something with 30 chefs in the kitchen. There may be 3 or 4 people in that group tops who've actually read a screenplay before. So I get it. Script-by-committee, and an ignorant committee at that. But you'd figure someone with some knowledge of this stuff would've stepped in and said, "Hold up a second. This is spinning out of control here."
Godzilla tries to show us that it's more than just a monster flick right out of the gate, saturating the opening act with tons of "emotional" scenes. Even with Bryan Cranston acting in them, these scenes fall disastrously short of any emotion whatsoever. They actually exemplify one of the most misunderstood notions in screenwriting: that if you write people crying, then audiences will cry too.
Uhh, no. Except for rare occasions, that's not how it works at all. Do you laugh when characters onscreen laugh? Of course not. You laugh when the characters find themselves in awkward or difficult situations, and struggle to get out of them. Watch the "answering machine" scene in Swingers, where you laugh uncomfortably for five straight minutes. Is Mikey laughing in that scene? I don't think so.
So when we see Bryan Cranston's character crying as his wife gets stuck inside a contaminated bay, do we cry? No. I mean, why would we? WE DON'T EVEN KNOW THESE PEOPLE! We met them three minutes ago. Why would I cry for someone I met three minutes ago?
This is only part of the problem though. The bigger issue is, why are Bryan Cranston and his wife in this movie in the first place??? (spoiler) They add zero value to the story, have less than 2% of an effect on the plot, and don't even make it through the first act! Why are we spending so much time with people who aren't even important enough to make it to Act 2????
Okay, breathe Carson. Breeeeathe. I'm sorry but the clumsiness of this script got to me. I mean, the trailers for this movie were awesome. I thought I was going to see a great Godzilla movie. Instead, we endure mistake after mistake that would've been spotted in a Screenwriting 101 class.
But I have to remember it wasn't one writer sitting in a room with total control. It was the director, the producers, the actors, the testers, the actors' agents, the executives, the toy people. All of these people had an effect on the script in some way. So my real beef is with that committee. But it doesn't make what I saw any easier.
To give you a little background, here's Godzilla's plot: "Bryan Cranston's Character" is a crazy scientist who works in Japan and is convinced that recent earthquakes aren't actually earthquakes, but rather a sign that some monsters are living underground. But because he's a kooky scientist, no one believes him.
He works at a nuclear facility, and one day there's a meltdown which kills his wife (in a scene so melodramatic Tommy Wiseau, from "The Room," would've chuckled). Cut to 15 years later and Bryan's son is trying to distance himself from his increasingly erratic father, who's still convinced that there are monsters under the earth.
Spoiler alert. There ARE monsters under the earth. And Bryan ends up dying when one of these monsters – a giant insect-like thing – emerges. Bryan's son, a soldier with the U.S. army who now has his own wife and kid, tries to come to peace with never believing his father. But it doesn't last long since a SECOND monster escapes the underground and the two start wandering about the planet, inadvertently creating destruction in their wake.
So you're probably saying, why can't we just blow these things up? Because they actually feed on nuclear energy. They also have an EMP bubble surrounding them wherever they go, shutting down all military equipment that comes close enough. Bryan's son, essentially, then hitchhikes from one state to another (by boat, plane, car, train) following these beasts, as the writers desperately try and figure out a way to keep him involved in the story.
Eventually, the army realizes that the two giant insect things are trying to mate and they have no way to stop them. Enter Godzilla, whose desire to stop them is explained away in a single line: "He is trying to bring balance." Trying to bring balance? Why? What does he care if these insects bang or not?  Government needs to stay out of the bedroom.
After that, there's something about setting up an analog nuclear bomb (that's different from normal nuclear bombs) to lure all three monsters into the ocean and blow them all up. But before that can happen, Godzilla will try and "bring balance," lizard style, to these pesky oversized mosquitos. Will he be overmatched, or become the mega-monster we all know him to be?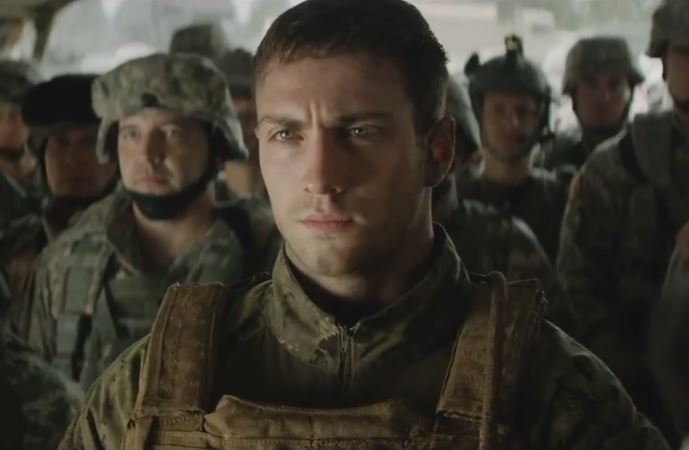 All dressed up and nothing to do.  
Seriously though, what was the point of the first 20 pages of this story??? (Spoiler) A wife we don't know is killed, leaving us with a husband who jaunts around for another 15 pages before he's killed too???? I've never seen that before. Giving an emotional "death of a loved one" scene to a character who won't even be around past page 30? You do that for your hero, not a one-and-done character! It'd be like giving a day player a major love interest.
As far as I can tell, the only necessary piece of information in the first 20 pages was the discovery of strange signals underneath the earth, which is something that literally could've been told in 30 seconds. Why not start the film with Bryan Cranston's kid at his father's funeral? Afterwards, he goes through his father's old work, and finds the old recorded signal. This reduces twenty minutes down to five and gets rid of gobs of clunky insignificant nonsense in the process.
If only that were the only problem. What really killed this script was the exposition. There are certain stories that require tons of exposition, and either you figure out a way to minimize it ahead of time, or if it's a script that requires non-stop explanation all the way through, you don't write it. Because nobody wants to suffer through a story that's 80% explanation.
That's what Godzilla was to me. 80% explaining. And what happens when there's more explanation than story in a movie?  It feels lifeless. Because it's never allowed to breathe! The majority of Godzilla's scenes can be broken down into 5 categories. A) Explaining what these giant animals were. B) Explaining what they were doing (where they were going and why). C) Explaining how they operated (able to use EMP and nuclear energy). D) How the army would react to whatever current thing the monsters were doing. And finally E) How to get Bryan Cranston's son from territory to territory.
Poor Bryan Cranston's son. This guy had NOTHING to do but wait for the plot to figure out a way to get him to the next location. "Oh, hey, uhhh. He's our… last nuclear tech engineer… so that's why we need him to come with us!" Never have I seen a character so clearly a pawn of the plot rather than a real live human being before. He had no life because nobody wrote him any life. Calling home to the wife doesn't make us care about someone. Or make them feel real. How about giving this character wants, needs, a flaw, secrets, a backstory (not his dad's backstory – HIS backstory), a PERSONALITY!. He was so generic it was embarrassing to everyone involved. This is your hero! And he's the most forgettable thing about the film! Even his dad, who died 100 minutes ago and wasn't even needed for the story was more memorable.
So you might say, "Yeah, but Carson, the humans aren't the real stars here. The monsters were." Except that was a problem too! Godzilla was barely in the movie! This should've been called "Giant Insect Nuclear Lovebirds" because it was more about them than Godzilla. Granted, the moments where Godzilla did appear were badass (loved the blue fire), but they weren't enough. This is supposed to be Godzilla's movie, but there's nary a Godzilla sighting.
Again, Gareth is an awesome director. The eye this guy has is insane. Every shot feels iconic. But if he's going to become a great director, he needs to explore humanity more. He needs to care about his characters as much as he cares about his next shot. Or else he's going to fall into that trap of making empty blockbusters that are all the rage for 1 week, and then forgotten forever.
Godzilla was a real disappointment. I was hoping for more. ☹
[ ] what the hell did I just see?
[x] wasn't for me
[ ] worth the price of admission
[ ] impressive
[ ] genius
What I learned: If every other scene in your script is centered on explaining something, you have too much exposition in your script. You need to step back, figure out what the source of all this exposition is, and find a way to simplify it. If you don't, your script is going to read like a "How to" manual instead of an entertaining movie.