Note: The newsletter will be sent out at 11:59pm (pacific time) tonight (Sunday). Check your SPAM and PROMOTIONS folders if you don't see it.  To get on the newsletter list, sign up here.
Genre: Sci-fi
Premise: A group of galactic misfits are forced to work together to stop an evil mad man from destroying the universe.
About: Up to this point, the Marvel universe has kept things pretty conservative, bringing out its most cinematic and popular heroes for display (Iron Man, Captain America, Thor). "Guardians" is the first true risk its taken. Not only has the average moviegoer never heard of Guardians of the Galaxy, but we're switching genres as well, from Comic Book to space operas. Writer-director James Gunn originally had no interest in directing Guardians. But after The Avengers came out, he saw the opportunity to do something cool (and make a lot of dough doing it!). Gunn's more of an indie guy on the directing front, directing the 2010 Sundance hit, "Super," about a regular guy who turns himself into a superhero. On the writing front, though, he hasn't shied away from studio assignments, writing stuff like Scooby-Doo and Dawn of the Dead. The original draft of Guardians was written by unproduced "neophyte" screenwriter Nicole Perlman. Perlman got the Scriptshadow treatment for her breakout Black List script, Challenger (about the crash of the space shuttle, Challenger). It's rare to see an unproduced screenwriter working on a project this big, but Perlman was able to get into the Marvel writer's program early (never knew Marvel had a writing program) and pick up Guardians when no one was interested in it. Guardians debuted to a big box office haul this weekend, bringing in 30 million more than everyone expected it to (93 million total).
Writers: James Gunn and Nicole Perlman (comic book by Dan Abnett and Andy Lanning)
Details: 121 minute running time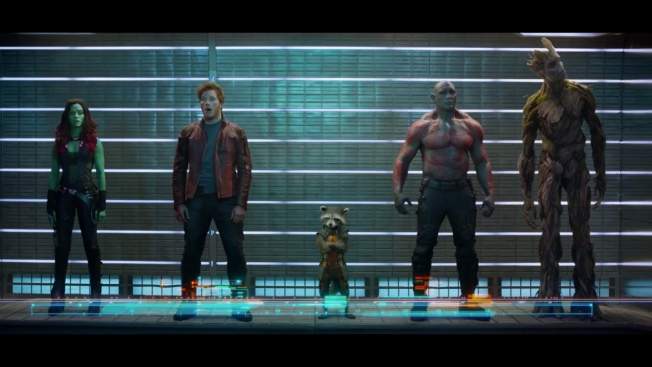 Is Guardians of the Galaxy the new Star Wars?
It might be. No space flick has come this close in 30 years. It definitely captures the thrill of exploration the original Star Wars had. It nails the fun. It even brings something the original Star Wars didn't have (but I think modern audiences need). It had attitude.
But before we anoint Guardians of the Galaxy as the next big thing, we should look closer. There's kind of a "flawed masterpiece" thing going on here. For the first half of Guardians, I thought I was watching a rough cut of the film. The timing of the jokes felt a beat or two off. The characters felt forced (I'm looking at you, Rocket Raccoon). Some of the choices seemed uninspired (how many people need to shoot other people with colorful electrical weapons when they're running away?). Even Chris Pratt, who going in was the best thing about the film, felt muzzled. Like someone kept telling him to "calm down."
But here's the thing about watching something truly unique. You're not prepared for what you see because you've never seen anything like it before. And Guardians is so different (in many respects), you can't quite process it yet. It's similar to how I felt after watching my first Wes Anderson film. I couldn't decide whether I'd just watched genius or a train wreck.
"Guardians" follows former earthling Peter Quill, a galactic scavenger of sorts, who's been tasked with securing a tiny sphere thing that we'll later find out has the power to destroy the galaxy. But Peter doesn't know that yet.
Ignorantly, he tries to deliver the sphere, but is attacked by others who want it, namely Gamora, a hot green chick (when in doubt, just insert a hot green chick into your script).
A chain of events eventually leads them to Rocket Raccoon (a genetically altered human turned raccoon) and his muscle, the giant but adorable Groot (a tree that can only say three words – "I am Groot.") Finally, there's Drax, a muscled alien whose species takes everything literally ("Whatever you say goes right over his head." "Nothing goes over my head. I'm too fast. I'll catch it.").
Our ultimate baddy, a face painted nasty dude named Ronan, finally steals the sphere away, allowing him to become super human (or super-alien I guess). He then heads to the nearest planet to destroy it. It'll be up to our band of misfits then, none of whom really like each other, to put their differences aside and stop Ronan from turning this planet into a galactic parking lot.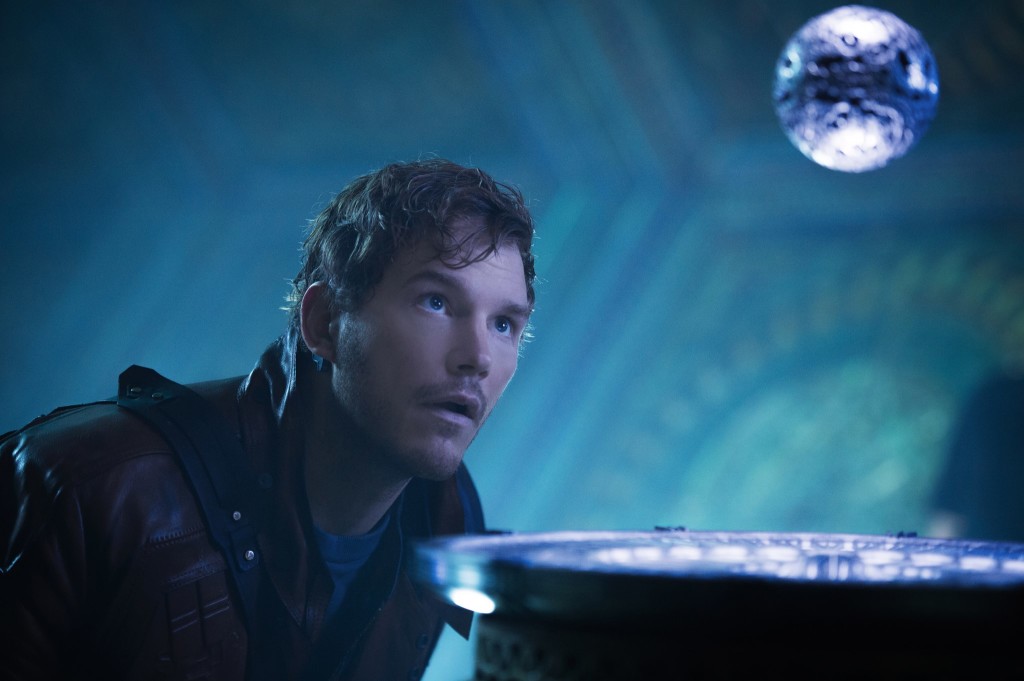 Whenever you sit down to write a sprawling sci-fi flick, you need to find your focus. You need something to keep the characters and the plot centered, or else things fall apart quickly. There are a few ways to go about this, but the best way is probably the "MacGuffin Approach" a favorite of one George Lucas. You've seen it in films like Star Wars, Indiana Jones, and Pirates of the Caribbean.
Basically, the MacGuffin Approach creates an object of desire that everyone wants. The reason this approach works so well, particularly on the blockbuster stage, is that it simplifies things for the audience. Almost every character has the same goal (get the sphere), which is advantageous if you're throwing a ton of information at the audience (new characters, new worlds, lots of exposition, lots of rules). If you try to give every character unique goals, it can be hard for the audience to keep track of it all.
Simplifying the plot was important because Guardians had one of the toughest jobs you'll find in screenwriting – bringing together five totally unique characters and seamlessly and quickly sending them off on their journey
Now some of you might say, "It's not hard to bring characters together." But it really is. In the same way you'll never see Justin Bieber and Bill Gates at the same venue, in a screenplay like this, where all the characters are different, it's unlikely you'd find Raccoon Man around Painted Chick Girl. So you gotta come up with reasons they'd cross paths. And then you gotta come up with reasons they'd be at that location at the same time (it can't be coincidence!). And then you gotta come up with reasons why they'd leave together. And you gotta do that for three other characters as well.
It all seems so easy once you've seen the film, but it often takes draft after clunky draft of cramming the characters together before a natural flow emerges. And Guardians didn't quite get there. If we're looking at 10 drafts to perfecting this first act, it looks like they made it to Draft 6. The weird Jackie Chan sphere bobble city set piece was way forced.
Chris Pratt didn't help either. His forced opening dance routine (I swear it was like we were watching one of those leaked actor auditions) felt like 21 suits were behind the camera simultaneously yelling at him to "stop being so weird" until the take we saw, where he was as stiff as a tree.  It'd be like if Captain Jack Sparrow acted only 50% like Captain Jack Sparrow.  You can't muzzle Captain Jack Sparrow!
Compare Pratt's mechanical delivery to, say, Han Solo in Star Wars, who never once seemed to give a shit about what came out of his mouth. Solo is so iconic because he let loose. Pratt wasn't allowed to let loose until the end, likely when those producers finally left the set.
And then something happened. I can't pinpoint when or where it happened. But out of nowhere, everything finally gelled, especially the characters. They weren't trying to announce their arrival anymore. They weren't scared to take chances.  They were just "being." And once that was the case? Guardians got REALLY good.
And yeah, I'm doing it. I'm announcing Groot as one of the best big-budget movie characters in history. It goes to show how awesome showing and not telling is (Groot is so "dumb" he can only say three words – much of what he offers, then, is through action). There were these great visual moments, like after Groot vouching for Peter, Peter making a point that Groot seemed to be the only smart one here, only for Peter to look over and see Groot eating a flower off one of his limbs.
Groot takes the "Chewbacca" role and makes it even more lovable, if that's possible. He's such an earnest goof who only wants to protect his partner (Rocket) that we can't help but love the guy. One of the best moments in movies this year (spoiler) is when he builds that tree nest in the end to protect everybody as the ship goes down.
What really impressed me though is how Gunn used the theme of friendship to drive the film. I thought all these guys hating each other was totally believable, and the gentle changes throughout that brought them closer together, to the point where they're actually (spoiler) using the "hold hands" move to save the galaxy (and it working) is a testament to the excellent mix of character development and theme in the film. Shit, I even got teary eyed when Groot says (spoiler) "We are Groot."
I don't know if Guardians was shot in order or not, but it'd make a lot of sense if it that was the case. At the beginning, everyone seemed tense and forced (including the director), like they didn't want to be Marvel's first big bomb. But as the movie went on and everyone got comfortable, the film started to shine. It's not perfect, but these types of movies never are. In fact, their weaknesses end up becoming strengths, as they're woven into the re-watch fabric of the legacy.
And I'm going to say one more thing about this film before I go. Because it's one of the few times I've seen it in the past 20 years. For some reason, at some point in history, summer blockbusters became "one and done" movies. They were made to work for one weekend and that's it. Gone were the Star Wars's, movies so rich you wanted to keep watching them over and over again. Guardians is the first summer movie I've seen in forever that wasn't interested in being one and done. It wanted to be rewatchable. It wanted to do more. And I hope its success inspires more summer movies to do the same.
[ ] what the hell did I just watch?
[ ] wasn't for me
[xx] worth the price of admission
[ ] impressive
[ ] genius
What I learned: With a giant blockbuster flick that requires conveying a lot of information to the audience, instituting a MacGuffin (an important item that all the characters, good and bad, are after) is one of the easiest ways to simplify the plot.
What I learned 2: Embedded Goals – Embedded goals are goals your characters need to achieve in order to get back to the main goal (in this case, getting the sphere).  So, early on, our group is thrown into prison.  Obviously, the main goal needs to pause while they deal with this problem.  They must accomplish the embedded goal (escape the prison) to get back to business.  Embedded goals help add texture to the story.  If your characters are only pursuing one single thing for all 120 pages of a screenplay, things can get monotonous quickly.