Former superstar screenwriter Shane Black takes over one of Hollywood's bigger franchises. How does he do?
Okay, just so everyone knows, I did not send out the newsletter last week. So you haven't been kicked off. I was up in Portland for my brother's wedding. I'll tell ya. Portland is an interesting place. But I'll have to save that story for another time. As for now, let's get Scriptshadow back on schedule.
Genre: Action-Adventure/Superhero
Premise: (from IMDB) When Tony Stark's world is torn apart by a formidable terrorist called the Mandarin, he starts an odyssey of rebuilding and retribution.
About: Two writers are credited with Iron Man 3 – the director, Shane Black, and British writer Drew Pearce. Shane Black's career is well-documented, as he burst onto the scene with his then innovative spec, Lethal Weapon, then went on to sell several specs for 7 figures. He disappeared for awhile, came back with his directing debut, Kiss Kiss Bang Bang (starring Robert Downey Jr.), which led to a friendship that eventually resulted in Downey Jr. asking him to direct Iron Man 3. The more unknown story is Drew Pearce, who was basically a nobody (in America at least) who all of a sudden started getting hired to write some of the biggest movies in Hollywood (outside of Iron Man 3, he also did a rewrite on Pacific Rim, and was hired to write Sherlock Holmes 3). This all came about because Pearce wrote a show back in the U.K. about super heroes in their off-duty hours.
Writers: Drew Pearce and Shane Black
Details: 130 minutes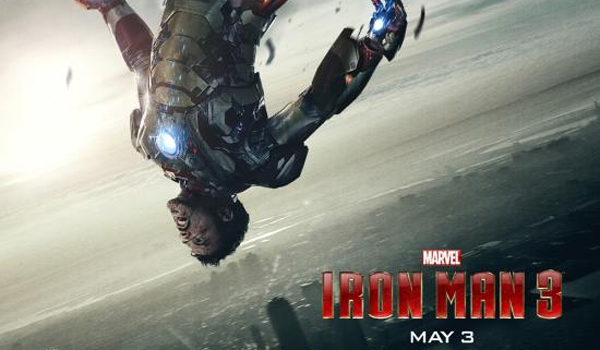 Let's be honest. Iron Man 2 wasn't very good. However, a big reason for that was they rushed it into production after the success of the first movie. John Favreau, the director, saw his world spinning out of control as he fought to get one more year to work on the script. Marvel wanted moolah right away though so Favreau lost that battle. But yeah, everything wrong with that movie can be attributed to a really sloppy, badly written screenplay.
Since Iron Man had to go fight with the Avengers last summer, Iron Man 3 had a little more time to get its script in order. Not only that, but it had longtime screenwriting vet Shane Black taking over directing duties. This is what really intrigued me. They had a real live screenwriter taking over the helming position. So the idea was: Good screenwriter + more time = good movie.
That's the IDEA of course. The problem is that most people in Hollywood flunked math. And I'm bummed to say that even under the most algebraic rationale, Iron Man 3 is only marginally better than the second film. Look, I can't pretend to know what it's like taking over a franchise film, being hounded by numerous execs from multiple studios and production companies, all with their own ideas and agendas. It's a dance you only learn by going through it, something only the luckiest of us will be able to experience. But you'd think with a movie like Iron Man 3, a proven franchise, that it's kind of a fail-safe deal. I'm pretty sure you could film Robert Downey Jr. strutting around Burbank doing a Jay Leno impersonation for two hours and it'd make 400 million bucks. Since that's the case, why not just let the writer do his thing? Let's get a good screenplay in here! Of course, for all I know, Shane Black had all the story control in the world. Whatever the case, Iron Man 3 became a strange movie-going experience that was part investigation, part super hero film, and part sit-com.
Iron Man 3 starts off with a flashback, to 1999, where Tony Stark rejects an offer from a crippled man named Aldrich Killian to join his company. Jump to the present, and Aldrich is no longer crippled, thanks to his company's advancements in neural re-stimulators or some such. But in order to take the next step with his company, he still needs funding. And no one has more funding than Tony Stark. Unfortunately for Aldrich, Stark's company rejects him once again, even with his shiny new smile.
Across the pond, the world has a bunch of new problems they gotta deal with, as there's a new terrorist on the loose named "The Mandarin." The Mandarin is blowing up people left and right and when one of those people ends up being Tony Stark's bodyguard, Stark gets pissed. He advertises an open challenge to the Mandarin to come face him like a man, even giving out his address! Well the Mandarin comes all right, with lots of helicopters and missiles, destroying Stark's sprawling Oceanside mansion.
Tony barely survives, then flies to Tennessee (I think) where one of the first Mandarin attacks happened. He starts piecing together how the Mandarin did this, acquiring the help of a 10 year old local boy named Harley. He then heads to Miami to confront the Mandarin while Harley stays back and works on repairing his Iron Man suit (no, I am not making that up – a ten year old boy repairs one of the most complicated pieces of machinery on the planet).
Eventually (spoiler), we find out that The Mandarin, our big bad terrorist, is just an out of work homeless alcoholic actor hired by Aldrich to scare the world so that he can take it over or something. It's all a lead-up to what will be an assassination attempt on the president on Air Force 1, which Tony Stark will have to regroup and get back into his Iron Man suit to prevent.
If I'm being honest, Iron Man 3 felt like it was being written as it went along. I haven't seen an opening that was that sloppily written for a major summer movie in a long time. I don't know exactly what it was. The clunky voice over, the funky flashback, but probably the biggest thing was the tone. Iron Man has always been big on humor, but here they took it overboard. It was so overtly goofy, with Stark joking about having sex with a botanist and some slapstick comedy between Stark and his bodyguard – the tone was no different than a CBS sit-com. It didn't even feel like the scenes were written. It was like the actors were given free reign to say or do whatever they wanted. It really put me off from the outset.
Then we get this strange scene where Pepper (Stark's assistant/gf) comes home and starts flirting with Stark in his Iron Man suit, only for us to find out that Stark's not in his suit. The suit is standing in for him so he can work out downstairs. I had no idea what the point of this scene was but I'm guessing it was to show that Stark was more concerned with his work than Pepper? Either way, it was so goofy to the point of being bizarre. Even Avengers, which had to balance the tone of several different franchises and be friendly to just about every demographic, didn't have nearly as goofy a tone as this. At times, it felt like Nickelodeon was producing this thing.
After Stark nearly dies in the attack on his house, he falls asleep in his suit (??) while his suit takes him to a place he'd previously ruminated might be connected with the Mandarin. This is why the script felt made up as it went along. Our main character falling asleep in a suit and when he wakes up he's magically in the town that starts his investigation?? One of the most underrated parts of writing is seamlessly moving your character from plot point to plot point. The idea is to make it invisible. If your audience is questioning how and why we got from one place to another, you're not doing your job.
But the moment where I really gave up on Iron Man was when The Mandarin turned into this goofy bumbling homeless actor. That was one level of goofy too deep for me. I mean I thought I was watching a super hero movie here. Why does it feel like an episode of Malcom In The Middle? And I haven't even brought up the kid, which felt like the studio note of all studio notes (we need a 10 year old kid in this to bring in all the 10 year old kids!). Once we have 10 year olds repairing nuclear suits, all logic is thrown out the window. The funny thing was, despite the fact that he was awkwardly and inorganically crammed into the story, the actor playing the kid was the best thing about the movie. Whenever Downey Jr. and Jon Favreau were on screen together, all you saw was Downey Jr. and Jon Favreau, the actors, trying to outdo each other improv-battle style. This kid and Downey actually made me believe Downey Jr. was Tony Stark, and this kid was Harley. It was so good, in fact, it made it clear how much the rest of the movie wasn't working.
Iron Man 3 may be the most un-super-hero super hero movie of the last decade. Most of the movie had Stark out of his Iron Man suit off in a little town investigating a murder of the likes you'd see in a tiny little indie flick. To strip the super hero elements out of such a huge film was a daring move by Black – I have to give him props for taking that chance. But ultimately, there were too many goofy elements wrapped in too sloppy of a screenplay to pay this risk off. Iron Man 3 was not as bad as Iron Man 2. But it felt more like friends goofing around than an honest-to-goodness kickass superhero film.
[ ] what the hell did I just see?
[x] don't spend your money on this
[ ] worth the price of admission
[ ] impressive
[ ] genius
What I learned: Lifelong fatal flaws are always preferable to recent fatal flaws. A well-executed character change is one of the most rewarding experiences movies have to offer. For example, if your hero's always been closed off emotionally, we like to see him finally open up in the end. The problem with sequels is that your character has likely already overcome that flaw in the first film. This often results in writers needing to come up with more recent fatal flaws to drive the sequels. In Iron Man 3, it's Tony Stark's anxiety disorder. Because it's such a recent thing, it doesn't feel nearly as important, which is why whenever it comes up, we don't really care. I'm not saying I know how to solve that particular issue in Iron Man 3. But it's a good reminder that if you're going to give your hero a fatal flaw, it should be something he's been battling all or most of his life, not something that's only recently come up.