Genre: Horror
Premise: A young woman inherits a curse where she's followed by an entity that cannot be killed. The only way to get rid of it is to pass the curse on to someone else.
About: "It Follows" has been playing the festival circuit for a year, gaining momentum via ecstatic reviews from both critics and festival-goers alike. The film opened this weekend in four theaters across the U.S., grossing an average of 41,000 per theater. That's the highest per-theater average of the year. It's set to expand next weekend, and if it continues doing well, will continue to expand. Writer-director David Robert Mitchell is an unconventional choice for the most buzz-worthy horror director of the year. His only previous film was an indie comedy coming-of-age film titled "The Myth of the American Sleepover" and he claims that he'd like to keep jumping from genre to genre instead of being pigeonholed into horror.
Writer: David Robert Mitchell
Details: 100 minutes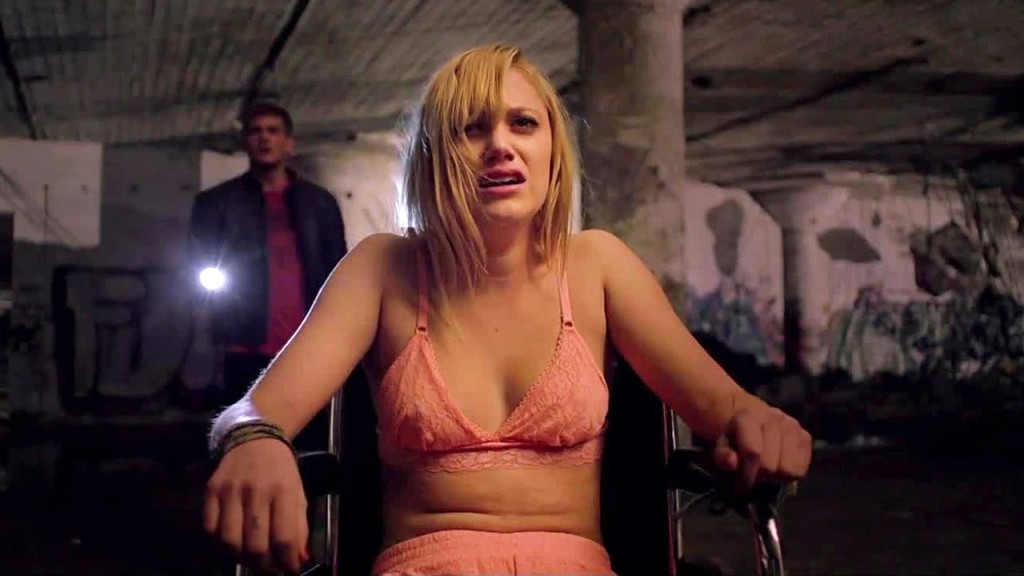 A few people planning on submitting horror screenplays to The Scriptshadow 250 Contest have asked me, "What makes a screenplay scary?" And I reply, "Bad dialogue." Haha, Carson. But seriously. You mean what makes a scary screenplay? Well, that's a little harder to quantify. But I'll tell you where it starts. It starts with making the reader believe in the characters and the world. The more realistic you can make the people inhabiting your story, the more we'll believe they're "real" like us. And thus, whenever they encounter dangerous situations, we won't just be scared, we'll FEAR for them. And I think that's an important distinction to make. Being "scared" is fleeting and cheap. Genuine fear strikes deeper.
Now I'll be the first to admit that that paragraph is somewhat gibberish without context. Anyone can say, "You have to make it more real n stuff!" So let me put it another way – If you're trying to write a scary movie, you'll fail. If you're trying to write a movie about people in a scary situation, you'll succeed. Do you see the difference? One is about cheap scares. The other is about a person experiencing fear.
And that brings us to It Follows, one of the more fascinating horror films I've ever seen. Now I'm not here to proclaim this film perfect. Actually, the screenplay is somewhat lacking, which I'll get to later. However, the writer-director, Mitchell, seems to be aware of his limitations as a writer, and camouflages them in a way  where they're practically invisible. It's borderline miraculous how he pulls it off. And it goes to show the advantage the writer-director has. He can hide weaknesses in a script inside the filmmaking, a luxury the spec writer doesn't have.
The plot here follows 19 year-old Jay (a female – I'm ready to give up trying to stop writers from giving their female characters male names), who's trying to navigate the uncertain world of post high school. She meets a hot dude, Hugh, goes out with him, has sex with him, only to then be strangled by him until she passes out.
She wakes up strapped to a chair in an abandoned building where Hugh promptly apologizes, and informs her that he had sex with her to transfer this "curse" to her. The curse, he explains, means you will be followed by something, an entity of sorts, who will try to kill you. The only way to get rid of the curse is to have sex with someone else, passing it on to them. But if "it" gets to you, it will start going right down the line of the curse. In other words, if it kills her, it will come back and kill him, and so on and so forth. So please find someone else and transfer it quickly.  "It should be easy," he encourages her.  "You're a girl."
That Hugh, what a charmer.
So Jay starts seeing people follow her that nobody else can see. And these people seem to be taking the form of past curse kills, people down the sexual line. This is where It Follows gets interesting. As we see the people following her (an old man, a mother, her father) we get these glimpses into the underbelly of this town and who's had sex with who. It's clear, in some cases, that rape was involved. And in others, it's pure speculation – such as where did Jay's father, who's already dead at the beginning of the film, fall into this line? Who did he have sex with? It's all rather mind-trippy, and the secret sauce that makes this horror story unlike any other – and that's the thing we're all trying to achieve – creating something unlike anything else.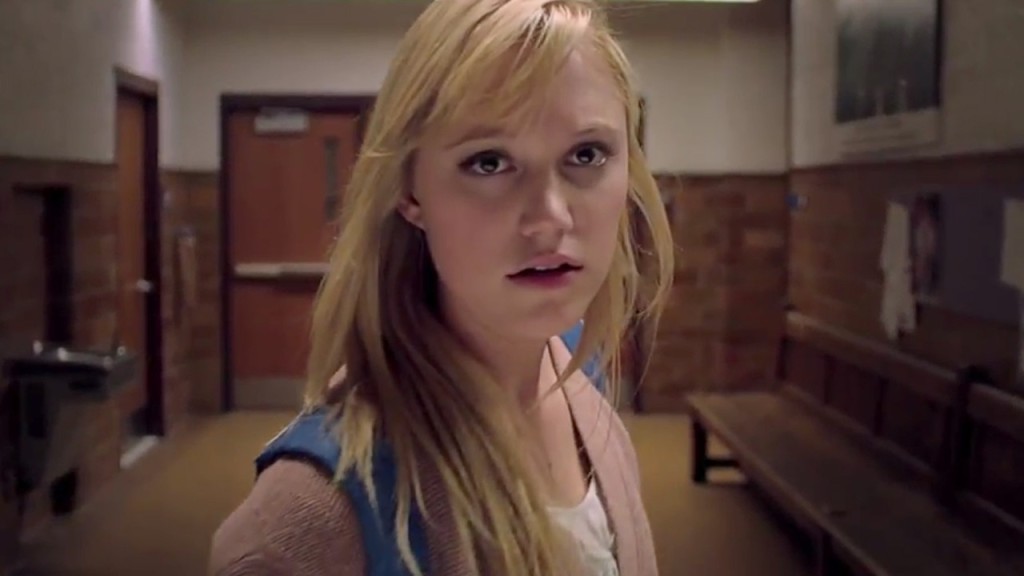 Okay, let's start with the screenplay here. This screenplay is suuuuuuuper-minimal. Which wouldn't have worked on the page as a spec. Everyone would've said, "We need to explain this curse better. We need a scene where we explain the backstory of the dad," and to be honest, I probably would've been one of them. On the page, it would've seemed like barely anything was going on.
But here are the things that directing can bring that screenwriting cannot. Cinematography, score, and overall vision. And in these areas, Mitchell knocks it out of the park. This is the first "real" horror film I've seen in forever where it doesn't look like a Hollywood costume designer dressed all the characters. The characters are all wearing what real people wear and that went a long way towards making the characters feel authentic (see the importance of that back in the opening paragraph). Ditto the locations. We were never on a set or a perfectly chosen house in the perfect neighborhood. It looked like REAL America. That went a long way towards suspending my disbelief. That's what I mean by vision.
Then there was the score. Which was really eeire. There were just these long drawn-out horns that never seemed to end and they added an unease that's pretty much impossible to add on the page. Coupled with the amazing cinematography, these shots set a mood for the film that was like no other, which is one of the reasons the film is playing so well. It doesn't feel like anything else you've seen. I mean, at one point, there's an 870 degree shot. That's right. Mitchell places the camera down, and slowly spins it around as we catch one conversation going on in one room, while one of the entities keeps getting closer and closer every time we pass the window. It's super-freaky.
Because you're so pulled in by these atmospheric touches, you're not thinking about the fact that the story is far from perfect, or even logical for that matter. Jay's mother lives in the house where Jay's loudly attacked a couple of times, but seems to sleep through all of it. She's also never around to offer support after Jay is essentially raped. The focus is squarely on the kids, which I think it should be, but this oversight was borderline ridiculous.
The minimalistic writing approach does help in some cases though. Paul, the geeky best friend who's in love with Jay, engages in a satisfying emotional arc with her that's spared from the overwriting that plagues most Hollywood scripts. We don't exaggerate the big plot turn where she finally falls for him or anything like that. It's all a lot more subtle, and helps the relationship achieve exactly what the rest of the script has achieved – a sense of realism.
So does this mean you should all go start writing minimalistic screenplays with barely any plot beats and parents who don't know that their children exist? Assuming you're not writing the next Peanuts movie, I wouldn't recommend it. Actually, It Follows has an ace up its sleeve that allows it to pull this risky move off. It's something I've brought up a lot recently: Come up with a concept that does the work for you.
The concept here – this notion of someone following you, trying to kill you, that in turn can't be killed – is what keeps the story moving without Mitchell having to do much. The scenarios write themselves. Girl in a house, friends don't believe her, then one of these things walks in, even though the friends can't see it, and she must run for her life. This is the basis for most of the scenes in the screenplay, which are just set in different locations. But they work because the situation is freaking scary! Imagine being in a public place and anyone you see could be there to kill you. You'd go nuts!
On the flip side, I'll read a script where there's a ghost in a house and it runs out of juice quickly because the concept isn't providing enough for the writer to work with. So you always want to make sure you have a concept that creates scenes for you. That way you won't be sitting there on page 50 going, "Uhhhhh, what do I write next?" A good concept will fuel the majority of your scenes for you.
I'd recommend everyone go see this movie. It's definitely "indie," but it's way more accessible than, say, "The Babadook," which resulted in me losing recommendation privileges with a couple of my casual moviegoing friends ("That was borrrr-ing" said one. "I don't get it.  There's a children's book that attacks people?" said another). What's cool about It Follows is it still has a little camp left in it, a little bit of John Carpenter's Halloween, so it feels more mainstream in that sense. Oh, and one last thing. If you come out of this film wondering where you can find a clam-shell reader, I'm sad to say I checked and there is no such thing. You'll have to see the movie to understand this. Let me know what you think when you do!
[ ] what the hell did I just watch?
[ ] wasn't for me
[ ] worth the price of admission
[x] impressive
[ ] genius
What I learned: "Concept" is the alcohol at the party. It does the hard work for you. If you've ever been to a party without alcohol and you feel the strain in the room as everyone tries really hard to talk to each other and look interested, you know what I mean. Give everyone drinks, however, and they loosen up, stop worrying, and start having fun. In other words, alcohol takes the strain out of the party. A good concept does the same. It lubricates the story so that everything just flows naturally. Of course, you can also bypass this analogy and just get drunk.  Which should help your writing as well.