Genre: Event Horror
Premise: When a group of young kids begin seeing a demonic clown around their small town, they suspect he may have something to do with all the local kids who've gone missing over the years.
About: You'll float too. After the chillingly bad TV movie version of "It," in the 1990s, Stephen King's most notorious novel was all but discarded as a vessel for adaptation. But in recent years, a King resurgence resulted in a newfound desire to produce a feature film based on the material. The problem was length. "It" is a huge book, 1489 pages, yet it wasn't the kind of book you could build a trilogy around. Finally, someone came up with the genius idea to split the book in two – the children's side and the adult side – and build a movie around both. This is the children's side. And holy heck did it kick ass this weekend at the box office, pulling in $117 million, doubling the next highest horror opening of all time.
Writer: Chase Palmer & Cary Fukunaga and Gary Dauberman (based on the novel by Stephen King)
Details: 135 minutes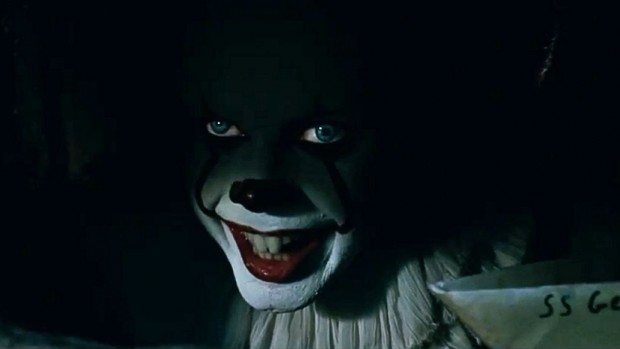 Let me start off by dispelling a myth Hollywood likes to propagate. "We're putting out good movies. People just aren't showing up." That statement is nowhere close to true. For the past five years, Hollywood's been upchucking retreads they only barely convinced us to see the first time around. They haven't been trying for awhile now and the audience is calling them on it. You have to listen to your audience, Hollywood. They want something new. And in this case, they proved it. They wanted Event Horror.
So what is this thing I've been talking about all week that's going to become the hot new thing? This "Event Horror?" How is Event Horror any different from Normal Horror?
To explain this, let's go over the current Hollywood horror formula. Throw a group of characters into a single location (cabin, haunted house, deserted warehouse, woods), add scary element (monsters, ghosts, zombies, leprechauns), let the scares take place.
The reason this formula is rarrrrrely messed with is because it works for all three points on the triangle. Hollywood loves it because single location movies are cheap to produce. Writers like it because this is the preferred setup for building believable horror – locking characters into a location with nowhere to run. And audiences like it because the setup is inherently scary.
This is why "It" feels so different. It's not just a bunch of one-dimensional characters packed into a haunted house. We're getting to see these characters back in their homes, we're getting to see them hang out together in their everyday lives. But, most importantly, we're seeing an unrestrained group of characters. They can move about freely. It's this "open-ended" character-driven adventure setup that makes this more of an "Event." It feels bigger and less simplistic than your average horror movie. It's horror opened up.
For those who haven't seen the movie or read the book, "It" follows a group of 13 year old kids in the small town of Derry, in 1988 (updated from King's original 1950s setting). The group leader is a kid named Bill who lost his kid brother, Georgie, to mysterious circumstances last year. Everyone else knows Georgie is dead. But Bill holds out hope that he's still out there, along with all the other kids who have gone missing from Derry over the years.
One by one, Bill and the rest of the "Losers," as they call themselves, are visited by a creepy clown who goes by the name, "Pennywise." Pennywise performs a slightly different bag of tricks from your average clown. He eats children, as we (spoiler) see in the script's nail-biting opening scene. Bill believes that Pennywise is holding Georgie hostage, and rallies the troops to infiltrate Pennywise's domain and get Georgie back. But the kids realize that this… "It"… they're dealing with is more powerful than anything they've ever dealt with in their lives.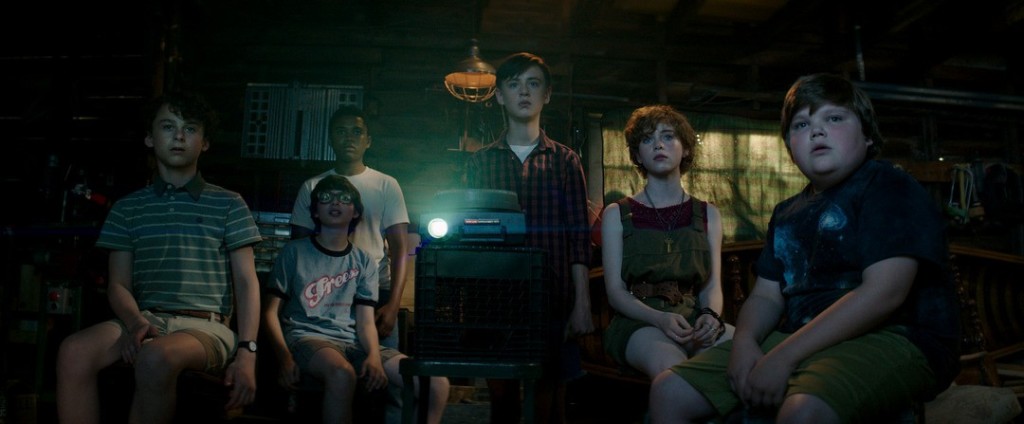 Okay, now that I've emptied my book of praise all over the decision to make It, did the movie – and script – live up to the hype? It did. And that's not to say there weren't roadblocks along the way. In fact, the very thing that makes "It" different is what causes the writers so many problems. This results in a choppy narrative that was constantly in search of calmer seas.
What the hell are you talking about, Carson?
Earlier I was talking about the traditional horror film. For argument's sake, we'll call it the "cabin in the woods" scenario. Put a group of characters in a cabin in the woods, take away their car (it's broken for whatever reason), unleash some evil entities on them, and you've got yourself a horror film.
In this scenario, coming up with scares is easy. The characters can't go anywhere, so you just send monsters at them and they have no choice but to fight back.
Because "It" is open-ended and the characters aren't restrained, the writers are constantly forced to come up with scenarios by which our heroes would willingly seek out dangerous situations. Either that or manufacture ways to get them into places where horror might occur, even if it doesn't make a lick of sense.
For example, Ben (the "fat kid"), is reading at the library about the infamous Easter Massacre weekend in Derry 30 years ago where 100 people died. As he's reading this, he spots a trail of flaming easter eggs that lead down to the basement. So Ben simply… FOLLOWS THE EGGS DOWN INTO THE BASEMENT. It's here, of course, that he runs into a headless child and Pennywise the Clown. This is as manufactured as it gets. Nobody in their right mind would be dumb enough to do what Ben did. But the writers don't have much choice. They have to push these characters into scary situations somehow.
Or Beverly, the lone girl in the group. There's a scene where she gets home, goes to her bedroom, and a postcard Ben secretly planted in her bag pops out. On the back, Ben's written her a 12 word poem. For some odd reason, Beverly rushes into her bathroom, locks the door, sits in her tub, and reads the poem. At the time I'm thinking, "Why is she going into the bathroom to read this? The poem isn't War and Peace. It's 4 lines long." Then, as she's reading it, something starts calling her from the sink. Ohhhhhhhhh, I realized. That's why we had to manufacture this artificially closed-door bathroom scene. So something could attack her in the sink.
You see, this is why the "trapped" scenario is the preferred horror scenario to go with. You don't have to force scary moments like this. They come to the characters organically.
Lucky for "It," it has a trump card. Pennywise. This is easily the most iconic horror monster of the decade. He's a perfectly crafted evil entity. So even when we do hit these manufactured scares, we forget about them the second Pennywise hits the screen because he's so damn scary.
I have to give the producers props for casting relative unknown Bill Skarsgard. He's so good in this. And the character creation and the make-up and the attention-to-detail (how the left eye is a little lazy). Wow. This is the kind of monster that will give kids nightmares for years. We can debate whether that's a good thing or not in another post.
And the characters were great. To me, "It" is Stephen King's magnum opus. Almost all of his characters in future books are variations on these characters. But these characters were the OGs. And the difference is, he really thought about these kids' lives. Every kid here has a legitimately tense living situation at home that informs how they act in the outside world. I don't think King ever tried as hard as he did with this group. And we're the beneficiaries for it.
I felt that the plotting in the film was strong. The defining choice was having Bill search for his brother. That made sure that the characters were ACTIVE – that they were out there trying to achieve something. Without that, the characters are just waiting around for bad things to happen, and that's where plots fall, where second acts deflate. So always make sure you're injecting ACTIVE STORYLINES into your scripts, guys.
There's a reason this movie made 117 million dollars this weekend. It was an event. It was a spectacle. It was more than your average horror offering. So I'm expecting this trend to pick up, hopefully extending into the spec market. It'd be nice to have another lane to sell scripts in other than biopics and female John Wicks.
[ ] What the hell did I just read?
[ ] wasn't for me
[xx] worth the read
[ ] impressive
[ ] genius
What I learned: Sometimes, in order to find something original, you have to take a genre out of its comfort zone. Sure, horror works best in tight isolated locations where your characters can't leave. But that's also where everything's been done before. Leave that setup behind to find new, potentially unknown, horror avenues to explore.
P.S. Stay tuned Thursday. I'm going to break down the rejected "It" script from Cary Fukunaga to see what they changed.