Genre: Action
Premise: When a Russian gang kills a former hitman's dog, he decides to take all of them down in an act of revenge.
About: John Wick just came out this weekend, finishing in second place at the box office with 15 million dollars. It could not overcome a major horror release (Ouija) a week before Halloween. What's unique about this film is that it comes from first time directors David Leitch and Chad Stahelski, who were former stuntmen directors for more films than you can count (including 300, The Bourne Legacy, and Matrix: Revolutions). Needless to say, action was a priority over all else in the film. This is writer Derek Kolstad's first big writing credit, unless you count the two movies he wrote for Dolph Lundgren, one of which is said not to contain a single discernible word from Lundgren.
Writer: Derek Kolstad
Details: 100 minutes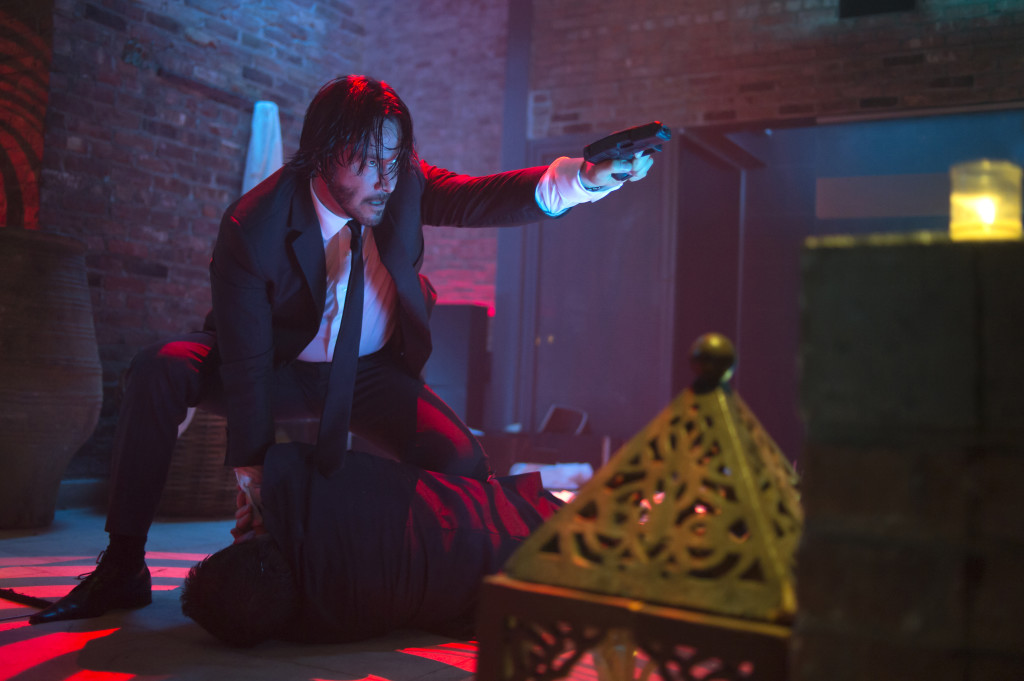 John Wick 12 hours after his dog was killed.
If there is an argument for the non-screenplay, John Wick might be it. This is an unapologetic action revenge flick with nothing going for it other than a good guy, a lot of bad guys and a kitchen full of bullet sandwiches. And you know what? It's all the more wonderful for it. This film embraced what it was and WENT for it.
But don't be fooled. John Wick has a little more screenplay panache than first meets the eye. I mean, you're not going to get 86% on Rotten Tomatoes as an ACTION movie and not have some checks in the screenplay department. So we'll get into that in a second. But first, for those of you who haven't seen the movie, let's find out how John Wick's dog died.
John Wick is a normal guy, if you consider living with Keanu Reeves looks and a home right off the cover of Architectural Digest "normal." Things are going well until the love of his life, his dear wife, gets cancer and DIES! Spoiler alert! Afterwards, John gets a package in the mail. It's a present from his dead wife, to be delivered after she's passed away. The present? The cutest freaking puppy in the entire universe! Awww times a trillion.
John loves this darn puppy. They walk around together, sleep together, eat cereal together. But then one day, when John goes to fill his 69 Chevy up with gas, a Russian punk takes a liking to his wheels and asks if he can buy the car. John says it's not for sale, IN RUSSIAN, which makes our Russian baddie grumble extensively.
It isn't surprising then when, that night, the Russians invade John's house, beat him to a pulp, steal his car, and, oh yeah, KILL HIS DOG (luckily, this happens from John's blurry point of view – so we don't partake in the gory details).
The Russian who instigated this realizes soon afterwards that he made a major mistake. His Russian kingpin father tells him that the man whose dog he just killed… was John Wick. The greatest hitman ever. In fact, John Wick used to work for him, and was the main reason he rose to prominence. "So what is he, The Bogeyman?" the Russian son asks. "No. He's the guy who KILLS the Bogeymans." OHHHHHH.
John Wick then takes a sledgehammer to his basement floor, under which are buried all his old hitman toys, which seems a little dramatic (couldn't he just put them under the bed?). He then checks into a special hotel downtown that caters exclusively to hitmen, and plans his revenge. Revenge that will require killing a lot of people with Russian accents.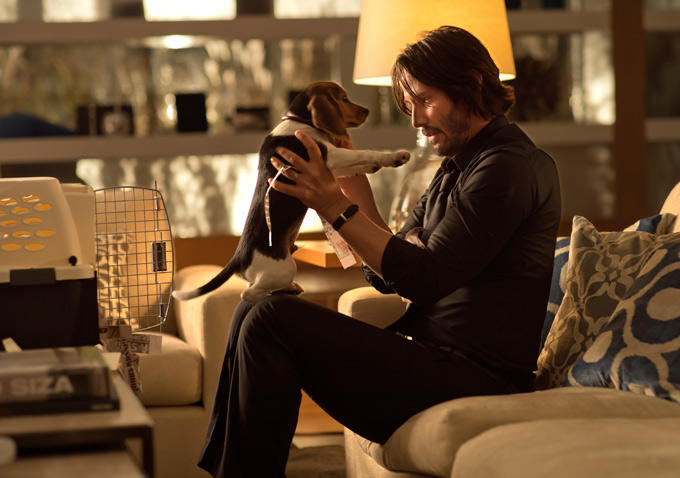 John Wick's dog.
So here's the thing with John Wick. It's both straight forward and not so straight forward. Even though there are clichés here (Russian bad guys for the 634,783rd time), the film does enough differently to make the journey fresh. And that's what you're always trying to do as a screenwriter. You're never going to be completely original. But you can try and write ENOUGH original to outweigh the unoriginal.
A great way to do this is to introduce an overarching original element. By doing so, you can use it to spurn numerous "sub-elements" that are also original.  So the big "original" thing in John Wick is the Continental, the hotel downtown that caters exclusively to hitmen. There are rules here. No one is allowed to kill you here. You are given special attention and special treats as a hitman.
This one choice birthed a number of sub-choices. John is supposed to be safe here. But the Russian Mob Boss doubles the price on his head (from 2 million to 4 million) so that hitmen will attack him inside the Continental, a huge no-no. Also, when you've left someone for dead in the hallway of the Continental and someone comes out of their room, they don't scream and call the police. They nod and say, "Hey John. Didn't know you were back," and let you go about your business. There's a unique currency used in this world (special gold coins). And even a hotel manager who enforces the rules at all times.
This is really what helped set John Wick apart from the other action movies. I heard one interview liken it to a hitman's Harry Potter – this special underground world where hitmen reside.  And I liked that analogy.  It really does feel that way.  And that choice was enough to spurn several other unique choices.  I don't think I need to tell you this since I always do.  But PLEASE!   Take the extra time, especially when you're writing in such a well-known genre, to find some original ideas for the story.  It's the ONLY way your script has a chance.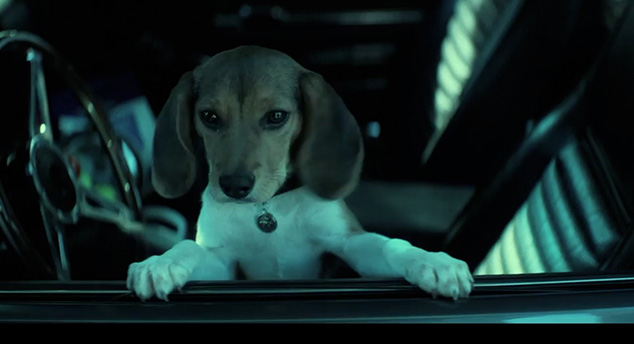 More of John Wick's dog.
But there were some screenwriting things that bothered me. First, everybody knows that "saving the cat" or "kicking the dog," are quick and dirty ways to make you either love the hero or hate the villain. But they're not meant to be taken literally. I never thought I'd see the moment where a writer would literally have his villain kick the dog to get us to hate him.
But it seems like it actually worked. I couldn't possibly judge the choice myself because I was so hyper-aware of it being used to manipulate the audience. But the audience fell for it. As you know, it's the impetus for the entire movie. John Wick kills all these guys because the Russians kill his dog. So if people are rooting for that at the end, it means they bought into the motivation.
For those of you who saw the movie, can you tell me if this worked on you? Were you aware of the manipulation? Was it too on-the-nose? Did that matter? I'm just curious how people didn't see this as the most overt attempt at gaining hero sympathy… ever!
The other problem with John Wick was the second half of the script. The movie peaked with this beautifully crafted bath house invasion by John Wick set to this ethereal melodic pop song. But after that, the movie started running out of ideas. The hotel was now in the rearview mirror, and the writer didn't seem to have anything fun or original to replace it.
Early on I was thinking, "You know how I know this is good. It's the first action film I've seen in forever where we haven't ended up in an industrial area." Those industrial areas are beautiful to shoot in and give directors lots of options, but they all look the same. They make your action film the same as every other action film. The fact that these guys had managed to avoid that told me they were actually thinking through their choices.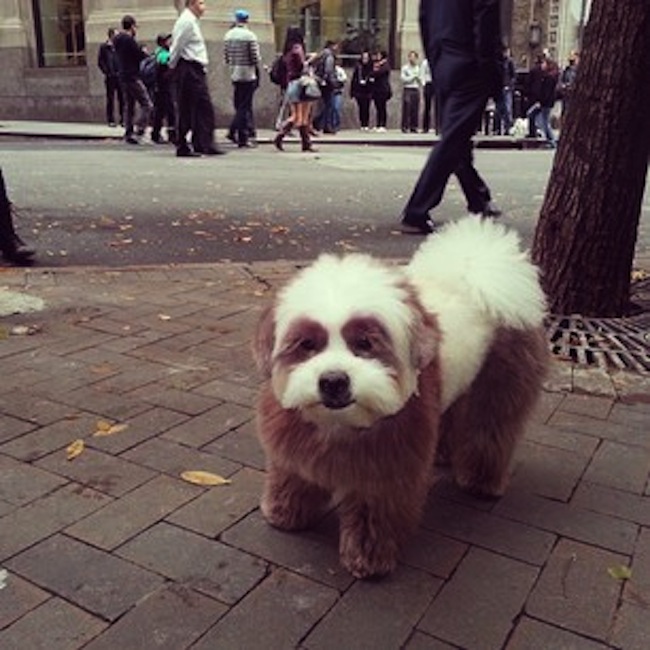 John Wick's dog out of make-up.
Then, after mentally lauding the film for this choice, where does the climax end up happening? In a giant industrial area.
Nooooooooooo!
It signified the reality here, which is that our writers and filmmakers ran out of juice. They were okay with the status quo with their ending. If they would've figured out how to make that ending unique? John Wick could've been a classic.
I still like it!  Don't get me wrong.  But I almost loved this.  I wanted to love it.
All I ask is that in the sequel, give John Wick a possum instead of a dog. Or when John Wick comes out on DVD, show us that the puppy playing the part of John Wick's dog is still alive in the credits sequence. Killing puppies, man. It's too much.
[ ] what the hell did I just watch?
[ ] wasn't for me
[xx] worth the price of admission
[ ] impressive
[ ] genius
What I learned: John Wick is a classic example of first-half favoritism! It is a condition writers have in which they spend the bulk of their focus on the first half of the script. They don't realize that 9 out of 10 times, when they go into their script to fix or work on something, they're focusing on the first half (they do this whether they know it or not since the first half is closer to the top of the document, which is often where you open it). For this reason, the second half of your screenplay gets the short stick. So here's a trick to avoid that. Instead of always opening your script on the first page and going down, open up the bottom of your script and go up. Work on those bottom scenes just as much as you do the top ones. Otherwise, there will be a perceptible quality drop as your script goes on.
What I learned: Just say NO to industrial locations in your action script! In your next action script, I implore you NOT to use any industrial locations. The entire thing must avoid all industrial areas, including the insides of warehouses! Especially the scene where our hero is captured and wakes up tied to a chair in a warehouse. Give us something new instead!