Genre: Found-footage Horror
Premise: A young man finds himself "marked" by a witch who lives below him.
About: Feeling that their franchise was getting stale, Paranormal Activity decided to take its newest entry in a different direction. The Latino audience for PA has always been huge, so they decided to create a PA movie specifically for them. Writer/director Christopher Landon scripted PA 2, 3 AND 4 (if you want to talk about "series fatigue," I actually thought the fourth one was the third one until I wrote this review). Landon's break-out writing credit was 2007's Disturbia. It's just coming to light now that Shia LaBeouf plagiarized his entire performance from the film. Landon is the son of famous TV star, Michael Landon, who headlined one of the biggest TV shows ever, Little House On The Prairie.
Writer: Christopher Landon
Details: 87 minutes long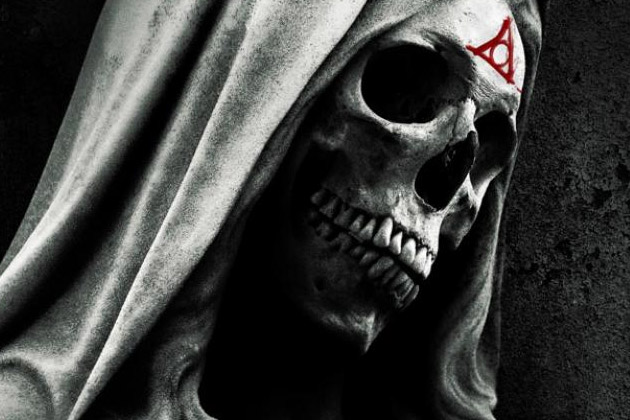 The last Paranormal Activity was really bad. It's hard to remember anything about it because it was so terrible, but what I do remember is that ¾ of the movie went by before anything happened. No story, no scares, no nothing. The creators of Paranormal Activity finally realized that their format was broken and they needed to look in another direction. I mean come on, how many times can you show a clip of someone sleeping with a counter in the bottom corner?
Here's the thing though – the found footage genre is not dead. Oh no, my friends, it's not even close. Any time a found footage film makes 19 million its opening weekend, its genre isn't dead. That's because of found footage's unique advantage over other genres. It can be made with no name actors (who cost nothing!), and is super-cheap to produce. In fact, writer/director Christopher Landon defends the format best (in an interview he did on Crave Online) – "You know, it's funny. I don't think found footage is in danger of running out. I think it's in that process now where I think we're going to obviously start to see more and more movies that are tackling different genres through that lens. I think you're going to see more comedies. I think we're going to see a lot of sci-fi movies. I don't think it's going away entirely.
"Sometimes it reminds me of when reality TV first really hit and was growing. There was a lot of pushback and people saying, "Oh, it's going to go away, it's going to go away." But it didn't go away. It just changed a lot. That's kind of where I see it going because there's a thing that's happened in our culture, a thing called YouTube which has completely changed the way that we experience movies because people are out there making stuff all the time and capturing moments, so there's a certain language that I think we've adopted. So I think that the found footage format connects to that. I think it's very relatable to people, even if you're not necessarily making a "found footage" movie. I think the style of it connects with the audience in a way that traditional movies don't."
So what was The Marked Ones about? Well, the good news is we're not stuck in a freaking house the entire running time. Best friends Jesse (the straight guy) and Hector (the funny one) have just graduated high school. They live in a lower-middle class apartment complex on the East side of Los Angeles that for all intents and purposes seems to be a group of chirpy, happy people.
That is except for Anna, their mysterious first floor neighbor. There have been rumors going around forever that Anna is a witch, but we never get her side of the story because she's KILLED by one of Jesse and Hector's friends from school. Being the high school trouble-makers that they are, the two investigate Anna's now-abandoned apartment, and find a lot of spooky witch shit laying around.
Soon after, Jesse begins experiencing mood swings, as well as super strength and exceptional skate board ability (no seriously!). Hector, being his eternally cheery self, has to get it all on video, and even uploads the feats to Youtube (in one of the funnier lines of the movie, the youtube crowd belittles the tricks as mere "cheap effects." Disappointed, Hector says, "Man, the people who comment here are so negative," in a way that only fellow internet posters can truly understand).
After awhile, it's clear that with these new found abilities, Jesse is also losing control of himself. When he's finally kidnapped by a witch coven that plans to take advantage of his powers, Hector and some hard core gang members head to the coven's home to get him back. As you might imagine, it doesn't go well.
The biggest lesson of this movie is that people get tired of the same old crap. So after awhile, you can't keep dishing it to them (Paranormal Activity 4). By adding a Chronicle aspect to the franchise (gaining powers) combined with a different culture (than the boring middle class white family) as well as getting out of the damn house, made The Marked Ones "fresh" enough to be enjoyable.
See there was a time when the claustrophobia of staying inside the house the whole movie worked. But not after four damn movies. That's one of your jobs as a writer – to recognize what the general audience is getting bored of and adding a fresh angle to it. But this review isn't so much about breaking down the movie as it is helping you write your own found footage film. I've read a good 50-60 found footage scripts and seen probably 20 found footage films. This is what I've discovered.
It's becoming more and more accepted in these found footage movies that someone is holding a camera the whole time, even if it doesn't make complete sense. Why hold a camera towards a monster that's chasing you? Wouldn't it be shaking by your side as you pump your arms running? But we still see it. Despite this practice becoming more common, it's highly advisable that you motivate the reason why your characters are holding a camera. The thing with found footage is that it's supposed to feel like REAL LIFE. So anything your characters are doing that doesn't follow logic, alerts the reader/audience that it's not real life. And their suspension of disbelief collapses.
You gotta bring the funny in FF. If you watch any family or friend's video, someone (the cameraman, the person in front of the camera) is trying to be funny. It's that age-old belief that once the camera comes on, you're supposed to entertain. Paranormal Activity works best when it has that joker character (the husband from the first one, Hector from this one) making fun of shit. If someone isn't joking around at least periodically, something about the "found footage" is going to feel off.
There should be no traditional character arcs in a found footage film. This isn't Titanic where Rose finally learns how to enjoy life and follow her dreams. This is supposed to be REAL LIFE. People don't typically change in real life. So if you try these big sweeping character arcs, they feel false, and expose the ruse of your "found footage." Instead, let your characters change through the circumstances surrounding them. For example, Jesse changes because he's marked, and starts losing control of himself. Hector changes because his best friend is acting weird and he's scared for him.
Keep the script short. When it comes to found footage, the audience treats it almost like watching clips on Youtube. Their attention span for watching "real life" is shorter. So you can't have these big long found footage movies. And really, the thing that creates screenplay bulk is complex storylines and lots of character development, something a found footage film should traditionally have none of. The Marked Ones was only 87 minutes.
This may seem like a small tip, but it's an important one. Have at least ONE SCENE in your found footage script where the camera is used in an inventive/clever way. Or maybe a better way to put it is, make your camera become part of the story. One of the best scenes in The Marked Ones happens early on when they're hearing strange noises coming from Anna's place below them. So they tie the camera to a rope and lower it down the heating vent, looking at the video feed through Anna's vent to see what's going on. It's an exciting scene because the camera's now an actual part of the story. This is FOUND FOOTAGE, so you have to use that hand-held camera in interesting ways.
I think the hardest thing about writing Found Footage is that in real life, nothing happens. In movies, things constantly happen. So you're trying to make a format entertaining that shouldn't be entertaining. I mean who's ever been stuck watching your Aunt Carol's videos of her daughter's figure skating lessons?
The great thing about Found Footage, though, is that it doesn't have to be so perfectly linear and connected. You can use the power of the "Cut to black" (which The Marked Ones does constantly) and jump forward a week in time without the audience being jarred. You just can't do that in a traditional film. A jump in time must be nuanced. In many ways, and I especially noticed this with The Marked Ones, Found Footage is just a bunch of selected vignettes tied together with "Cut to blacks." Find the interesting scene that best tells the story. Then jump forward in time to the next interesting scene that tells the story.
I think whereas it was once okay to take the Paranormal Activity approach and have "nothing" happen for the first 60 minutes, audiences are getting more impatient with this format and so want the fun quicker. I don't remember exactly where it happens in The Marked Ones, but Jesse and Hector's friend from school kills Anna at around the 20 minute mark, a much earlier "inciting incident" than happens in any of the previous Paranormal Activity films.
Finally, I think it's worth noting that this genre is still relatively young and therefore open to new ideas. If you're not willing to play with the format in some way upon writing a FF film, don't expect your FF script to stand out from the pack. And that's exactly what producers interested in this format are looking for. Found footage films that are a little different in some way.
What about you guys? What have you found are the necessary components for a good found footage script?
[ ] what the hell did I just watch?
[ ] wasn't for me
[x] worth the price of admission
[ ] impressive
[ ] genius
What I learned: Emotional anchors. Every film, whether it be traditional or found footage, should have an "emotional anchor," an emotional centerpiece the story can keep coming back to. As Landon points out in his interview I linked above, he wanted the emotional anchor of The Marked Ones to be this friendship between Jesse and Hector.