Genre: Drama
Premise: When 30-something Milo tries to commit suicide, his estranged sister, Maggie, invites him into her home, where the two start the process of healing old wounds.
About: Writer/director Craig Johnson graduated from NYU film school a decade ago, where he originally conceived of this idea with fellow student Mark Heyman (who wrote Black Swan). The two eventually went their separate ways, coming back to the script only recently, where they re-focused it on its best asset, the brother-sister relationship. Johnson has one other movie under his belt, the little seen True Adolescents, which starred Mark Duplass. He'd been trying to get Skeleton Twins made for awhile with different packages, but it wasn't until Kristin Wiig came on that he finally believed the movie would get made. And it did!
Writers: Mark Heyman and Craig Johnson
Details: 93 minute runtime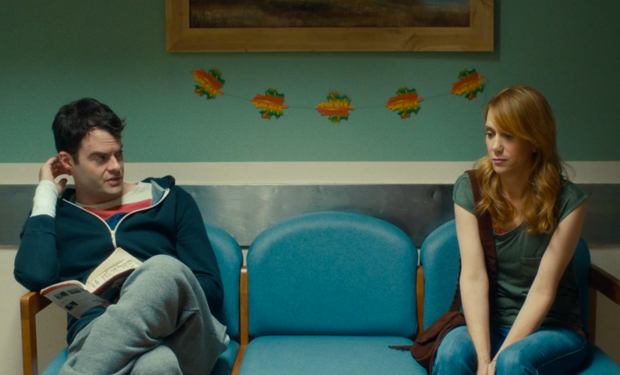 I actually saw two movies this weekend. The Skeleton Twins and The Maze Runner. For The Maze Runner, I tried to bring a little of that "opening day enthusiasm" typically reserved for movies like The Avengers and Star Wars.  So I lugged in a big block of cheese. 'Cause it was a maze? Like rats in a maze? The theater ushers didn't understand the joke and told me I either needed to eat the cheese, throw it away, or not see the movie. I sighed and threw it away.
The cheese turned out to be relevant in a different way in that most of Maze Runner was cheesy as hell. Even worse, it employed the classic screenwriting mistake of making the main character ask 60 million questions: "What is this place?" "Where are those guys going?" "What happens in there?" "What's a runner?" "What's that noise?" "What happens if they don't come back?" "What's a Griever?" Word to the wise – if your main character is always asking questions, he doesn't have any time to, actually, you know, do stuff.
The movie really wasn't that bad. It was just generic. I hate giving that note to writers cause it sounds so vague but it's so often the problem.  Every choice feels like the first choice the writer came up with. A maze that changes. Seen it before. Spiders inside the maze? That must've taken a while to come up with. The lovable underdog fat kid. Oh, and let's not forget the dialogue (Mopey character who thinks he's going to die: "Take this [trinket] and give it to my parents when you get out of here." Hero gives the trinket back to mopey character. "No. You're going to give it to them yourself.").
But the biggest faux pas is something you just can't screw up as a screenwriter. You have to give them the promise of the premise. If you're writing a script about a giant maze, that maze better be fucking a-maze-ing. And this one wasn't. It basically amounted to tall ivy-covered walls with giant spiders running around in them. That's it?? Your maze boils down to Wrigley Field meets Harry Potter?
Lucky for me, I also got my suicide on this weekend. But before I get to Skeleton Twins, I have to do some name-dropping. It was Friday night at the Arclight in Hollywood. As Miss Scriptshadow and I were heading to our theater we saw none other than KEVIN SMITH barge through the lobby (he was moving like a cannonball). I remembered that his movie Tusk was opening and figured he was going to watch his own movie. Which is kind of strange but also kind of cool at the same time.
The funniest part was as he walked through, every single person turned (around 100) and whispered, "That's Kevin Smith. Hey, that's Kevin Smith. That's Kevin Smith." I guess if there's one place Kevin Smith is going to be a mega-celebrity, it would be at a cinema-loving theater like Arclight in Hollywood.
Anyway, we rode that excitement wave right into our suicide film, which I was only seeing because it got such a high score on Rotten Tomatoes (I'll see anything above 90%). Usually I despise films like this. Depressed indie people being depressed, trying to commit suicide, then being more depressed. Count me out. But lo and behold, this ended up being one of my favorite films of the year!
30-something siblings Maggie and Milo haven't seen each other for ten years. Coincidentally, on the exact same day, they both try to commit suicide. Maggie gets the call about Milo being at the hospital before she can off herself, so she goes there and asks Milo to come live with her and her husband, man-child but sincerely lovable Lance, until he feels better.
Over the next few weeks, Milo, who's gay, reconnects with an older man whom we find out was his teacher in high school. In the meantime, we find out that Maggie, who's trying to have a baby with Lance, is secretly taking birth control so she doesn't have a child. She's also banging her scuba instructor, which I guess makes the birth control a "kill two birds with one stone" type of deal.
We eventually learn that the siblings' self-destructive ways stem from their own father jumping off a bridge when they were just kids. It seems, for all intents and purposes, that they're just following the script, doing what daddy did. So the question becomes, can they put the past behind them and move forward? Or are they on a collision course with fate, one they have no control over?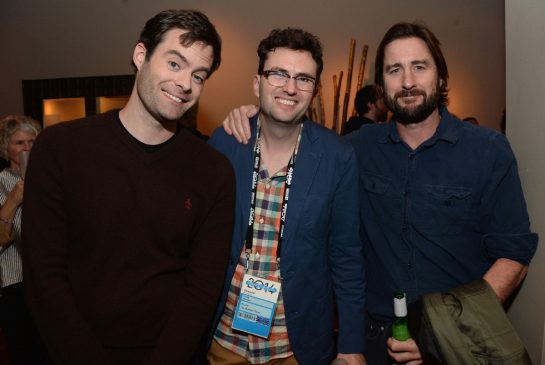 First I lauded a script about two cancer-stricken teenagers earlier this year. Now I'm touting suicide entertainment. What's wrong with me???
Not only was The Skeleton Twins good, but it succeeded where many other an indie film have failed. You see, when you don't have a clear plot (like The Maze Runner – "Get out of the maze"), the story can easily get away from you. Without that big plot-centric protagonist goal, it's not always clear where you're supposed to take the story.
Well, in character-driven screenplays, like this one, the point shifts from achieving a goal to resolving relationships. That's it. That is what's going to drive the reader's interest or not drive it. You create 3-5 unresolved relationships – characters with a big problem between them – and then you use your story to explore those problems. If the problems are interesting and you explore them in an interesting way, we'll stick around to see what happens. Here are the four main relationships in The Skeleton Twins…
1) Maggie and Lance – she's not sure if she wants to be with him.
2) Maggie and her scuba instructor – she's trying to end the affair but can't.
3) Milo and the old high school instructor – their relationship was cut off when they started it in high school.  They have to figure out where it is now.
4) Milo and Maggie – they still have a few things from the past to resolve.
The other big thing you want to do with these non-plot-heavy indie movies is throw a lot of plot points at the story. Remember, we don't have that big goal at the end to drive the film (Win the Hunger Games!), so you have to, sort of, distract us from that.
The Skeleton Twins does a great job of this. Maggie and Milo's mom (whom they both hate) shows up unexpectedly. We find out Maggie's hiding birth control. Maggie has an affair. We find out Milo had a relationship with his high school teacher. Lance finds out Maggie's been on birth control this whole time they've been trying for a baby. Maggie ironically forgets to take the pill, discovers she's late for that time of the month. I mean, for a tiny indie movie, there's a lot of shit happening here. And that's the way you have to do it with these indies.
I think lots of writers believe that because it's an "indie" they need to show 20 minute shots of characters forlornly looking out at the sunrise set to an 8 minute Iron and Wine song set on repeat. There are a few of those shots in here, for sure. But the reason The Skeleton Twins succeeds where all these other indies fail is because it really packs a lot of plotting into its 90 page run time. There's never something not happening.
On the non-screenwriting front, it was genius to cast comedians in these roles. This movie would've crumbled under the weight of two dramatic actors playing ultra-dramatic roles. The reason the film never falls too far into depression-ville is because of the dry offbeat humor Wiig and Hader keep slipping into their performances. Even Luke Wilson was great as the husband. Both funny and sympathetic.
This was a hell of good film. I should've saved my block of cheese for it.
THE MAZE RUNNER
[ ] what the hell did I just watch?
[x] wasn't for me
[ ] worth the price of admission
[ ] impressive
[ ] genius
SKELETON TWINS
[ ] what the hell did I just watch?
[ ] wasn't for me
[ ] worth the price of admission
[x] impressive
[ ] genius
What I learned: Small indie movies need a lot of PLOT POINTS. You need to keep throwing things at the characters or revealing secrets to keep the story moving and alive. Go too long without anything significant happening and your script gets pulled into that "indie boring void" that so often dooms an indie film. Don't become another one of those indie films.