M. Night's new film shocks with a bigger than expected opening. But is this a "visit" worth taking?
Genre: Horror
Premise: (from IMDB) A single mother finds that things in her family's life go very wrong after her two young children visit their grandparents.
About: You've loved him, you've hated him, you've laughed with him and you've laughed at him. And whether you like it or not, the once pop-culture directing icon (The Sixth Sense, The Happening, Signs) is back with a new film. Yes, I'm talking about M. Night Shyamalan. Night has sunk so low in the eyes of the paying public that he's been forced to play by Hollywood's new horror-film rules: 1) Get a hall pass from Jason Blum. 2) Don't spend more than a million dollars. But darnit if Night didn't make the most out of the opportunity. While his movie didn't win the weekend, it did finish with 25 million dollars, almost 10 million more than what was expected. It's a huge win for Night. But is it a win for us?
Writer: M. Night Shyamalan
Details: 94 minutes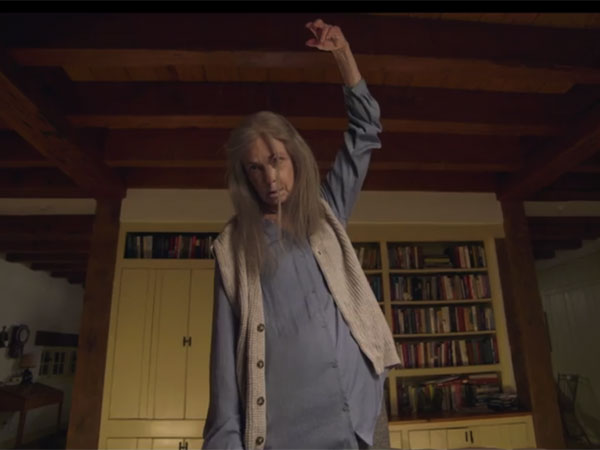 One of the quirkiest parts of my day-to-day existence is how much I think about M. Night Shaymalan's career. I probably think about it (usually negatively) once every couple of days. Even if he hasn't made a movie in years.
This probably reflects more on me than it does Night. But as a screenwriting obsessist, there's a part of me that gets really angry at the fact that he's still making films. Not because he makes bad movies. Every writer-director has their Grindhouse. But because he makes REALLY REALLY bad movies. Like bad enough that if 20 years from now Night revealed that, as an experiment, he had a 5th grader write "The Happening," I wouldn't bat an eye.
It seems, at times, that he's so out of touch (placing "symbology" higher on the priority list than THE ACTUAL FUCKING STORY), that someone ought to take the proverbial keys from him and get him an Uber. To retirement.
I remember when Unbreakable came out, his first movie after The Sixth Sense. The world was so drunk on Night Fever that they went into that thing with Night-as-my-God colored glasses and came out believing they'd just seen Citizen Kane 2.
I tried to rally the "what the fuck did I just experience" troops to no avail. But the signs were there. The entire movie was an empty excuse to set up a twist ending that made little, if any, sense. That's one of the signs of a bad writer – someone who ignores the story itself in service of trying to wow the viewer at the end.
While everyone told me I was crazy, I watched as the mistakes I saw in that film became more and more pronounced with each new effort (Signs, The Village, The Little Mermaid 2), and, in that sense, I haven't been surprised at all at how terrible his movies have become. For those paying attention, this was inevitable.
Which brings us to The Visit. Now, I'm pulling a "before I watch" written intro, which means I'm writing all of this down before I go see this movie. What am I expecting? Despite attempts to avoid spoilers, I've heard spits and whistles saying this is Night's best movie since his early days. But, honestly, I don't believe it.
I think everybody's just so used to garbage from this guy that anything not garbage is going to seem great. So with that uplifting attitude, off I go to watch the movie. Wish me luck!
The Visit follows 13 year-old aspiring rapper, Tyler, and his sister, 15 year-old aspiring filmmaker, Becca, who really really want to meet their grandparents, and so have convinced their mom to allow them to spend a week at their home.
The family hasn't had the best go of it. Mom left her parents in a huff 15 years ago after meeting a guy and hasn't spoken to them since. She married him, had Tyler and Becca, but he left the family five years ago and hasn't kept in touch since.
Told in a "found footage" type style, with the entire movie seen through the eyes of Becca's TWO really expensive cameras, serious Becca and goofball Tyler start to notice their grandparents are a little strange. For example, "Nana" will just join in on "hide-and-seek" time wearing nothing but her nightgown and galloping around on all fours like a child.
With their mother busy on a cruise with her new boyfriend, the kids are only able to share their concerns about the grandparents in small doses. But when Nana starts trying to climb walls naked, that's when bro and sis realize it's time to jet. Too bad the grandparents catch on. And by then, it's too late.
Let me start off by saying the crowd I saw this with really dug it. They were laughing their asses off. And if there's one area The Visit should be praised for, it's humor. Tyler, with his awkward rap obsession, along with the goofy vibe that both Nana and "Pop Pop" put out, give The Visit, at the very least, a quirky watchability that isn't present in any of Night's previous films, mainly due to the fact that he takes himself so seriously.
But the humor wasn't just a win because it provided laughs. The humor brought us closer to the characters. That's something screenwriters don't talk enough about. Once you start laughing with characters, you feel closer to them (not unlike how you feel closer to people you laugh with in real life), and that makes you care more about what happens to them, which is key in any movie, but especially horror, where you want the audience to be engaged when the character encounters danger.
While this was a pleasant surprise, it couldn't hide some of the movie's clunkier issues. One of the stranger additives here was the "found footage" approach. For those who watch Night's films, you know that Night's directing style is THE OPPPOSITE of found footage. He likes to control every aspect of the frame, every camera movement, every line of dialogue, even down to the finite moves of the actors.
Remember the most manufactured scene in movie history? When the family in Night's film, Signs, gets up on a car together and holds onto each other in order to get a walkie-talkie signal? That's what Night loves to do.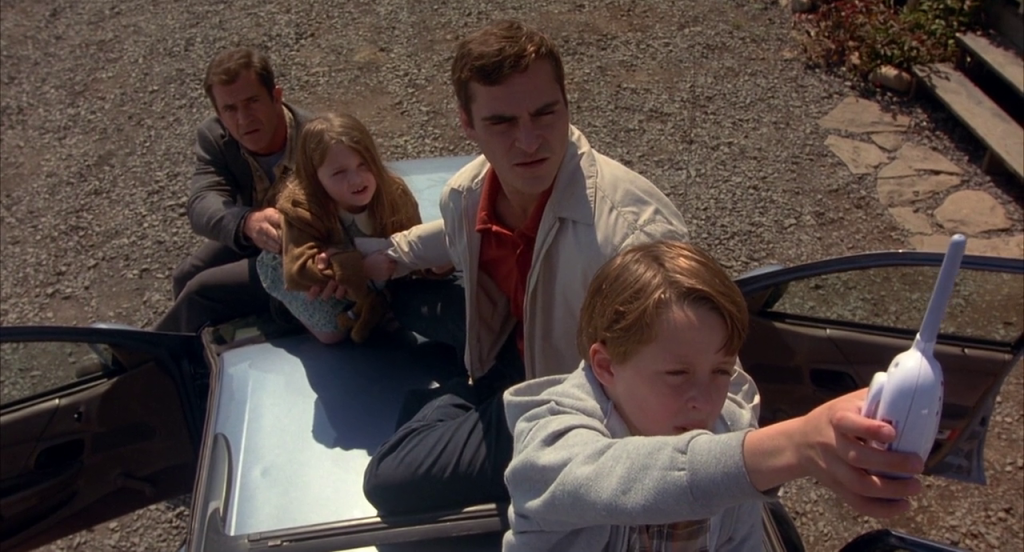 Good "found footage" movies leave a lot of control up to the actors (Blair Witch), knowing that that's the only way the footage is going to truly feel "real." So when you watch The Visit, you can see that tug-of-war happening in every shot. The desire to create something organic and natural, ruined by the need to make every shot look, sound, and feel perfect.
I'll give Night this though. It gives the movie a feel unlike anything else you've seen before. I'm still not sure if it's a "good" feel. But it's unique. And that counts for something.
Surprisingly, what saves this movie is the writing. Night has clearly spent more time on this script than his last 7 combined. And let me explain to you how I know that. Unfortunately, it's going to require me to get into some big spoilers. So skip to the "What I learned" section if you haven't seen the film yet.
Early on, we establish that mom hasn't spoken to her grandparents in 15 years. She hasn't even spoken to them for this trip. Everything was set up through the kids. We later find out why this plot point is needed. When the kids point out their grandparents in the yard over a late-movie Skype session, the mother's face goes white. "Those aren't your grandparents" she says. It turns out they're a couple of escaped mental hospital patients posing as the grandparents.
In other words, if Night hadn't written in this "I don't talk to my parents anymore" plot point, there's no film. The mom would've been able to talk/Skype with the kids AND the grandparents at the same time, immediately exposing them as imposters.
That gives the movie a bit of a "held together by popsicle sticks and rubber bands" feel to it, but there's just enough there to make it work.
Now in the past, Night would've left it at that. And it's indeed a fun twist that would've worked just fine. But what Night does here is HE MAKES THIS PLOT POINT WORK FOR THE STORY. Specifically, the whole reason that the daughter wants to meet her grandparents is to help repair the relationship between them and mom.
Between scares, Becca is asking her grandmother and grandfather about what happened. Why did the family fall apart? It becomes a major part of the story. This way, when the twist happens (they're not the real grandparents) it doesn't feel cheap, since Night milked the most of the storyline that allowed that twist to happen. That's good writing!
Unfortunatley, I'm left wondering how long this new M. Night aroma will last. He's FINALLY made a solid flick again. Yet his next movie will be a production of the very first script he sold, Labor of Love. I can honestly say that this is the worst script Night has ever written. It's even worse than The Little Mermaid 2 (it's a super-sap-fest about a man who walks across America after his wife dies).
If Night wants the adulation of movie fans and the industry – which deep down I think he does – he needs to keep playing in this sandbox. Tiny horror movies with no expectations. Small budgets that force him to get creative with his storytelling. That's where he makes his best stuff. However, I'm afraid we'll be cursed with M. Night Egomalan again. And just like old geezers who turn crazy after sundown, there's not much we can do about it.
[ ] what the hell did I just watch?
[ ] wasn't for me
[x] worth the price of admission
[ ] impressive
[ ] genius
What I learned: Movies are about unresolved relationships. We talk about this all the time here. In every relationship in your movie, you want to pick out something big or small that's unresolved, then use your story to explore and resolve that issue. The Visit taught me that you can have unresolved relationships with characters who aren't even in the movie! A big off-screen character here is the father, who brother, sister, and mom, all have issues with for leaving them. I liked how The Visit used those unresolved relationships with dad to drive a lot of the character development here. Tyler, in particular, seems very hurt by the fact that his father left, and partly blames it on himself. I also really liked the way they resolved this relationship. No, it wasn't by calling the father and demanding answers. If you read Thursday's "Cinematic Writing" post, you know that you want to solve all script problems by SHOWING AND NOT TELLING. We get closure when Becca, who swore she'd never use any footage of her father in her documentary, ends up including footage of him with them when they were younger. All we see are the images of him/them spliced into the final cut, but that's all we need. We know they've finally found closure with the dad.