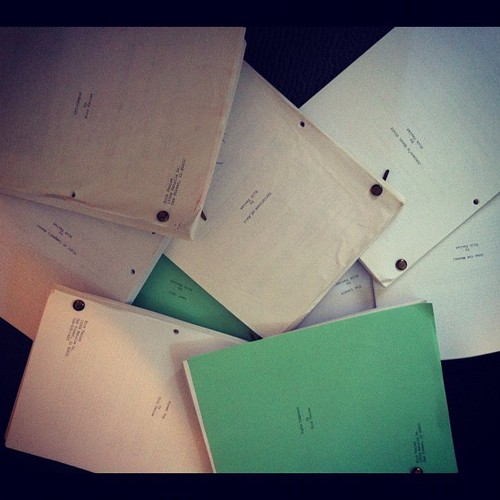 I hope you're working hard on your Scriptshadow 250 entry. As of this moment, I'm allowing you to take a break to weigh in on yet another batch of…. AMATEUR OFFERINGS!
Title: Insatiable
Genre: Horror
Logline: When a law student's girlfriend mysteriously vanishes from a truck stop diner, he suspects a shady trucker is to blame. But as he races to save her life, he discovers that the only thing more terrifying than her captors is the reason she was taken.
Why You Should Read: I need the help of the ScriptShadow community! I like scary things and enjoy a good horror film. I've been writing for quite some time and have advanced in some of the more well known contests including Nicholl. INSATIABLE was a semifinalist in Austin in 2011. A revised version was a finalist in ScreamCraft last summer and a semifinalist in Page. It has received some positive feedback, yet here it sits on my laptop. My question is this — is the story worthy of a movie? Can it get over the hump? Is the script worth revising or should I consider it a building block, leave it on my laptop, and move on? Please help!
Title: Hell Singers
Genre: Action/Horror
Logline: Victor Kalas and Chris Sheridan are Hell Singers, members of an elite secret service that uses scientific precision to quietly eliminate vampires in New York City. When Chris and his fiancee are attacked and turned, he sets out on a vengeful quest to find the vampires responsible, while Victor is hot on his tail with a direct order to kill him.
Why You Should Read: Assuming you're still reading this after getting past the word "vampires" in the logline, Hell Singers is like a James Bond film set in the vampire subgenre, with a hint of noir. It's pretty cool, why not give it a shot?
Title: Three or Out
Genre: Dark Comedy
Logline: In the final days of a yearlong deadline to either improve his life or end it, a sheltered mama's boy, with nowhere else to turn, appoints a would-be criminal as his new life coach.
Why You Should Read: March 9, 2012, a day dubbed as "the Jai Brandon experiment," Carson reviewed a script of mine titled, "The Telemarketer." — When I originally wrote that screenplay, I thought "entertainment value" outweighed plot, structure, "rules," or anything else you want to throw out there. I was a screenwriter with all of 18 months on the job and thought I had this craft figured out. I was confident in my ability to entertain, though I never made claims that The Telemarketer was "better than every script sale out there," or "better than some of the classics that have graced our movie theaters for years." I wasn't ever that clueless. However, I did think the story could hold my readers' interest throughout.
Boy was I wrong.
The most memorable feedback, to me, wasn't even about the script. What stuck with me the most were comments along the lines of "I put this down at page XX." Or "I bailed after page XX." It sucked to fail at the very thing I thought I could accomplish.
Since that time, I've read tons of screenplays and penned another unconventional script that never went anywhere. Enough is enough. I wanted to prove to myself that I had the discipline to follow the rules. As a struggling actor, I also wanted to create a story that would be relatively easy to produce, with me as one of the leads. I decided to use the central idea behind The Telemarketer – as well as a couple of scenes from that script – and write a dark comedy called Three or Out. Hopefully this time I succeed in accomplishing what I failed to do earlier: hold my readers' interest with a compelling and conventionally structured screenplay.
Title: The Shadow
Genre: Action/Crime
Logline: A medical student busts a hit man known as The Shadow out of the hospital to help her get revenge on the man responsible for her sister's death.
Why You Should Read: I'm a Canadian author and screenwriter, and dedicated cinefile with a affection for horror, science fiction, action and crime dramas. I'm influenced by filmmakers such as Luc Besson, Tony Scott, David Lynch, Robert Rodriguez and David Cronenberg, and bow down to the screenwriting awesomeness of people like Quentin Tarantino, Diablo Cody, John Logan, the Coen Brothers and the one-and-only Shane Black.
The Shadow is one to read because it showcases a female lead that is both smart (she's a doctor!) and bad-ass(she get trained by a stone-cold hit man!), and uses both to extract revenge for a transgression NOT motivated by a personal sexual assault (let's face it this is overdone and in most cases simply exploitive) or lost love. There's a lot of blurring between the "good" and "bad" guys, and an action-fuelled examination of the many layers of grey that people have to work through in terrible situations without betraying their personal morals or losing their humanity. Enjoy!
Title: Heart Storm
Genre: Action/Adventure
Logline: A tough nurse and a bumbling policeman have two hours to get a transplant heart across a chaotic city as a hurricane makes landfall around them.
Why You Should Read: This is my latest script and it's a big budget blockbuster of the kind that we've been debating on Thursdays. I challenged myself to sum it up and ended up with, "Get a heart through a hurricane." That sounds like fun to me. I believe this is original enough to have a chance at getting made, and if the people who say that's impossible are correct, then I'm happy to stand by this script as a sample. Thanks.