Welcome to the newest trend in screenwriting, the "micro-screenplay!"
Genre: Horror/Post-Apocalypse
Premise: A farming family must communicate without speech in order to avoid a violent creature which seeks out its prey via sound.
About: For those of you who think the only way to break into Hollywood is to have an Oscar-winning producer as an uncle, look no further than Scott Beck and Bryan Woods, graduates of University of Iowa, a state with plenty of uncles, but no Hollywoods! Beck and Woods are filmmakers who have been slowly moving their way up the ladder, finally selling this script to Paramount for John Krasinski and wife, Emily Blunt, to star in. While Krasinski would later do a pass on the script (he's also directing), this is the spec that sold before his involvement.
Writers: Scott Beck & Bryan Woods
Details: 67 pages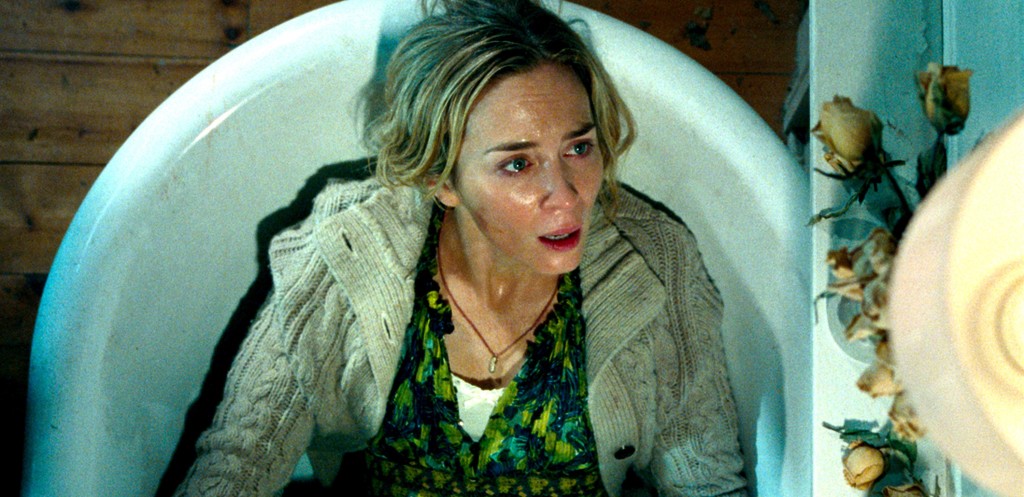 Say it with me now. Miiiiiiiii-cro screenplay.
It's the new trend, brother. Haven't heard of it? Where have you been? Off writing your behemoth 100 and 110 page screenplays I suspect. How dare you. Between A Quiet Place (67 pages) and Meat (73 pages), thin is in! With everyone's attention span being stretched to the bone – as the 24 hour news cycle turns into the 28 hour news cycle, people have less time to read. So you better make your scripts as tiny as possible.
The proof is in the pudding, guys. Justice League? 120 PAGES! And what happened to that movie? Only the lowest opening weekend for a DC film. If that doesn't prove it, I don't know what does. No more pages for ages. Recede word greed. 75 is the new 110.
Just in case you were wondering, I'm joking. Today's slim shady screenplay is due to the fact that there's barely any dialogue in it. Which turns out to be the reason it's so awesome. Tell your cubicle neighbor to turn down his radio. I'm going to need some quiet for this review.
After sweeping into a beautiful farmland utopia, we meet two children, April, 8, and her brother Will, 10. The two are moseying about, each doing their daily chores. We then meet the very pregnant Mia, their mother, and the patriarch of the family, John.
They seem to be your typical family of farmers. But it doesn't take long to notice that something is off. That something is the fact that nobody speaks to one another. In fact, everyone goes out of their way not to speak.
It turns out the reason for this is that the world has been wiped out by creatures that prey on sound. If you so much as whisper, it's the equivalent of screaming as loud as you can in these creatures' ear. And since they now know where you are, they come and kill you. As long as you don't say anything, though, you'll be fine.
This is something that, up until this point, has been controllable. The family has a system down. They don't need words to communicate. But remember that Mia pregnancy? Yeah, that baby's due soon. And the last time I checked, babies don't know how to shut up.
Which is why the family has been meticulously sound-proofing their shed. They hope to have it silent as a church by the time Mia goes into labor. Oh, one problem with that. Mia goes into labor early. This causes pandemonium, as the family is forced to improvise, all with the creature now aware of their location.
Somehow, John's able to get everyone into the bunker. Everyone, that is, except for April, who, in all of the chaos, got lost in the field. John will now have to go out and save his daughter, with a highly alert sound-hunting creature nearby. But how do two people find each other without the ability to speak? Without the ability to yell? I guess we'll have to find out.
This was a really clever idea.
It's funny how that works. We're all looking for that singular idea that's so great, so complex, so unlike anything anybody's seen before. When, usually, the cool hip idea that comes out of nowhere is the one that's painfully simple.
A world where if you speak, you die.
I always say that the key to avoiding cliche is to come up with a unique concept, as it will, in turn, lead to unique scenarios. And that's exactly what happened here. Every scene felt different from the stuff I usually read.
Take, for example, when Mia goes into labor early. She's in the house, by herself, while the rest of the family is working on the shed. Here's this woman, who's going through the most physically painful experience of her life, and she not only can't make a sound, but meanwhile, her family is across the field, casually working on other stuff, having no idea that she's in labor.
I haven't read that scene before. As was the case with virtually all of these scenes. Everything felt new because of this "can't talk" rule.
I also like how Beck and Woods crafted this setup. They didn't just stop at the gimmick part (nobody can speak or the monster gets you). They asked, "What's the WORST thing you can do to a family who, if they make a noise, they're dead?" It's a question, as storytellers, you should always be asking yourself. "How can I make things even WORSE for my hero?" The answer was the genius: a baby is coming. A baby can't keep quiet. A baby is a bomb in this situation. Which leads you to wonder, how the hell is the family going to get out of that??
Beck and Woods also explore the emotional side of this question, which is another thing you guys should be focused on. They extrapolated the concept of not talking and made it the family's flaw from before the creatures arrived. Through a series of flashbacks, we learned that the family wasn't talking to each other EVEN WHEN THEY COULD. Specifically John, who had a hard time expressing his feelings to the family.
This is easily the cleverest concept I've read all year. And the writers did so much right that I'm reluctant to even point out the bad. But there were a few things that bothered me.
For starters, the baby is conveniently quiet for the majority of the time after it's born. I mean, I don't know a lot about babies. But I know they aren't little angels for the first 24 hours after they're born. They're crying a lot. And I would've liked to have seen the family have to deal with more crying.
At least on the page, the geography was hard to figure out. And when April is lost and John has to find her, I thought, April has lived here her whole life. She knows every landmark like the back of her hand. How could she not find her way back to the house/shed? I'm curious how that'll be dealt with in the movie.
Finally, the emotional stuff was okay, but not great. There was another family member who died, a dead sister, and we find out through a flashback she died in a car accident. Just a heads up for those wondering. As a reader, I read SO MANY PEOPLE DYING IN FLASHBACKS THROUGH CAR ACCIDENTS. It's the most cliche choice you can make. And I didn't understand why they did that when it would've made so much more sense to have the other sister die by the hands of the creature.
I'm also VERY CURIOUS to see how the final line of the movie plays. It's a HUGE GAMBLE. Like, major. It's either going to crush or fall flat. Have people crying in the aisles or rolling their eyes. I'm so curious to see this movie not just for its clever concept, but for that moment.
I'll finish off by saying these frustrations are mainly due to the fact that I think this idea is so awesome and so clever, and so even when the writers made the smallest misstep I was like, "No!" Cause I wanted this movie to be perfect. And it has a chance to be that. It's that film everyone is looking for – something unlike anything else out there that's still commercial.
I will DEFINITELY be seeing A Quite Place when it comes out. This is what spec screenwriting is all about. The bar has been raised.
[ ] What the hell did I just read?
[ ] wasn't for me
[ ] worth the read
[x] impressive
[ ] genius
What I learned: Take advantage of your unique upbringing to write a great scene! There's an awesome scene here where April falls into a silo full of grain and begins to drown in it. It's a scene written in startling detail and with facts that I suspect only someone who grew up in the farmlands of Iowa would know. So keep writing what you know, people! Chances are it's what will separate you from everyone else.
What I learned 2: NOTHING should go according to plan in a movie. If Mia's pregnancy goes according to plan? BORRRRR-ING. It's the very fact that she goes into labor early (NOT PART OF THE PLAN) that makes the movie so exciting.