Genre: Horror
Premise: A group of geologists in the Amazon stumble upon a fossil of a mysterious hand, and when they go looking for the rest of the body, get more than they bargained for.
About: The birth of an idea! Mexican cinematographer Gabriel Figueroa told producer William Alland about a myth he'd heard of a race of half-fish, half-human creatures in the Amazon. Alland revisited the conversation 10 years later, thinking it would make a good movie. He wrote some story notes, which writer Maurice Zimm would later expand into a treatment. Finally, Harry Essex and Arthur Ross turned the treatment into a full-fledged script. Listen to the people in your life, guys. Ya never know where your next idea might come from. What's interesting about this film is that it was shot and projected in 3-D. However, the year was 1954, and the 3-D fad was dying quickly (hmmm, why does this sound familiar?). The Creature From The Black Lagoon was a last ditch attempt to save the format. However, it didn't, and most people ended up seeing the film in regular format.
Writers: Harry Essex and Arthur Ross (story by Maurice Zimm, idea by William Alland)
Details: 79 minutes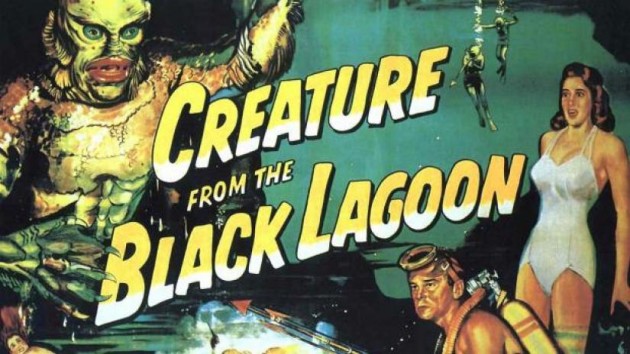 When I go through all the old scripts that have been purchased or optioned throughout the years, there are tons that never get made. However, the one genre whose purchased scripts get made the most – BY FAR – is horror. It's crazy. Almost every old horror script I find on my hard drive has ended up becoming a movie. It's the friendliest genre to writers out there.
While I continue to look for stuff that hasn't been made yet, I thought I'd review a horror classic that I hate to admit I'd never seen before. In fact, I was so ignorant of this film that I thought it and "Swamp Thing" were the same movie. I need to work on my water body differentiation. But yes, when I saw this film at the top of Itunes' Classics list, I thought, "It's about time for me to check this out."
For those who haven't seen "Creature," it follows fish scientist David Reed and his girlfriend Kay, who go on an expedition into the Amazon with a small crew of scientists to find additional information on a mysterious amphibious hand that David's old geologist teacher, Dr. Thomas, dug up.
When they get to the dig site, they find that the two men guarding the site have been killed. Hmmm, might a modern-day version of the creature have attacked the men? Meanwhile, David's getting agitated with one of the crew members, Mark Williams, who only seems to care about money. But since Williams is funding the expedition, David has no choice but to suck it up.
Eventually they realize that the river drifts down into a secluded lagoon, so that's where they go looking for more fossils. David and Williams do some deep-lagoon diving, where they eventually encounter the creature. At first they want to capture the thing, but when it starts killing their crew members, priorities change. It's time to jet. There's only one problem. The creature has lodged a blockade into the only exit. The ship is stuck there. And it's time for battle.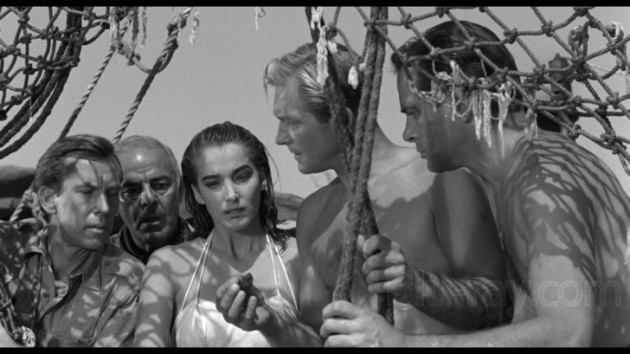 Wow, the first thing I noticed about this is how much influence it had on Spielberg. You can see a lot of the same shots that Spielberg uses. The creature's hand, which we see throughout the first act, might as well be a shark fin. And the creature's attack on the two natives in the tent, seen from outside, with only a bunch of shadows bustling around, had a distinctive "Jurassic Park" feel to it.
You can also see how this influenced James Cameron. I wouldn't be surprised if he'd used this as a pseudo-template for Aliens, with the financially-motivated Williams a dead-ringer for Paul Reiser's "Burke."
But the big question is, does the script hold up after all these years? Yes and no. The first act moves surprisingly fast. Plot points are set up quickly and we're off to the races without a moment to spare. Of particular interest was a scene where Dr. Thompson picks up Dave from a dive, then shows him a picture of the creature's hand on the boat ride back to the beach.
The fact that they were combining beats (the ride back to the beach AND intro'ing the fossil to David) is proof that even back in 1954, they were looking for ways to speed the story along. I would've imagined that they'd wait to get the character back in a still room with everyone standing around before showing David the picture.
Where the movie runs into trouble is once they start deep-diving into the lagoon to look for the creature. I have to remember that people didn't have the internet back then. I mean, while I was watching this movie, I was texting, interneting, and doing some work. People just didn't do that back then. They had all the time in the world. Imagine that for a second. Going to a movie and that was your day. It was what you looked forward to, what you experienced, and what you talked about after. We just don't do that now.
Anyway, I'm guessing underwater photography was a new toy in 1954 because any time we went underwater, we stayed there forever. How many times can you show a girl swimming and the creature creeping up and barely touching her before swimming away again? According to Creature From the Black Lagoon, a good 8 or 9. Ditto whenever the men go hunting for it. We cut endlessly back and forth between the men and the creature.
I'm guessing 1950s audiences were more tolerant of this because their attention spans were longer. But you can't get away with that today, and it's not just for technical reasons. It's for story reasons. The longer you show something, the more used to it the audience/reader gets. So if you're going to show us 50 shots of the creature on the first dive, we're going to get used to him. And the more used to him we are, the less afraid of him we'll be.
"It" did a nice job of this. When Pennywise comes, he comes in forms other than a clown, he's hidden behind balloons, we'll hear him but not see him, he'll pop up then disappear immediately. Even in the famous opening scene, we're only seeing his eyes. This is important. If we get used to Pennywise, he won't be as scary.
Another issue here is that there was zero attention paid to character development. I don't know if that was common back then, or just common in creature-features. Citizen Kane had some pretty stellar character development and that came out 13 years before this did.
But it really hurts the movie as it goes on. This is important to remember, guys. If all you're doing is moving the plot along, it's a bit like moving chess pieces. Things are happening. We're getting closer to a resolution. But we feel strangely detached, and eventually bored. To keep the chess analogy going, tell us something about the people playing. That's how you make a chess match truly captivating.
I remember an old girlfriend of mine who HATED basketball. Thought it was so dumb. She'd actually get mad at me whenever I'd watch my beloved Chicago Bulls. "I don't see why you care so much about a bunch of guys throwing a ball in a hoop," was a common argument-starter.
Finally, one day, I sat her down. "You don't understand," I said. "You see that guy there? He doesn't believe that our coach is any good. So half the time the coach gives him a play, he ignores it. And you see that guy? He was once the worst guy on the team. But now he's knocking on the door of being the best. Our best player, that guy with the buzz cut, is feeling that pressure. He's afraid of being supplanted. So he doesn't pass that guy the ball. And that guy? Our center? He's so badly injured that he shouldn't be playing. But he has to or else he won't get a contract extension and probably be out of the league next year. If you watch him closely, you can see how much pain he's in."
She became fascinated. These weren't just "guys throwing a ball in a hoop." These were real people with problems and conflicts and drama! Which equals entertainment! I couldn't keep her away from watching games with me after that.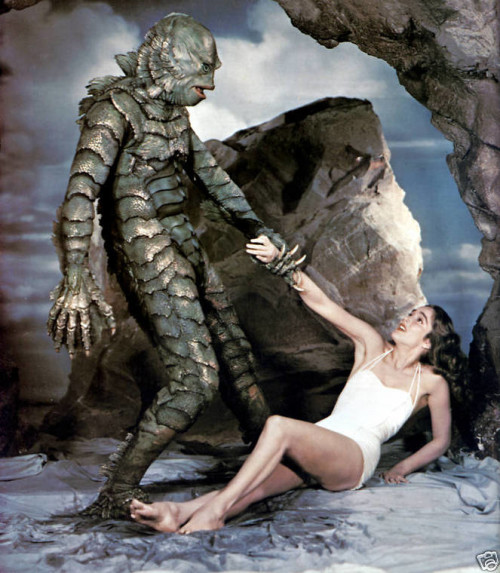 Getting back to Lagoon, there wasn't a more boring relationship in the last 100 movies I saw than David and Kay. It was the single most agreeable couple I'd seen on film (tip: agreeable is a BAD WORD in screenwriting). I guess no one was breaking down walls to write captivating female characters in 1954. Still, this was a major reason why the movie lost steam. We simply didn't know enough about these people to care about them.
Which leads us to the dialogue. Most of it was written to either move the story forward ("We need to go to the lagoon!") or to pose theories ("This could be the link between man and fish we've been looking for"). You're going to have to do those things in every script. But dialogue should primarily be used to explore character.
And by that, I don't mean each character should spout off a 50 line monologue about who they are and what their life philosophy is. I mean you need to create unresolved issues between characters and each dialogue scene should make us feel like we're getting a little bit closer to resolving the issue.
In another water based movie, Dead Calm, a husband and wife haven't resolved the death of their child. It's hanging there in every scene, even if they're not talking about it. So we know that, eventually, we're going to get a resolution to that. That's how you explore character.
Anyway, this was more fun than I thought it would be. But because I live in 2017 and not 1954, there were only so many things I could overlook. Still, it's worth checking out if you have 80 minutes.
[ ] What the hell did I just watch?
[ ] wasn't for me
[x] worth the watch
[ ] impressive
[ ] genius
What I learned: Something only stays mysterious if you give us bits and pieces of it. If you give us the whole thing and you keep showing it to us again and again, we're going to get used to it, and eventually, bored of it. Both filmmakers that I named in this article – Spielberg and Cameron – know that well, as their films Jaws and Aliens do a magnificent job of only showing us bits and pieces of the monsters throughout.