Genre: Sci-Fi
Premise: (from IMDB) A dark force threatens Alpha, a vast metropolis and home to species from a thousand planets. Special operatives Valerian and Laureline must race to identify the marauding menace and safeguard not just Alpha, but the future of the universe.
About: This is Luc Besson's dream project. Back when he made the quirky yet beloved Fifth Element, this is the movie he really wanted to make, but didn't have the budget or the technology to do so. Much like when George Lucas felt that technology had caught up to his imagination with The Phantom Menace, Besson decided that the same had finally happened with Valerian. Unfortunately, without the brand power that Star Wars has, the film couldn't make an impact at the U.S. box office this weekend, taking in just 17 million dollars. Not good for a film that cost 200 million dollars, even if Besson claims he has discovered the magic formula for making giant movies that have zero financial risk. All is not lost for Valerian, as it is yet to open internationally, where outlandish sci-fi does a lot better. It's probably not inaccurate to say that everything depends on China. China is known for liking wacky weird fantastical movies, which is exactly what Valerian is. If it can somehow pull in 200 million there, Valerian may turn into the franchise Besson so desperately wants it to be.
Writer: Luc Besson (based on the comics by Pierre Crhistin and Jean-Claude Mezieres)
Details: 2 hours and 17 minutes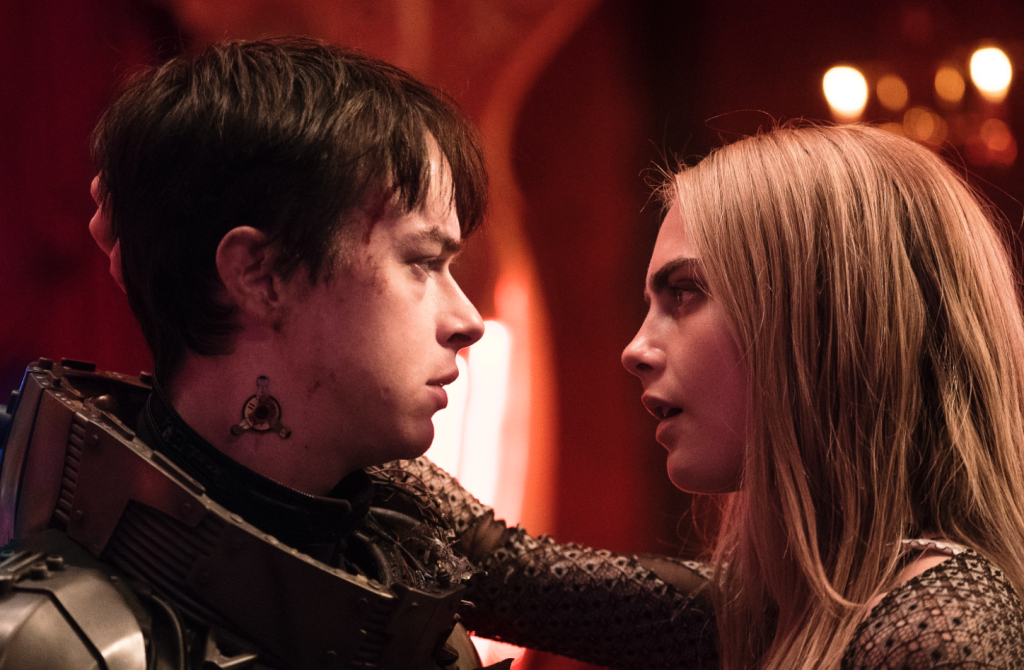 I often wonder why we feel so good when a movie does so bad?
Whether we like to admit it or not, for most of us, there is a rush of satisfaction when a film fails. We're infused with a hit of 'bomb adrenaline' and we can't wait to discuss the failure with our film buddies.
I hate that feeling. I always have. Why can't we celebrate movies whether they succeed or fail, particularly since we know how difficult it is to make them. No matter whether you're making Short Term 12 or The Bourne Identity, you're told a thousand times "No no no no no no. It'll never work because a, b, c, d, e, and f. Quit now." And yet someone believes in that project so much that they persevere, say 'fuck you' to the haters, keep fighting, somehow get a director involved, somehow get actors, somehow convince a studio to pony up the budget, somehow pull another 500 craftsmen out of the woodwork over the course of six months to make that thing that was once just a series of images in their head.
Why can't we celebrate that?
I think I know.
When Hollywood gets it right, it means they don't need us. The aspiring writers, aspiring directors, aspiring editors, bloggers, reviewers. If every movie did well, it would mean that they don't need our help. And that's the most threatening thing you can say to someone who wants to make films: "WE DON'T NEED YOU."
Every time a movie bombs, it's validation that they do need us. It's our chance to say, "Seeeee! Even with your billion dollar marketing teams and partnerships with toy conglomerates and number crunching boardrooms, you still get it wrong." Which is why you need us. We can tell you how to get it right.
Which brings us to Valerian and all the hatred the movie is receiving for bombing spectacularly this weekend.
Guys, Valerian is not deserving of our ill-will. Not in the way a Pirates 8 or a Snow-white and the Huntsman 4 is. This film was not calculated in a boardroom by marketing people. This is a passion project. This is a film that the filmmaker has wanted to make for fifty years. FIFTY YEARS! This is a movie that a man was willing to bet his studio on.
So Valerian doesn't deserve scorn for its failed box office. It is, just as much as Dallas Buyer's Club, Moonlight, or Spotlight, a project that someone cared about with all their heart.
So then why the hell is it so bad?
And not just bad, but bad in the way that you feel nothing when it's over. Ironically, the main reason it's bad is because it's trying to be the very thing it claims it isn't – a studio film. A studio film with one thing missing – studio oversight.
Isn't it bizarre? The thing we claim harms so many movies is actually the thing that could've saved this one? More on that in a sec.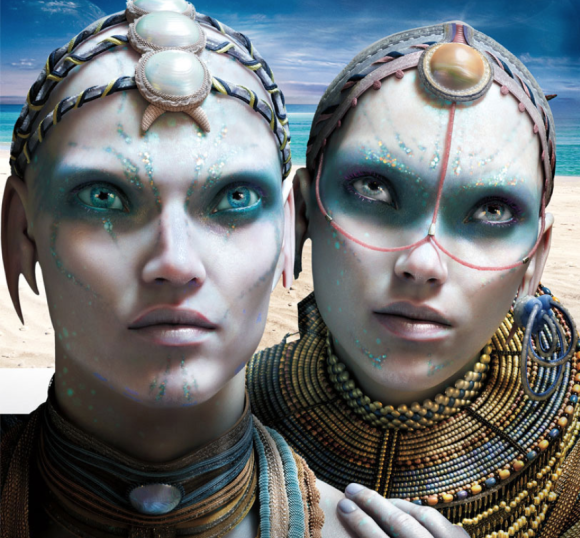 Valerian opens on the planetary equivalent of Hawaii, a gorgeous beach with humanoid aliens who all look like intergalactic runway models. Now these aliens have a pet, a sort of iguana like creature that – stay with me here – shits pearls. But not just any pearls, pearls that contain limitless energy.
While the beach aliens are enjoying a typical day on the most beautiful planet in the universe, a bunch of ships or meteors or something start crashing into the planet, destroying it. Our poor runway model race is wiped out. Or so we think.
Cut to years later across the universe where we meet Agent Valerian and Agent Laureline, young strapping intergalactic agents of, um, something. Valerian is a ladies man who finally wants to settle down with Laureline, but she's having no part of it, having seen him bang too many chicks during their adventures. Or so we're told.
The two are called in to retrieve a stolen item from an alien mob kingpin, which is where they come across one of those iguanas – you know, the ones that shit pearls. Valerian does some research and discovers that the iguana comes from a planet whose history is protected by a top secret classification protocol. There's no way to find out what happened there.
Naturally, he wants to know more, but before he can find out, Laureline gets kidnapped inside the piece-mailed-together space station where they're headquartered, a giant sprawling hub of alien activity known as "Alpha." Valerian will have to go save his partner, and along the way learns why this space iguana and that planet are so damn important.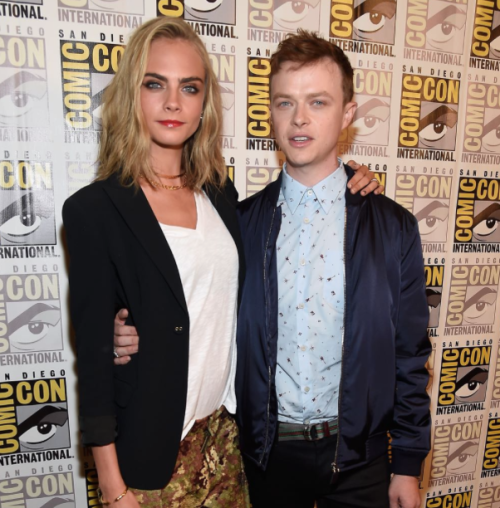 God was this movie mis-cast. Like oh-my-god-what-was-Luc-Besson-thinking mis-cast. You're talking about two teenagers (or near-teenagers) being the best space agents in the universe? Who's going to buy that? That may be the biggest reason for why this movie bombed. You saw those two in the trailers and thought, "I wouldn't trust those two to do my laundry, much less save the universe."
Why is that relevant on a screenwriting website? Because every script is dependent on its characters. If the audience doesn't believe in the characters, it doesn't matter what the plot is. The audience has already decided that they're not crossing your suspension of disbelief bridge.
And this is where some basic – I'm talking Screenwriting 101 – studio notes could've helped Besson. Take Valerian the character. Valerian is a ladies man. This is what we're told, anyway. However, when we look at Valerian, we see a skinny dorky dude with the presence of an alternate on the Debate Team.
THIS guy is a "ladies man???"
Okay, now. There are different types of men who attract women. Not all of them have to be buff and look like Bradley Cooper. But, if you're going to present us with someone who doesn't look the part, you must SHOW US ("show don't tell") how he charms and beds women. If we see him skillfully seduce anyone, we'll be converted.
But Besson never shows this. He assumes we'll take him at his word. This is such a basic screenwriting mistake it practically guarantees that everything we're about to see from here on out will be similarly hackneyed. If you can't even get basic character introductions right, why the hell should we trust you to take us through a sprawling complex space opera?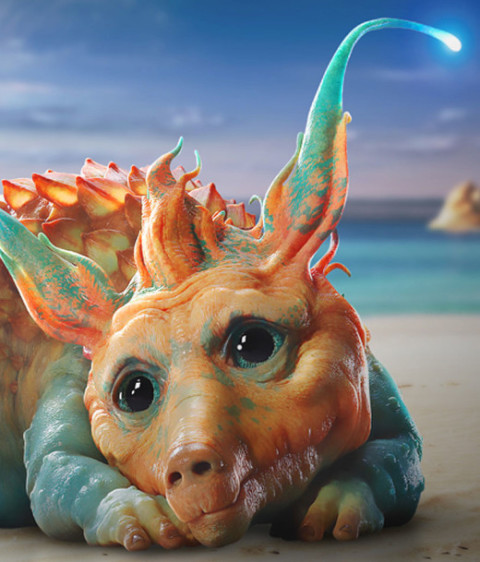 Indeed, that's exactly what happens. The plot here is incomprehensible. There is no main goal to keep things focused (i.e. Get R2-D2 to Alderran), but rather a series of shifting goals that are either too small or too vague to care about. Oftentimes a goal would be set and within five minutes, I'd forget what it was we were after.
And then when the goals were clear – such as when Laureline got lost in the Alpha station and Valerian had to find her – they didn't contribute to the plot in any meaningful way. In fact, they often felt like stalling, a device Besson would use to spend more time exploring his Alpha station.
And this doesn't even get into the weird miscalculated plot points Besson included such as the pearl-power shitting space iguana. The idea is so juvenile as to make you think it came from the mind of a 5 year old. And this plot point is what's powering the entire movie!!! That would've been studio note #1 right there. "Get rid of the space iguana that shits power pearls or we're not making this film."
That's the thing with studios. Yes, they strip away riskier choices that may have resulted in a more compelling film. But they also protect us from cataclysmic mistakes like this one.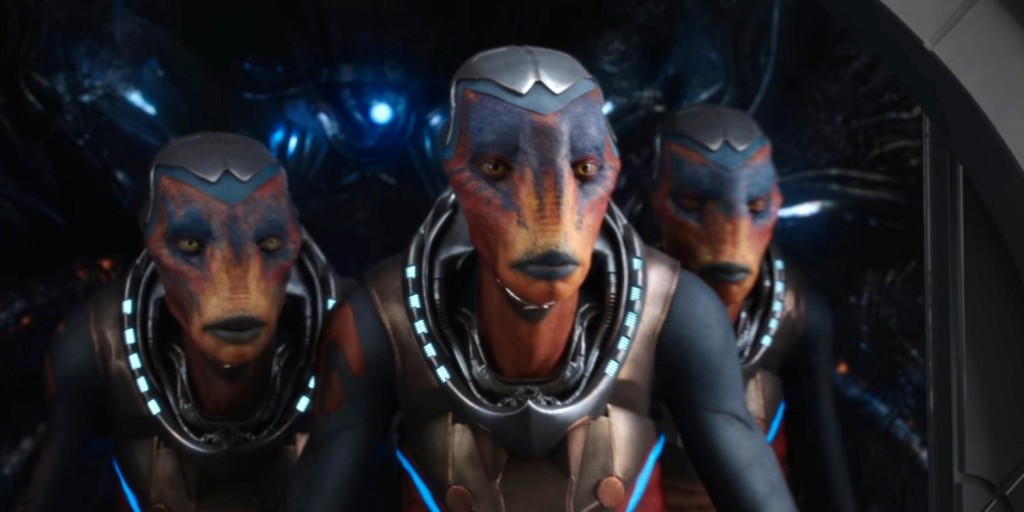 Valerian is a weird movie based on a weird screenplay. This might have been a classic case of getting lost in the forest of your idea, something that can happen if you you have too much time to think about something. You know what helps in those cases? Feedback. Getting someone who understands story to look at your script and help you identify its problems. Besson never did that and this was the result.
Wrapping this review up, let me ask you something – cause I know there's a lot of Avatar hate out there (I'm not one of the haters, by the way). Would you rather watch something like Avatar, big sprawling sci-fi with a safe generic "studio-like" approach to the story? Or would you rather watch Valerian, big sprawling weird sci-fi with no filter or studio influence at all?
[x] What the hell did I just watch?
[ ] wasn't for me
[ ] worth the price of admission
[ ] impressive
[ ] genius
What I learned: The audience will NEVER take your character at face-value. That's not how storytelling works. You don't get to say, "Character A is good at his job," and the audience responds, "I'm sold." The writer MUST SHOW THE AUDIENCE THAT THE CHARACTER IS GOOD AT HIS JOB. Only when we see it for ourselves will we believe it.