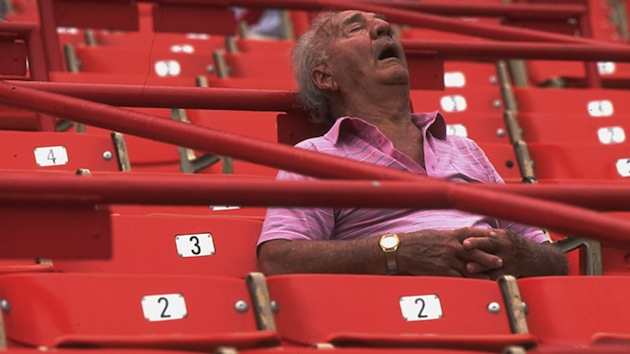 There's an old saying in baseball. "You can't win the pennant in April. But you can lose it." For the uninitiated, a baseball season is 162 games long. The first month of the season is April. And what that saying means is this: Even if you win every game in April, you haven't won the pennant. You still have 140 games to go. BUT. If you lose 17 of your first 20 games, no team ever comes back from that. You've ensured that your team is screwed.
The same thing can be said for a screenplay. You can't write a great screenplay in one page. But you can prove that you've written a bad one. This is why, when a reader or producer says they read "one page of a script" before "throwing it away," it's not as asinine as it sounds. There are lots of things a writer can do on that first page to kill a script. And that's the topic of today's article.
Let's get the obvious out of the way. Make sure there are no misspellings on your first page. No misused words. No grammatical errors. No screw-ups when it comes to tense. And make sure the formatting is error-free (easy if you have reputable screenwriting software). If there's a single spelling or grammar mistake on the first page, I don't bail on the script, but a huge red flag goes up. If there are two, I know the script is bad. EVERY. SINGLE. TIME. That's right. In the 7000+ screenplays that I've read, when there were two errors on the first page, the script was bad 100% of the time. So don't make that mistake.
The above should be a given. But the rest of this stuff isn't. Some will depend on your skill level and the amount of time you've put into the craft. But don't let that deter you. This is what I call the "weeding out" process. Those screenwriters who don't have the stamina to master the craft will eventually drop out during this phase, leaving you with less competition and a better chance to succeed.
ACTIVE VOICE

Writing in the active voice is part of the unique writing-style of this medium. Because it's so specific to screenwriting, when you don't see it, you know the writer's a newbie. "Active Voice" means conveying things as they happen. The idea is, we'll be seeing it happen on screen, so you should write in the way that it will be seen. "The man cuts the rope," as opposed to, "The man is cutting the rope." There is some leniency here, as there will be times when you want something to happen in the moment: "He starts cutting the rope." But you should be using the active voice 95% of the time.
SENTENCE CONSTRUCTION
The style in which you write is how you distinguish yourself as a writer. However, there is a basic truth that must be present in every style. Your sentences must be readable. They must be smooth and easy to digest. If your sentence construction is clumsy, overlong, too descriptive, wrought with pretentious vocabulary, or confusing, people won't want to keep reading. To some degree, subjectivity comes into play. A writing style that is pleasing to some may not be pleasing to others. But there's a mantra here that should serve every screenwriter well: Keep your writing simple and easy to read.
Here's an example:
He watches Vivian in the adjoining kitchen as her arthritic fingers bring a nub of a cigarette to her angry lips.
VS.
With his mother in the kitchen, he focuses on her, from which he notices her cigarette in her fingers, which are arthritic, but also angry, and which twitch in tiny angry spurts every time she lifts the cigarette to her mouth.
The first is a sentence from the opening page of "Palmer," a script I reviewed a couple of weeks ago. The second is a butchered version of that sentence which is the kind of thing I'll see a lot of in amateur scripts. You'll notice that, technically, the sentence is fine. But it's overwritten. It's redundant. It goes about describing things in a roundabout way ("With his mother in the kitchen…"). The first sentence is clean and direct. There is no confusion when you read it. And that's the important lesson here.
GENERIC WRITING
The other kind of writing you want to avoid is the opposite of the above: GENERIC writing. This is when the writing has no style or character at all. Writing needs some personality. And as long as you don't go overboard with that personality, you're good.
Joe opens a coke. He drinks it. He finishes it. He throws it in the garbage can.
If you give me an entire script of that, I'm going to kill myself. Here's a line from the first page of Juno…
She swigs from an absurdly oversized carton of juice and wipes her mouth with the back of her hand.
There's a little more color here. A little more style. But not TOO MUCH style. Just enough to create an image in your head.
HUGE PARAGRAPHS (AKA "WALL OF TEXT")
If I see a first page with a TON of description, I'm on high alert. That means any paragraphs that contain 5 lines or more or pages that have multiple 4-line paragraphs (four or five in a row). This isn't a script-killer. And if the writing is pleasing and smooth, I'll look past it. But more often than not, this is an indication that a) the script is overwritten and will be a chore to read, or b) this is a newbie screenwriter who doesn't understand that "less is more" when it comes to description.
DIALOGUE
Since we don't know the characters yet, I don't put a whole lot of stock in first-page dialogue. For example, if a character has really boring dialogue, that may be because he's a really boring character, something I'll find out once I keep reading. But there are one of two criteria I want met with first page dialogue.
1) I either want to notice that the dialogue is really good.
OR
2) I don't want to notice the dialogue at all (it's so natural that it's invisible).
If I'm reading the dialogue and it's extremely on-the-nose ("I hate that you abused me when I was a child, father!") or doesn't sound anything like how real people talk (in a drama script: "How are you? I haven't seen you in so long." "I contracted cancer recently. How are you?"), I know the script is in trouble.
SOMETHING HAPPENING
Okay so, everything we've gone over so far is the technical end. The other thing you have to nail in your first page is that something needs to be happening to grab us, to pull us in and make us want to keep reading! What does that mean, "happening?" It means one of these four conditions must be met:
1) Jump into the story immediately.
2) A great intro for your hero.
3) A teaser.
4) A story is told.
Jump right into the story – The first option is the easiest. Introduce your character as soon as the story is ready to begin. So in the example I used above, from Palmer, that first page has Palmer being released from prison. It's not big. It's not flashy. But we've jumped right into the story. Had we spent 15 pages hanging out with Palmer in prison or fuddy-duddying around the neighborhood before meeting our main character, that wouldn't have worked. Unless you used one of the remaining three options…
A compelling hero intro – If you're not going to jump into the story, you better jump into your character. Give us something that makes us interested or excited about your hero. Put them in a scenario that tells us who they are. The classic example of this is Indiana Jones going into the cave. More recently, Deadpool. Juno is a good example. The first Star Trek reboot. This option is a great choice if you've got a flashy main character. Throw him and all his glory at us immediately.
A teaser – If your story starts slowly, consider adding a teaser. The cool thing about teasers is they don't have to linearly line up with your story right away. You could start with a scene from 200 years ago. You could jump to the end of the movie first, showing your main character dead. You can show a drug deal between two characters that gets ugly, despite it seemingly having nothing to do with your story yet. A teaser is an easy way to grab us right away. The Sixth Sense, an otherwise slow movie, starts with an intense break-in from six months ago where an old patient shoots our hero.
A story – This is the hardest thing to do, but the thing that best conveys you've written a good script. Write a first scene that's a mini-movie in itself. Construct a scenario that has mystery or suspense or dramatic irony. Give it conflict or an unexpected twist. Make sure it has a beginning, a middle, and an end, just like a movie. The best example of this, in my book, is the opening scene in Fargo (the movie) where a husband meets two criminals who he's hiring for an undisclosed crime. There's mystery (we don't yet know what he's there for). There's conflict (the other guys are pissed off that he made them wait for an hour and he won't acknowledge it). There's suspense (we have no idea what's going to happen here. It could go any way). And an unexpected twist (they reveal that he's hiring them to kidnap his wife). That last piece is what sets this scene apart from so many others. He's not hiring them to kill a drug dealer. He's hiring them to kidnap HIS WIFE. That bizarre request is what makes us want to watch the rest of this movie.
It should be noted that the first page may only carry a portion of the above four options. You don't have to begin and end the scene in one page. But the point is, that first page will have a purpose, since we'll see that it has a clear plan. Which means we'll want to turn the page. And in the end, that's the goal of screenwriting. To make the reader want to turn the page. As soon as they stop wanting to turn the page, your script is dead to them. And that process begins on the very first page of the script.