Genre: Horror
Premise: A man's life starts to unravel when he undergoes an experimental form of hypnosis to recall what he saw during a near-death experience.
Why You Should Read: The concept of this script is very loosely based on a true story. I actually knew someone who survived a near-death experience and he hasn't been the same since. When I asked him about it he told me he didn't remember what he saw but I had the strange feeling he actually did and was holding back for reasons I don't know. Since the incident he's left his family, quit his job and went off the grid. I honestly don't know where he is now. — I'm a huge fan of horror movies and I believe "dread" is key component is some of the best of them. Any writer can throw in some good scares here and there but building up real dread for the characters and the story on a whole seems to be overlooked in many scripts I read these days. I feel like I've been able encompass this with BLACK BOX without losing the pace of the story. It's a fast entertaining read with some big scares wrapped inside an intriguing mystery. I hope you'll take the time to check it out and look forward to your honest feedback.
Writer: Stephen Herman
Details: 100 pages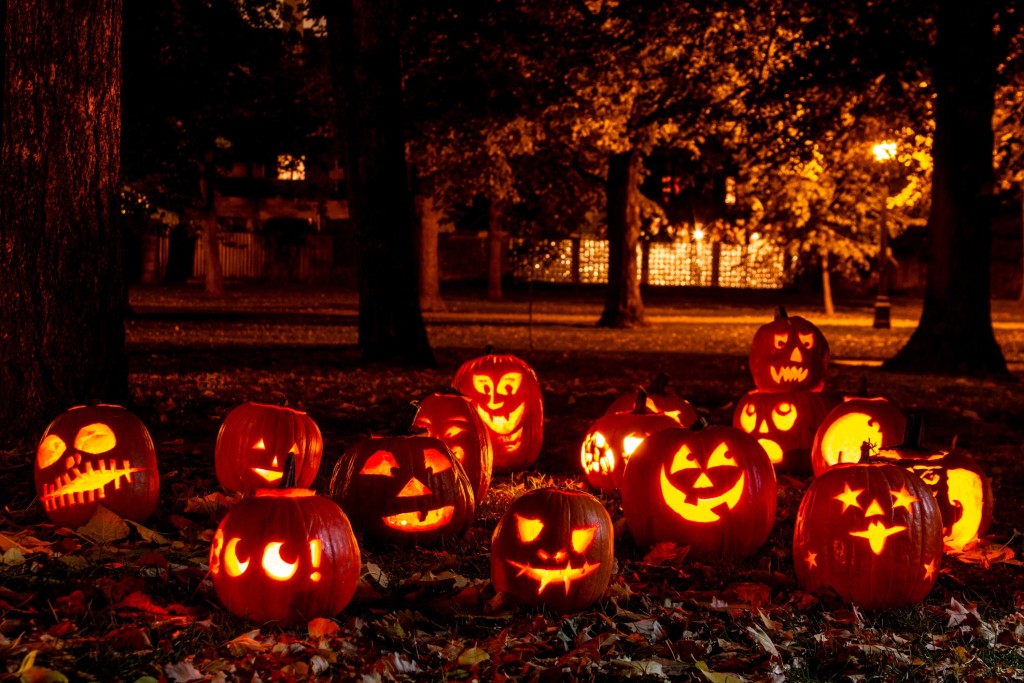 I don't know what's the bigger horror film on the docket this weekend, Jigsaw or Suburbicon. Bada-BUM! No, but seriously. I don't know what's scarier. Pennywise or George Clooney thinking he can direct satire. BADA-BUM! I'll be here all night. Try the veal.
No, but seriously. I've been looking forward to today all week! Black Box bowled down the competition in last week's Amateur Offerings, so much so that it looked like we had another Amateur Offerings success story on our hands – an event that's becoming more and more frequent, thanks in big part to you guys.
I was only worried about one thing going into the script – the dream aspect (the hypnosis). Putting dreams in the hands of an amateur writer is a bit like putting the recipe for a Gino's East deep dish pizza in the hands of a line cook. It's not like that cook won't one day become a great chef. But it's hard to bake the most luscious crust in the world when you're still learning where the pans are located.
One of the biggest challenges for amateur writers is narrative structure – for their script to stay focused and purposeful all the way through. Dreams are anti-structure and therefore encourage the writer to move away from purpose. As a result, they're the script's undoing. The narrative becomes a loosely connected series of tripped-out scenes sewn around shaky logic. Let's hope that didn't happen with Black Box!
40 year-old Nolan Wright is recovering from a recent car crash that killed his wife. The crash, which left Nolan dead for six minutes, resulted in brain damage so severe that it's gradually stripping away Nolan's memories. Lucky for Nolan, he still has his beautiful young daughter, Ava, by his side. She's the one thing keeping him going.
However, Nolan gets word that if he doesn't do something soon about the brain damage, the world will start slipping away from him, including Ava herself. This forces Nolan to seek out Dr. Lillian Grey, an experimental doctor who's on the cutting edge of memory recall. Lillian believes that if Nolan can remember everything that happened during those six minutes he was dead, he can permanently heal the brain and eliminate his amnesia.
This becomes increasingly important when Nolan loses his journalist job and the Department of Children and Family Services start sniffing around, trying to decide if Nolan is a fit enough parent to take care of Ava.
Lillian's therapy involves a literal black box that you plug yourself up to. The box helps you go into the deepest levels of your subconscious, and this is where Nolan relives his crash. On that first trip, he finds footsteps near his crash, which he follows into the woods. It's there that he sees a dead man hanging from a tree who quickly drops and starts walking towards Nolan backwards.
Nolan's so freaked out that he pulls himself out of the hypnosis and says he's never coming back. But in order to keep his daughter, he has to come back, and in a series of hypno-trips, Nolan will learn that this journey extends beyond him, and to a number of people who also cheated death.
Man, I can see why everyone voted for this.
The first act is AWESOME. There was an assuredness in the writing that I wasn't prepared for. Assuredness is a key trait of professional writing because professionals are better at knowing where their story is going. When you know where your story is going, you write with confidence. I mean, listen to how clear, dominant, and assured the character of Lillian is when she brings Nolan in.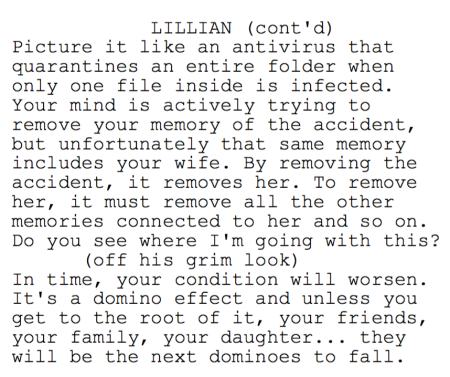 With amateurs, there's more of what I call the "shiny object" approach to writing. They're often trying to figure things out on the page. Every once in awhile they'll see something that's interesting (a "shiny object") and it's like, "Ooh I'll follow this for awhile." Black Box didn't have that.
Well, at least at first.
Once we got 15 pages into the second act, the tight narrative began to unravel. I could feel Stephen being tempted more and more by the shiny object, until it got to the point where it was the only thing left. The biggest problem was in explaining what was going on with Nolan.
I see this a lot. Whenever we come up with a high concept idea, there's this pressure to construct a big flashy reason for what's going on. So in Black Box, we find out that there are other people who also had near death experiences, and then there's somebody who's using these people to take their bodies and live in them… or something, because once you've gone through death, it's easier to take your body?
To be honest, I barely understood it. And that's the thing. When you try and get too big, you come up with a convoluted rule-set that's hard to understand. And because we don't understand it, we stop investing, we stop caring, and by the end, we don't really know what's happened. I know I didn't.
Honestly, the issues in Black Box take us right back to yesterday. This shouldn't have been about a flashy serial-body-stealing near-death-experience conspiracy. It should've been about characters. And this is my plea to amateur writers out there: stop trying to write the most-blowing mind-bending script ever. Just focus on the characters!
There are some good characters here. Nolan is great. The stuff with the car crash all felt honest and authentic. Ava is great. Lillian is great (minus her turn at the end). Gary is okay but could also work. The social worker who cares "a little too much" is great. Yet they get lost in this silly weird plot that doesn't make any sense.
I mean at one point we have an ancient shaman killing a dog and becoming part of its soul. This isn't what I signed up for.
I would strongly recommend dialing back all of the weird shit and focus more on the real-life character journeys. Keep the hypnosis scenes grounded. Have a simple and clear set of rules for what happens inside each hypnosis. Keep the mystery itself simple. Something that happened around the car crash. Don't bring in people who died 50 years ago halfway across the world. We don't care about them.
I know I sound like a broken record, guys. But simplify simplify simplify simplify simplify simplify simplify simplify blah blah blah a million more times.
Every time you overcomplicate things, you're destroying your story.
Script link: Black Box
[ ] What the hell did I just read?
[x] wasn't for me
[ ] worth the read
[ ] impressive
[ ] genius
What I learned: I love it when HUGE stakes can be conveyed simply and powerfully. Here, it takes just a single line to set up the stakes for the entire movie. It occurs when Lillian explains why this therapy is so crucial for Nolan: "In time, your condition will worsen. It's a domino effect and unless you get to the root of it, your friends, your family, your daughter… they will be the next dominoes to fall."