Genre: Sci-fi
Premise: The guardians of the galaxy get split up when leader Peter Quill meets his estranged father for the first time, who promises Peter power beyond his wildest dreams.
About: Baby Groot!
Writer: James Gunn
Details: 136 minutes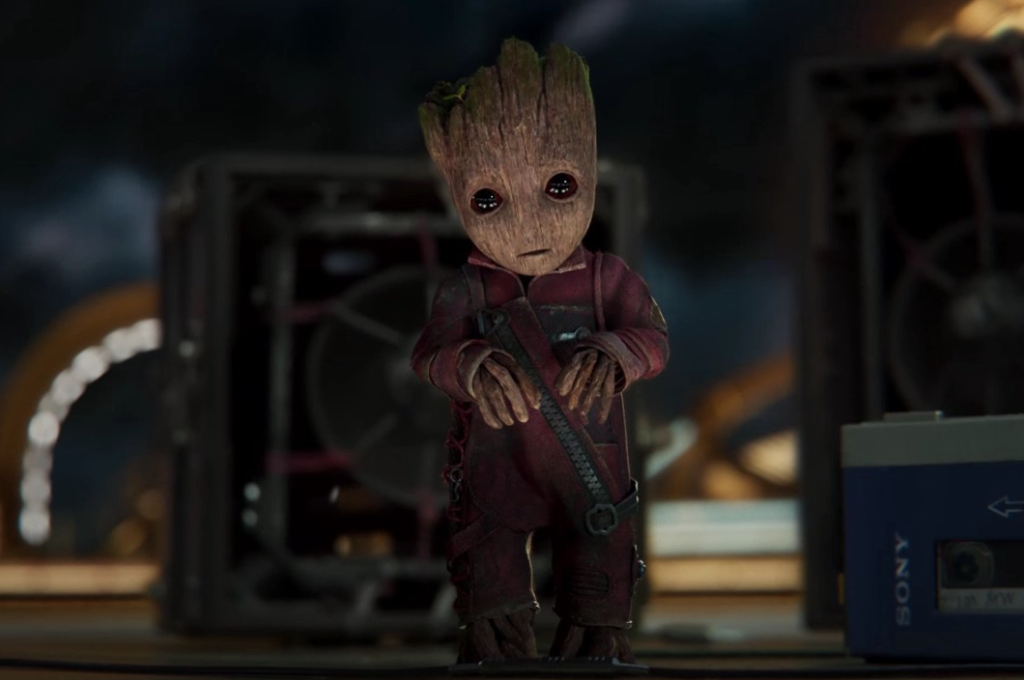 On the surface, Guardians 2 has all the things required for summer blockbuster success. Action, humor, special effects, character development, at least three-dozen uses of the word, "family."
So why did I leave the theater with a sad emoji face? Especially when the movie started off with one of the best blockbuster scenes ever? I'll give you a hint. It has to do with screenwriting. So crippling were these screenwriting choices, I want to make sure I highlight all of them so that you guys never make these same mistakes yourselves.
For those who haven't seen Guardians of the Fast and Furious, it follows our space-faring guardian group, Peter Quill, aka Starlord (Chris Pratt), Rocket Raccoon, Gamora, Baby Groot, and Drax, after they steal some next-level batteries from a group of Gold People. Afterwards, the Gold People hire mercenaries to chase the Guardians, which triggers a group split-up.
On the one side, Rocket Raccoon and Baby Groot are captured by the mercenaries. On the other, Starlord, Ghamorra and Drax, meet some dude, Ego, who claims to be Peter's dad. Ego takes them to his utopian planet, tells Peter all about his past, and lets him know that this is all his, too, if he wants it. Life is good.
We bounce back and forth between the two storylines. Rocket and Baby Groot trying to escape the mercenaries, and Ego explaining their family history to Starlord. We gradually become suspicious of the all-too-perfect Ego, until we realize he wants to rule the universe. Like, literally. The ENTIRE UNIVERSE. Starlord will have to choose, then, between his real family (Ego) and his adopted one (The Guardians).
Guardians 2 starts out so damned good, I thought I was in for the best movie of the summer. The opening scene has the Guardians awaiting a giant blob monster they've been hired to kill. When the monster finally arrives, writer-director James Gunn makes the genius choice to not let us see the Guardians battle it. Instead, we focus on Baby Groot as he dances away on the sidelines.
Occasionally, we see bits of the battle spill into the background (Drax being hurled through the air, for example), but we never really see the fight. I can't tell you how much I loved this scene. It wasn't just an interesting choice, but an ingenious commentary by Gunn on the state of the modern blockbuster. He's saying we've reached a state whereby we've seen so many giant monster movie battles, that we don't even care if one happens off-screen.
And to Gunn's credit, he sticks with that philosophy throughout the film. Gunn set out to make a character piece dressed in blockbuster clothes. However, in order to make 'character' compelling, you must make it entertaining. We don't get that here. And there are a whole lot of reasons why.
The first is that the second act sucks. And when I say sucks, I mean it's one of most boring second acts in recent memory. The reason for this is that Gunn chose to create TWO passive plotlines. The first plotline is people wandering around a planet talking about life (boring). And the second is characters being held captive (slightly less boring). In both instances, we've got people sitting around talking a lot. Not a smart decision for any film, but especially a summer blockbuster.
If you're going to have a slow storyline, you need a more energetic storyline to contrast it against. For example, in Empire Strikes Back (another direct sequel), we have the slow moments of Luke training contrasted against the Empire's intense pursuit of Han Solo. And even the "slow" storyline in that equation, Luke's training, was still exciting and fun. It's all slow all the time throughout Guardians' second act. That's because of another bad choice Gunn made.
**SCREENPLAY KILLER ALERT!!!**
The main problem with Guardians of the Galaxy 2 is that its main character is the least active character in the movie. All Starlord does is follow people around. I don't think he made a single choice in the first two acts. To create a main character this passive is a screenplay killer.
Because when you write a passive main character, you're shooting yourself in the foot twice. First, passive heroes aren't interesting. So you're putting a boring person on screen for the majority of the running time. Secondly, if your main character isn't active, then he's not driving the story forward. So your plot suffers as well.
Look at Raiders. Look at how ACTIVE Indiana Jones is, and how his actions propel the plot forward every step of the way. That's the power of a strong active hero.
I'm surprised that a seasoned writer like Gunn would make this mistake. My theory is that he liked his toys too much. He liked the quote-machine Rocket, the cute-machine Groot, and the goof-machine Drax. He figured that any slow passages would be alleviated by this trio's zany comebacks and wily antics. And they are, to a certain extent. My favorite moments included Groot (as well as bad-guy-turned-good, Yondu). But that kind of stuff only works for so long. In a 2 hour movie, you need your 'slow drama' moments to be just as entertaining as your 'fast drama' moments.
This speaks to a problem a lot of writers have, which is they think "character-driven" means slow scenes where people talk about feelings. Watching Peter walk around for 40+ minutes confused about his daddy-issues isn't entertaining. For character stuff to work, there needs to be drama, tension, conflict, suspense. And in blockbusters, you want most of your character work to play out via action and choice.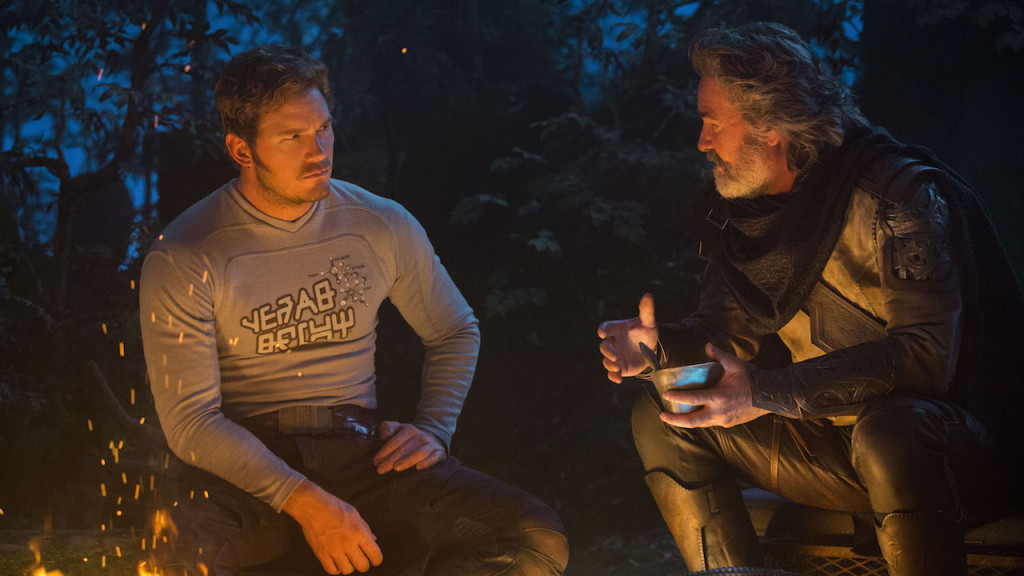 If ever there was a picture that captured the essence of a movie, this would be it.
Take the current season of Fargo, which itself focuses on family. In the first episode, a fuck-up loser comes to the home of his successful brother to ask for money. There are no discussions about feelings, just the tension born out of a lifetime of conflict between these two brothers. This is how you explore character through action. We learn so much more about these brothers' relationship through this tense conversation than had we sat around with them while they discussed their feelings about one another.
But let's take that a step further. In the second episode of Fargo, the brothers DO have a direct discussion about their feelings. The fuck-up brother asks the successful brother if he'll come outside to discuss a truce. The two get into some heavy thoughts about their relationship and ultimately apologize.
BUT.
But it's all a ruse. It's a setup so the fuck-up's girlfriend can sneak inside the brother's house and steal something from him. So we're cutting back and forth between them talking and her looking. This makes what would normally be a boring scene centered around feelings become a dramatically suspenseful one. Contrast that with Guardians, where it seems like there were 50 scenes of Ego (Peter's dad) walking Peter around the planet talking about life and family and exposition. It's really lazy, and therefore, boring.
The funny thing is, the one area where Gunn DID do this right – Gamora's ongoing battle with her sister – didn't register because Gamora was the least interesting character in the movie. So we didn't care. This is another lesson. Give your big conflict relationships to your best characters, not the ones we don't give two shits about.
I think Gunn had a four-prong attack for this screenplay he thought would be enough to make it work. First, theme. He believed the theme of the family you're born into versus the family you choose would carry more weight than it did. As I've said here before, if you're focusing more on getting your theme right than you are entertaining the audience, your script is screwed. Second, by splitting the group up, our need to see them get back together would be powerful enough that maybe we wouldn't notice the slow pace. Third, he thought the eeriness of Ego would create more curiosity, making that section more suspenseful. And finally, he figured his cute toys could help distract from any of the script's weaknesses.
The thing is, if you don't have an active main character, especially in an action movie, it doesn't matter what else you do. You're putting yourself in a Houdini restraining suit every time you sit down to write. I don't know why you would attempt that, and it proved to be the narrative choice that doomed Guardians 2.
[ ] What the hell did I just watch?
[x] wasn't for me
[ ] worth the price of admission
[ ] impressive
[ ] genius
What I learned: You can't fix slow sections of a screenplay by adding additional cuteness and funniness. Yet another Baby Groot dancing scene will never solve a boring narrative. If you have slow sections in your story, there is something wrong with the foundation of your screenplay. Find out what's wrong and those sections will fix themselves. Again, had Peter Quill been the active character driving this narrative, a lot of the slow sections in the script would've disappeared.
Commenter Challenge: I would love for commenters to list any good PASSIVE main characters in action or blockbuster movies. I think we did this once before but I can't remember any good ones. How bout you guys?