Note: The Scriptshadow Newsletter was sent out last night. If you did not receive it, check your SPAM and PROMOTIONS folders. If you want to sign up for future newsletters, you can do so here. Hope you enjoy it!
Genre: Animation
Premise: Woody, Buzz, and the gang are stuck at Andy's spooky grandma's house for the night, where the toys start disappearing one by one.
About: After Toy Story 2, back when Pixar and Disney were going to break up, Disney still would've owned the rights to the Toy Story franchise. They went back and forth between whether to make another Toy Story feature or to send the franchise into direct-to-video purgatory. As such, they wrote several versions of Toy Story 3. I thought I'd be reading the recently talked about version of Toy Story 3, which had Buzz Lightyear being recalled to Taiwan, but this draft of the story appears to precede even that. Interestingly enough, you can see the seeds of what would eventually become some of the major sequences in the official Toy Story 3.
Writers: Cheri and Bill Steinkellner (Revisions by David Guion and Michael Handelman)
Details: 104 pages – June 8, 2005 draft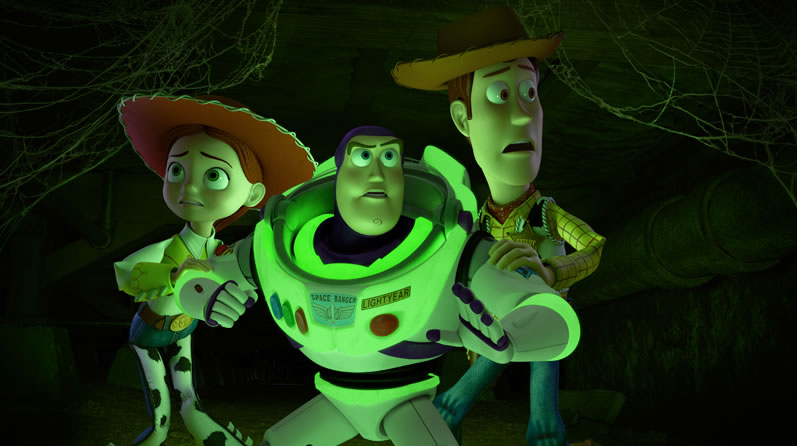 I love reading early drafts of famous movies because you can really see the writing process in action. When you're writing your own script, searching for that perfect plot point or memorable character, it can be hard to see the forest through the trees. Only by looking at a great movie and then going back to the early drafts where it wasn't so great, can you see the key decisions the writer's made to make it work.
In this case, we went from Grandma's haunted house to a pre-school prison. On the surface, this doesn't seem to be that big of a deal. Both locations offer plenty of hijinx and opportunity for adventure. But later I'm going to tell you why the pre-school was a waaaaay better option, saving the Toy Story franchise from going into the toilet.
Toy Story 3, the 2005 version, starts the same way Toy Story 3 the 2010 version starts, with the toys playing in Andy's imagination. The scene is a toned down version of the huge opening from the official film. Afterwards, the toys learn that Andy's room is going to be redecorated, and they'll be packed into a box and sent to Grandma's with Andy for the night.
Once at Grandma's, a big scary Victorian mansion, the team meet two new toys, a sniffling badly cobbled together excuse for a sock monkey named Gladiola, and Jack Challenger (otherwise known as Hee-Hee), a sock monkey who's been on more adventures than Indiana Jones.
Hee-Hee is perfect in every way and quickly wins the toys over. But Woody has some reservations about him. He can't put his finger on it, but he's seen this toy before. He just can't remember where.
As the toys come up with a plan where Hee-Hee will stay with them so that Andy accidentally takes him home with them the next day, members of the group start disappearing, starting with Woody's horse, Bullseye. This, of course, makes Woody even more suspicious of Hee-Hee.
Rumors start flying that Andy's room redecoration will be accompanied by a more sophisticated lifestyle, and that only two of the toys will be returning. This results in everyone pointing the finger at the notoriously jealous Woody, who they believe is offing the toys one by one so that he can be one of the two toys.
As the group heads deeper into the spooky house to find the missing toys, Woody must find a way to prove his suspicions true, that Hee-Hee is somehow behind this. But the more he digs, the more it's starting to look like someone else is involved.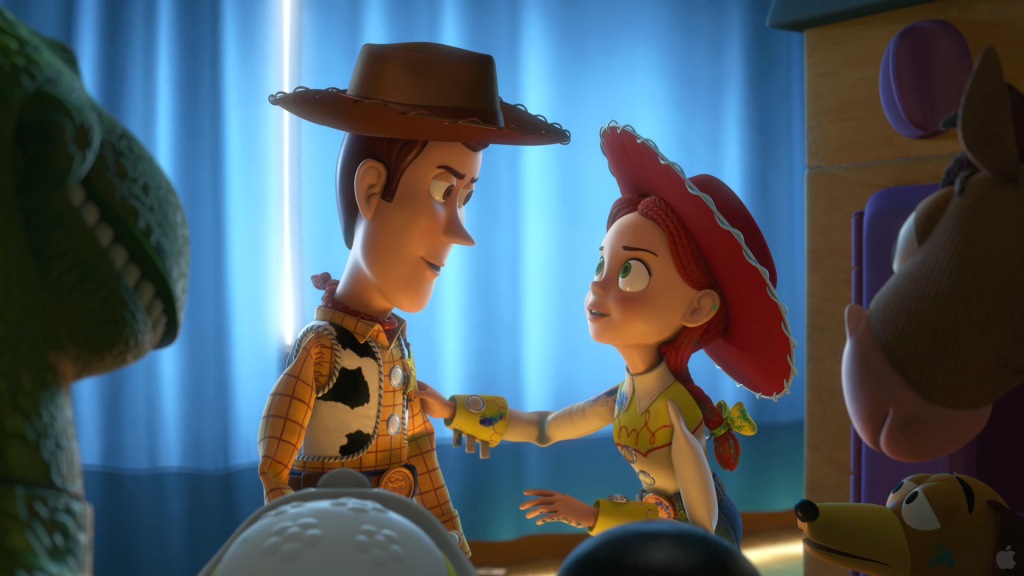 One of the first things you notice about the 2005 version of Toy Story 3 is the opening. It's very similar to the eventual movie. The toys are on a train, heading towards a giant canyon, and it's all happening in Andy's imagination. The big difference is scope. This version seems neutered, not as imaginative. For example, there's no giant spaceship that comes in at the end. It's like the writers began the idea and then got bored with it.
Strangely enough, the ending is the same as the official Toy Story 3 ending as well. Our toys get stuck in a garbage truck and are heading to the landfill. But again, it's a neutered version. They never get to the landfill.
I can't stress how important of a lesson this is. Big set-pieces require imagination. They're, in essence, their own stories, and the first versions of these stories are going to be pale imitations of the final product. Every time you come up with a set-piece, put it down, and the next time you come back to the script, look for ways to make it more imaginative. Afterwards, put it down, come back weeks later, and look for ways to make it more imaginative. If you don't do this, you're going to end up with the garbage truck version of the Toy Story 3 climax as opposed to the huge multi-location landfill version that was in the final film.
Now, let's talk about why this script was scrapped in favor of the eventual pre-school storyline, cause this is a super important lesson for screenwriters as well. Put simply, the Grandma storyline doesn't take advantage of the specific concept of Toy Story. Toy Story is about toys that come to life. Throwing those toys into a "haunted" house doesn't take advantage of that in any specific way. In other words, you could put any characters in a haunted house and it wouldn't be much different.
When you have an idea, you want to find a story that takes advantage of that concept in as specific of a way as possible. Putting toys in the hands of young kids is a storyline that much more specifically takes advantage of the toys-coming-to-life concept.
And this lesson isn't relegated to the concept only. It's something you should be thinking about with every aspect of your story. For example, a few weeks ago, I read a superhero script where the main character's power was his ability to use fire. The big climax of the script? A shootout on the top of a building. I explained to the writer that if the main character's big power is his use of fire, then you need to build a climax around that specific idea. Maybe he's in an oxygen-deprived environment where he can't use his fire. Or maybe there's water preventing the use of fire somehow. But whatever it is, it has to be more specific to the story being told. It can't just be a random shootout scene, no matter how cool the location is.
The 2005 version of Toy Story also violates one of the big tenants of Pixar storytelling. There's no theme! It's just a goofy little story about toys going to Grandma's haunted house. There's no bigger message – no deeper feeling when you finish reading it. The real Toy Story 3, however, is about moving on into that next phase of life, something that directly came about because the story focused on a more concept-specific idea in the pre-school.
Another thing you notice by reading this version is how forced all the motivations are. You'll see this a lot in early drafts (or Amateur scripts, where writers don't write enough drafts). The writers are clearly trying to come up with reasons to put their characters where they want them to be, but aren't doing a good enough job of it.
Andy's room is getting redecorated? That's a pretty lame motivation to send the toys out of the house. I mean, why not just put the toys in another room? Consider the motivation for the toys leaving in the real Toy Story 3 – Andy's leaving for college. That's a much bigger and more realistic motivation.
Motivations are one of those annoying things that take multiple drafts to get right. If you ignore them, they'll look like this: clearly forced writer plot points to get the characters where they want them to be. Don't stop rewriting until all the motivations feel natural.
As much as I wanted to read the Toy Story 3 Taiwan version, this was a great reminder about the power of rewriting.
[ ] what the hell did I just read?
[x] wasn't for me
[ ] worth the read
[ ] impressive
[ ] genius
What I learned: How big does your rewrite need to be? If your execution is not taking specific advantage of your unique concept, as was the case here, you're looking at a page 1 rewrite. If you were smart enough to make the story concept-specific, however, your rewrite should be much more manageable.