Upstream Color will have to wait another week. So today's script will take on one of the most famous baseball players in history. The question is, is he interesting enough to have a movie written about him?
Genre: Sports Drama
Premise: (from IMDB) The life story of Jackie Robinson and his history-making signing with the Brooklyn Dodgers under the guidance of team executive Branch Rickey.
About: Writer (and director of this film) Brian Helgeland, is the only screenwriter to win both an Oscar (for L.A. Confidential) and a Razzie (for The Postman) in the same year. While sticking mainly to writing, he does occasionally plop down in the director's chair, such as when he directed Heath Ledger in the 2001 film, A Knight's Tale (for which he also wrote the script – which sold for 2.5 million). Helgeland is one of Hollywood's super-writers, brought in for million dollar rewrites when crap needs fixing (which is often). But this is a project he clearly wanted to be involved in from the beginning to the end. The film comes out this Friday and stars Harrison Ford as Jackie Robinson's manager.
Writer: Brian Helgeland
Details: 125 pages (September 27, 2011 draft)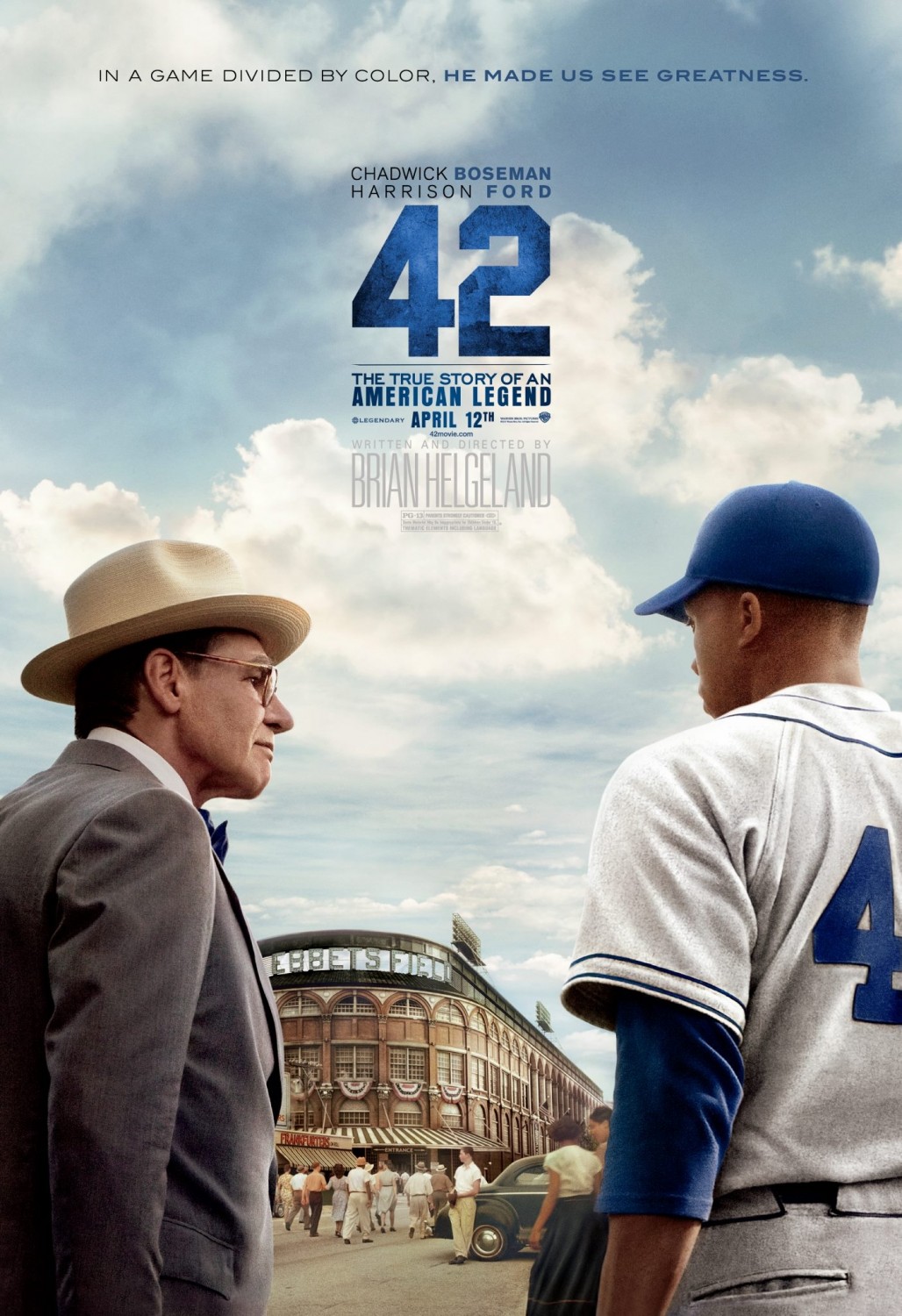 Man, there is a lot to talk about here. And I'm not even referring to the screenplay. First off, the sports drama is hard to pull off. Sports movies just don't make money. So to see this splashed all over my TV and my neighborhood makes me think we're talking AT LEAST a 70 million dollar marketing campaign. On top of the budget for the film, which was maybe 60 million, that means the movie has to clear 130 million just to meet its production and advertising budget (and since a movie has to make 3 times its budget to start making money, actually much more than that!)? Why do I have a hard time seeing 42 making that kind of money?
Then again, I have to admit, the trailers for this thing have been kick-ass. The marketing takes a 60 year old topic and makes it feel current and exciting. Despite that, I probably won't see this until it comes out on Itunes. Which is surprising because I actually like baseball. I'd consider myself the core audience for the film. But Jackie Robinson's story has been told so many times before. Why will this one be any different? What's supposed to excite me about this new take besides the admittedly cool Jay-Z music in the trailer?
Then there's the race angle. I don't think race is an insignificant discussion by any means, but Jesus Christ has it been explored to death in cinema. I have to now endure another one of these cliché situations? There's actually a lot of irony here because while this movie celebrates African-Americans breaking into baseball, we live in a time where African-Americans are becoming extinct in baseball. There are only a few dozen black baseball players left in the majors. They are gradually phasing out of the sport as the average African-American kid would rather play basketball or football. Baseball, for the most part, has become a Latino dominated game.
Then there's just baseball in general. The sport is dying. It was created in a time where people actually had patience. Where they were willing to sit and watch a 3 hour game practically built to be boring. It's been on a downward slope for awhile now. There's really only one compelling story left in the sport in my opinion, and that's "When are the Cubs going to win the World Series?" They better hope it never happens because as soon as it does, baseball is dead in my eyes.
So where does this leave my anticipation for 42? Not that high. I will say that these biopics are only as good as how interesting the main character is. If he's complex, interesting, strange, has secrets, has demons, has personality, and lived an exciting life, put me in coach. But if this is just a by-the-book retelling of the most memorable moments from Jackie Robinson breaking into the major leagues, throw me out of the game.
Everyone knew 26 year old Jackie Robinson had the talent to play in the big leagues. But back in the 1940s, baseball was a white man's game. I'm talking literally. Like there wasn't a single black player in the league. And that's because they weren't allowed. There were even laws in some southern states where black men could not play baseball with white men. So if the cops were to see this, they'd arrest the black man (a scene that plays prominently in the movie).
Enter Branch Rickey, the owner of the New York Dodgers (yes, this is before they moved to Los Angeles). A little bit old, a little bit prickly, Rickey felt it was time that baseball had a black player. But he was unapologetic in saying he was just as interested in winning a world series. And he felt Jackie Robinson gave him the best chance of doing so.
While we expect this to be about Jackie's anointment onto the Dodger team, most of the movie takes place before that monumental moment, back when he was playing for the Dodger's Triple-A team. As he kicks ass in the minor leagues, word spreads that he'll be coming to the Dodgers soon, and a lot of players don't like it. In fact, a petition is put together for Branch Rickey from the entire Dodger team saying they won't play if Jackie is brought up.
But Rickey doesn't scare easily. He tells his players if they don't want to play for him, no problem. He'll trade'em. With that plan backfiring, Jackie does make his famed major league debut on April 15, 1946 and all the players but one are there to accept him. Well, "accept" might not be the correct word. As you'd expect, Jackie's not exactly bombarded with Facebook friend requests upon his arrival. For the most part, everyone just tolerates him, and as one sportswriter puts it, Jackie has become the "loneliest man in baseball."
But Jackie keeps fighting, doing the one thing he knows he does best – play baseball. And play it he does. His combination of strength and speed is like nothing baseball has ever seen. And with him leading the team, the Dodgers put themselves in position to do the unthinkable: Win the pennant. That's if Jackie can weather the storm his entrance into the sport's created.
This movie is called "42," which stands for Jackie Robinson's number. This movie is about Jackie Robinson. So if Jackie Robinson isn't a compelling character, this movie is dead. And guess what? Jackie Robinson (in this draft at least) isn't a compelling character. Now sure, the events surrounding him are compelling. Everything he goes through is compelling. But the character himself? Well, okay I'm just going to say it…he's kinda boring.
I mean first his flaw is too simplistic. He's a hot head. So wherever someone tests him, whenever some white Klansman-wannabe tells him to go back to the cotton field, Jackie must resist his first impulse, which is to beat the living hell out of the guy. This isn't easy since it happens multiple times a day every day he's in the big leagues. Hmm, I'm not sure how deeply that's exploring our hero.
Second, he's got zero personality. I mean ZERO. He just nods a lot, bristles a lot, keeps to himself a lot. He has no sense of humor, no compelling quirks. He's just a super serious boring guy. This very well may have been how Jackie was and they didn't want to mis-portray him, but that doesn't mean he gets a passing grade. Boring is boring.
Finally, and most importantly, Jackie is not an active character. This entire movie is about how he reacts to what's happening. He's told he gets to be in the big leagues. He's told how to handle it. Whenever someone tells him to do something, he does it. The character isn't driving any apect of the story except for maybe the pennant race, which is given very little focus. Look at two other famous African-Americans in history, Rosa Parks and Martin Luther King Jr. These are people who were ACTIVE. Who DID things. Jackie Robinson was thrown into a situation and we watched how he reacted. And for whatever reason, his reaction just isn't that compelling.
In fact, I would argue that Branch Rickey (played by Harrison Ford) is the main character here. He's the one who made the decision, who has the most at stake, who's driving the story with his choices. And that's fine. It's cool to know more about this person who played a big part in the Jackie Robinson story. But this movie isn't called "Branch Rickey." So why the hell does he get more attention as a character than Jackie?
Then there's the structure. So much of the movie is leading up to this moment when Jackie joins the team, that after it happens, I'm not really sure why I'm watching anymore. I mean, it's interesting to see the kind of resistance he runs into (even if it's predictable), but we've already covered a lot of this while he was in the minor leagues. After awhile, I got impatient and asked, "Where is this going?" Eventually, this late-emerging pennant-race storyline popped up and I just sort of went with it. But since it wasn't given a lot of emphasis, it lacked that engine that really drove our interest.
That's not to say the script was bad. It had a strong, if a little safe, voice to it. There were a few nice moments, such as when the Phillies manager came out on the field and, in front of the world, reporters and all, told Jackie he was a monkey and to go back to the cotton fields. THE PHILLIES MANAGER. Not some player. That one stuck out. But because Jackie Robinson himself was so bland, and so reactive, I was never truly invested in the screenplay.
[ ] what the hell did I just read?
[x] wasn't for me
[ ] worth the read
[ ] impressive
[ ] genius
What I learned: I'll say this until the day I die. It doesn't matter how interesting a person's life is. If the person themselves isn't interesting, don't write a movie about them.