Genre: Superhero
Premise: When Bruce Wayne's new bride is killed, he vows revenge on the killer. But Superman lets him know that if he tries any sort of vigilante justice, he'll have to step in and stop him.
About: This is the 2002 draft of Batman vs. Superman, code-named "Asylum." It was written by "Seven" scribe, Andrew Kevin Walker, with revisions made by Akiva Goldsman. The project got fairly close to being made, but then everyone started freaking out about the mixing of these two gigantic superheroes and the movie was nixed.
Writer: Andrew Kevin Walker (revisions by Akiva Goldsman)
Details: 120 pages (June 21, 2002 draft)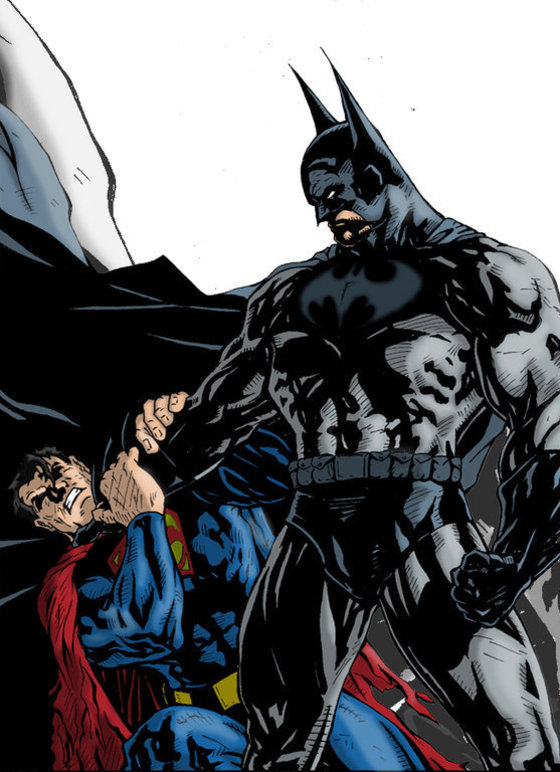 So last week I posted an article about how I didn't think Batman vs. Superman could be done. One of the things that seemed to support my belief is that they've been developing this thing for like 20+ years and no one has figured it out yet. The reason they can't figure it out is the same reason nobody figured out a movie like Cowboys vs. Aliens for its 20 year development period – because it's an idea that just doesn't work.
Now there are some who have said that the Batman vs. Superman concept worked just fine in comic book form so why can't it work in movie form? I must profess I haven't read these comics, but comics are way way different from movies. With a movie, there has to be a certain baseline reality. Comics allow for much more leniency in that world. For example, in a comic you can have characters like, "Evil Superman." You can't make that work in a film.
What I'm reviewing today was the closest Batman vs. Superman got to coming to the big screen (before now). The draft was written by Andrew Kevin Walker, THE go-to screenwriter at the time if you were writing something dark. He was the "come out of nowhere screenwriting story" of 1993 when his spec "Seven" found its way out of the slush pile, became a huge spec sale, and went on the screen with hot young director David Fincher directing and on-the-cusp-of-superstardom Brad Pitt starring. If someone was going to make this work, he was a good choice.
Batman vs. Superman starts out by informing us that Clark Kent and Bruce Wayne are BFFs! No, I kid you not. In fact, Bruce Wayne is getting married to this amazing chick named Elizabeth, and Clark is his best man! Lots of things have changed for Bruce, in fact. He hasn't been Batman in over six years, retiring the suit for a normal billionaire's life.
Clark, on the other hand, isn't doing so hot. The X-Ray visioned one has recently DIVORCED Lois Lane. Yeah, apparently being married to Superman isn't all it's cracked up to be, what with your hubby on call 24 hours a day 365 days a year. Not only that, but Supes is starting to doubt his whole purpose on earth. Why should someone who's not even from this planet get to decide who gets saved and who doesn't? It's all very stressful.
Speaking of stressful, Bruce's honeymoon takes a sour turn when his new wife is KILLED with a poisonous bumblebee dart! This pisses Brucey off, so he re-dons the Batman suit and goes looking for revenge. Superman is NOT cool with that, saying that if Bruce tries his little vigilante justice thing, he's going to have to step in and stop him. Bruce tells Clark to fuck off. This has nothing to do with him.
Eventually we find out that the person who killed Elizabeth is none other than THE JOKER. But that's impossible! The Joker is dead. Hmm, maybe this is a good thing. It's not technically murder if the guy's already dead. Not sure if that logic is going to work on Superman though. In the meantime, Clark is back in Smallville getting all nostalgic about his teenage years where he was in love with some girl named Lana. But he eventually suspects that his old jailed pal LEX LUTHOR had something to do with this murder. So he goes to visit him and, indeed, Lex is acting mighty suspicious about the whole thing.
Eventually, as Batman goes to take the Joker out in town square, Superman arrives and says if Batman's gong to kill the Joker, he'll have to go through him first. And that's when our little city battle between Batman and Superman begins – indeed with a kryptonite laced Bat-suit. After it's all over (as I predicted, nobody actually wins), it's revealed that Lex Luthor planned all this from the start, even training Elizabeth to be Bruce's perfect woman. He was hoping that Batman would kill Superman for him. But he was wrong. Now Batman and Superman are teaming up, TO KILL HIM! Let the real battle begin!
Okay, I was hoping that this script would make it clear that a Batman vs. Superman movie couldn't work. However, I'm left more confused than ever. The writers actually do a fairly decent job setting up the reason for Superman and Batman to fight. Batman is all about vigilante justice. Superman stands for a fair trial. Batman is enraged about his wife's death, and therefore isn't thinking clearly. So it makes sense that he becomes pissed at Superman for telling him what to do. I can see them brawling over that.
However, it's really hard to get past the setup. Clark and Bruce are best friends?? What is this, Judd Apatow's version of Superman vs. Batman? And Superman doesn't get divorced. Steve Carrell in his latest dramedy gets divorced. Nor does Superman go back home to think over his life. Zach Braff does. And when Bruce is getting married and he turns for the ring, only for us to see it's Clark Kent who's his best man… I closed my eyes and shook my head. It was exactly as I feared. As artificially plotted as one could imagine.
However, you eventually get used to their friendship. Never completely, but enough to keep reading. And actually, Bruce's storyline is pretty interesting. This whole thing with him gradually learning that the Joker has come back to life is pretty cool. I wouldn't mind seeing that as a standalone movie.
Unfortunately, the writers have no idea what to do with Clark in the meantime. After his divorce (ugh, it just sounds wrong. Superman doesn't get divorced!), he heads back to Smallville and literally hangs out doing nothing for 50 pages. It's scene after scene of him and this girl saying things like, "Remember when we went to prom?" Superman doesn't hang around feeling bad for himself. Superman goes out and saves people. So this entire portion of the story sucked.
But I must admit, once we get to the Superman vs. Batman battle, I was more convinced than I thought I would be. Walker and Goldsman do their job setting up the motivations for each. That's not to say the fight was perfect. In fact, it was a little confusing. Batman's suit was laced with kryptonite, so Superman couldn't "come within five feet" of Batman unless he wanted to get his ass kicked. So Superman does stuff like use his x-ray vision to attack him. Lame-o.
Eventually, the two do physically fight, with Superman even flying around with Batman on top of him. But if Batman is wearing kryptonite, how can Superman fly around with him on top? These are the kind of little details that don't seem important, but the nerds are going to be out in full force with this battle. If there's even one cheat, they're going to call you on it.
Also, Zak Snyder may have unintentionally painted himself into a corner with Man of Steel. One of the reasons this draft kind of works is because Superman keeps righteously telling Batman "You can't just kill people." Except didn't Superman kill thousands of people during his fight with General Zod in Man of Steel? So Batman kind of has a one-up on him with that argument.
All in all, this was better than I expected it to be. Maybe not "worth the read" level. But still okay. I don't know if they'll be using this draft as a template or a cautionary tale or what, but if they do, Batman's journey is really fun. They just need to give Superman the same level of shit to do. And if they do ever go with this "Joker comes back to life" thing, they need a better explanation from a guy like Lex Luthor than, "You'd be amazed at what DNA splicing and a billion dollars can do."
You can find the script yourself here.
[ ] what the hell did I just read?
[x] wasn't for me
[ ] worth the read
[ ] impressive
[ ] genius
What I learned: You can't just leave a character on the shelf and pick him back up when you need him. We've all done this. We have our main storyline (here, it's Batman investigating his wife's murder) and then a key character who we don't quite know what to do with in the meantime. So we "put him on the shelf" (give him a boring stagnant storyline) until we need him again. Never put a character on the shelf. Always have him/her pushing towards something so they remain active, relevant, and interesting.