Genre: Psychological thriller/horror
Premise: A group of rich college kids go out on their boat, only to learn that the disturbed kid they bullied the night before has snuck on to get revenge.
About: Bret Easton Ellis, best known as the author of American Psycho (which went on to become a movie starring then struggling actor Christian Bale) wrote today's screenplay which, at one time, was to be directed by American Gigolo and Cat People director (and Taxi Driver writer) Paul Schraeder. That was back in 2011. With Schraeder recently releasing that terrible Lindsay Lohan James Deen movie, I'm assuming he's moved on from Bait and that it's available to be picked up again.
Writer: Bret Easton Ellis
Details: 97 pages – 8/19/11 draft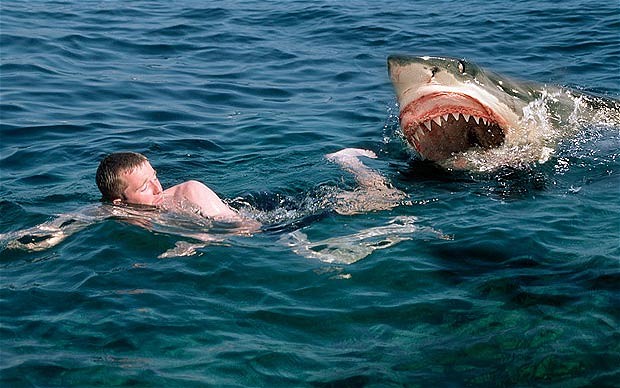 Studios, production companies and television networks have been desperately scrambling to figure out how to capitalize on the strange unforeseen phenomenon known as Sharknado. Even Syfy itself tried to follow the hit up with something called "Ghost Shark." They quickly found out that shark apparitions aren't even in the same tweetosphere as a sharknado.
Well, maybe we've found our next surprise shark-centric hit. Not that its writer is exactly an unknown. Brett Easton Ellis has already lit the literary world on fire with American Psycho. But he made the mistake of writing this script in a pre-Sharknado world. Things are different now. Sharks are "hot," as Hollywood likes to say. And hey, who doesn't want to see a group of frat boys being fed to the local shark population? Duh. I do!
Bait centers around 21 year-old Cole, a meek kid who works over at the marina as a local boat hand. At this particular moment, Cole is being threatened by a young woman named Rainn. Rainn is trying to explain to Cole that the two never had a relationship and that she doesn't want him creeping her out anymore. If he keeps trying to call her or see her, she's going to have to get a restraining order. Cole seems baffled by all of this, and since we don't know the specifics of their relationship, it's hard to tell if she's overreacting or Cole really is some psycho stalker.
After that bummer of an ordeal, Cole heads out to the beach, where he spots a college party going on. He sees a beautiful 22 year-old girl, Haley, drinking with her friends and decides to approach her. Despite her being way out of his league, she finds him interesting, and the two talk and flirt for awhile.
Little does Cole know, Haley's on-again-off-again perpetually drunk boyfriend, Ryan, catches wind of their chat. He storms over with his frat buddies and things get out-of-hand really quickly. Ryan beats Cole to a pulp, then his friends strip him down until he's naked and Ryan actually urinates in his mouth. Yeah, it's disturbing stuff. Eventually Haley yanks Ryan away and everyone darts off as the police show up.
The next day, a beaten and bruised Cole learns that his attackers are going out on a joy ride on one of the local boats. He works his connections and is able to sneak on as the boat hand. Besides Ryan and Haley, we have Ryan's best bro-friend, Cade, Cade's hot bro-girl, Felicia, and the only non-gorgeous (but still attractive) member of the group, Chloe.
The boat goes out onto the ocean, anchors, and everything seems to be going fine, until Cole comes upstairs and they recognize him. Everyone thinks something is up, but Cole convinces them that it's all a coincidence and that he's over last night. Let bygones be bygones. The bro-clan is happy that the party's still on, so they all dive into the water and start horsing around.
And that's when shit gets ugly. Cole slashes the captain's face with a box-cutter. He then yanks the ladder up so that nobody can get back onto the boat. And that's when the sharks show up. The group pleads to please let them back on the boat, but Cole stands idly by as the sharks start munching into them one by one.
Eventually, Cole lets Haley up, but not to save her. I don't know if this guy is off his medication or what, but it appears that Rainn's initial fear that Cole was a psycho was spot on. Cole actually tries to rape Haley. The blood swirling around in the water has now brought even more sharks, and it's complete chaos. Haley's able to get away, but if she plans to get out of this, she'll have to figure out how to get her friends back on the boat, a task that's looking less and less likely as the sharks get hungrier and hungrier.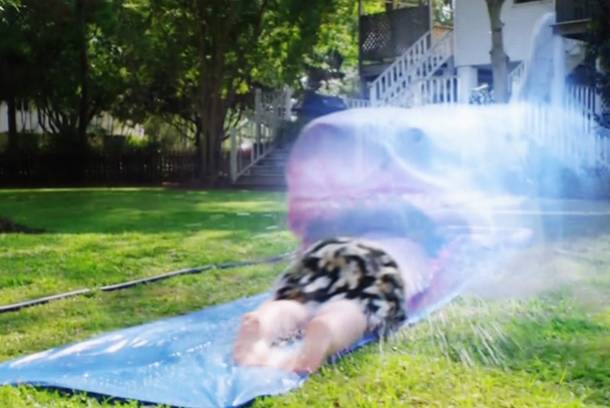 No ghost sharks here!
You know, I've never read American Psycho. I saw the movie, which I remember thinking was pretty good, but this is my first introduction to Ellis's writing. Obviously, it's probably a lot different from his novel writing, but that sort of detached and violent misogynistic style he's famous for was clearly on display here.
I mean there are some really disturbing squirm-in-your-seat moments, such as the friends ripping Cole's clothes off and urinating in his mouth. Or when Cole tries to rape Haley. You read those moments with a horrified fascination, wondering if what's happening is really happening.
But what surprised me about Bait was how dialogue-centric it was. I mean this thing is pure dialogue. You know how a lot of screenwriters will write things in between their dialogue lines like, "Joe pauses," or "He turns the light on," or "Frank sighs, disappointed." Ellis doesn't have any of that. It's just pure dialogue. And it's refreshing. I think we can overwrite all those "between-dialogue" descriptions when, in reality, none of them are probably needed. I mean, I didn't miss them here. And the script just flew by as a result.
What's most interesting about Bait is that there isn't really anyone to root for. Or, I should say, everyone you want to root for is also someone you hate. At first, we have Cole, who's beaten to a pulp by the frat-boys. Naturally, we sympathize with him. We don't like bullies beating up people so we want him to get back at them. However, when Cole starts killing people and trying to rape Haley, that kind of overrides the whole "beaten up" thing.
Strangely, then, Ryan becomes more sympathetic. We want him to somehow get back on the boat in order to save Haley. However, Ryan's the one we saw pissing in a guy's mouth the night before. So we're not exactly on the BFF train with him either. This leaves us constantly feeling wrong or confused about who we're rooting for, which leaves a strange taste in our mouths as we're waiting to see what will happen.
The thing is, the situation in Bait is compelling enough that, regardless of who we are and aren't rooting for, we're still hooked. We want to see how this is going to end up. To me, Bait is driven completely by suspense. From the second Cole decides to sneak on that boat, we know this is going to end badly. And from that point forward, a number of things (him taking the ladder away so the guys are stuck in the water, him bringing Haley back on the boat) further our curiosity about what's going to happen next.
Besides some really difficult-to-get-through passages, the only real complaint I have about Bait is I wish Cole would've done a little more to bring the sharks around. This is called "Bait," yet the sharks showing up almost seems to be a lucky accident. If he could've planned that, like secretly leaked a bloody trail of meat as they drove out into the ocean, then his plan would've seemed more clever.
But other than that, this definitely kept me engaged. And it's unlike any script I've read. It's this sort of psychological horror script that's dialogue-driven for 70% of the story, then it turns and becomes all action (with the sharks' arrival). This guy's definitely got his own voice. We'll have to see if he's able to use that voice to get Bait back on the Hollywood radar.
[ ] what the hell did I just read?
[ ] wasn't for me
[x] worth the read
[ ] impressive
[ ] genius
What I learned: Limit your "between-dialogue" descriptions. You probably don't need them. Try this experiment. Go to a heavy dialogue scene in your script and eliminate all the description in between your dialogue. Chances are, it will read better. You may have to add back two or three descriptions in order for the scene to make sense. But otherwise, most of that writing will be extraneous.