With indie sleeper "Ex Machina" kicking ass this weekend at the box office, I thought those who missed my script review might want to check it out. Enjoy! And now on to Black Mass…
Genre: Drama/Biopic
Premise: The real-life story of Whitey Bulger, a notorious Boston gangster who became an informant for the FBI to help take down the mafia.
About: If you're a screenwriter and you haven't explored writing a biopic, what's wrong with you?? The genre is taking over the industry. And I think I know why. With the "star system" in Hollywood declining, biopics have become the one remaining area for movie stars to shine. Nobody goes to American Sniper if Ted Danson is playing Chris Kyle. Black Mass stars Johnny Depp and was to be directed by journeyman filmmaker Barry Levinson, but they decided to go with hot new shiny object Scott Cooper instead, who directed the gritty Christian Bale flick, "Out of the Furnace," and the Jeff Bridges country music feast, "Crazy Heart." Final screenplay credit was split between Mark Mallouk, who's making his screenwriting debut here (he was previously a producer) and Jez Butterworth, who's credited for such films as Edge of Tomorrow and Get on Up. Interestingly enough, this script notes that Johnny Depp has final say over the screenplay. I suppose this is more common than we know but it was a little surprising to see it in writing.
Writer: Mark Mallouk (this draft doesn't yet include Butterworth) – based on the book "Black Mass: Whitey Bulger, The FBI and a Devil's Deal" by Dick Lehr and Gerard O'Neil
Details: 115 pages – undated (looks to be a late 2012 draft)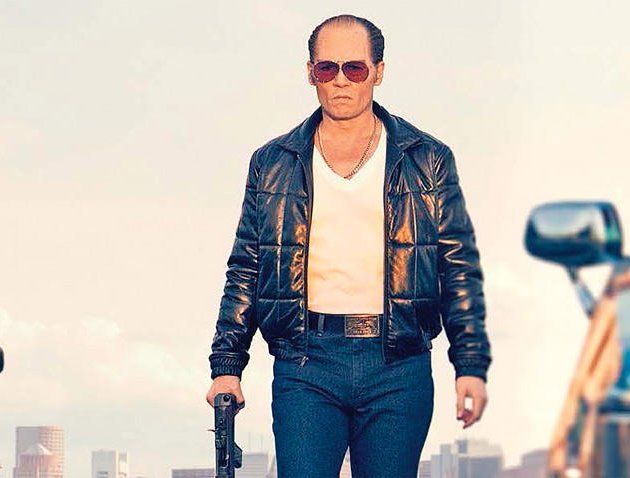 After the recent trailer for Black Mass hit, I had to read the script. I love that they did something different with the trailer, focusing on a single scene instead of a bunch of them. And Johnny Depp. Whoa! The guy is practically unrecognizable as Whitey Bulger. And he's acting again! I'm not sure you can say that about his previous five movies. Johnny Depp is the most kind, gentle, soft-spoken person in real life. But that man in the trailer? That was someone entirely different. That man was terrifying.
It's 1974 and FBI Agent John Connolly has just moved back to Boston as the self-proclaimed "savior" of the city. The Irish and Italian gangs have turned the town into a hell-hole and he's going to be the one to clean it up. His fellow Feds are skeptical, but Connolly's got a secret weapon. He knows Whitey Bulger, the man running the Irish gangs.
Connolly's idea is this. The FBI really wants the Mafia (the Italians). He recognizes that getting them out of the way is good for the Irish. So why not use the Irish's knowledge about the Italians – the kind of information the Feds don't have access to – to take them down? So Connolly goes to Bulger and asks him if he wants to be an informant.
It takes some convincing on both sides but soon everyone's in, and thus begins a working relationship between Connolly and Bulger. Bulger feeds Connolly info and the FBI looks the other way when Bulger does unsavory deeds.
The problem is, Whitey Bulger works on his own time frame, not the FBI's. He wants to know he can trust Connolly before he just starts throwing information at him. So there's this constant tug-of-war between Connolly and his bosses regarding time. He needs more. They give him less.
Eventually the plan starts paying off, with Bulger giving the FBI the mafia's hideout. But it's a double-edged sword. With each new thing they learn about the mafia comes a new tidbit about Bulger himself, who they're learning is a MUCH bigger criminal than anyone knew. And thus the question is asked. Are they getting rid of a demon only to replace him with the Devil?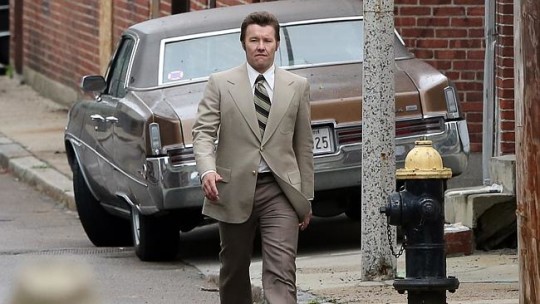 Joel Edgerton will play John Connolly.
Black Mass starts out with a great opening sequence. It's 2011 and one of the FBI's ten most wanted men, Whitey Bulger, has been spotted living in a small apartment in Santa Monica. The man who's reported him to the Feds, the apartment manager, is tasked with tricking the notorious gangster to come outside his apartment so the FBI can scoop him up and arrest him.
Whitey is a man who used to have people like this manager sawed into pieces for even considering such a thing. But when the Feds tell you you have to do something, you do it. The scene is not only packed with suspense, but it brilliantly sets up our subject, conveying just how much of a badass Whitey Bulger is.
At the end of this scene, I scooched into my chair with a smile, ready for a long exciting adventure about the man who many feel was the most violent and dangerous in Boston's history. You can color me disappointed, then, when that adventure never came.
Black Mass makes a shocking choice early on that ends up neutralizing its biggest asset. Instead of telling us the story through the eyes of the legendary Bulger, Black Mass focuses on the vanilla Jack Connolly to tell its tale.
This may have worked had we seen enough of Bulger's antics to satisfy our morbid curiosity. But the script adds this storyline by which Connolly thinks Bulger is a harmless second-rate criminal. That's how he was able to sell to the Feds going after the Mafia and not Bulger himself.
For that to work though, Connolly (and by association, us) can't see Bulger do anything bad. As you'd suspect, this has a catastrophic effect on the level of drama in the film. Since Bulger can't do anything bad, Bulger can't do… well, anything at all! All of Bulger's scenes are relegated to him nodding and doing whatever Connolly asks of him. I hate to put it this way, but 80% of this movie is Whitey Bulger being the FBI's bitch.
I was shocked. Where was this terrifying legendary criminal I'd heard about? He wasn't in this film. Which means Black Mass runs the risk of being the single biggest example of false advertising in biopic history. It would be like making a movie about Michael Jordan and never showing him play basketball.
As for that great scene in the trailer – it's in this draft. But it's an outlier. We don't get any other scenes like it (save for 1-2 generic kill scenes) to show how terrifying Bulger is.
The plotting had issues as well. There's a distinct lack of BUILD as the story goes on, and I think that's because the script failed to establish the stakes of getting rid of the Mafia. I barely knew anyone in the Mafia here and it was never conveyed to me why getting rid of them was so important.
Lots of writers mistakenly believe that just saying so is enough. So if a character says, "Man, that Mafia is bad. They killed that woman last week," then we'll want the Mafia taken down. But that's not how movies work. Movies work by SHOWING. Not TELLING. If you show the Mafia rip an innocent man to shreds because he looked at them the wrong way, NOW we'll understand why the FBI needs to stop them. We've seen how dangerous they are with our own eyes.
But that's a small part of a much bigger problem. Nobody really does anything bad in this movie. Not Whitey. Not the Mafia. It's the PG version of the Boston crime story. Sure we hear about some bad things, but I don't go to a movie to hear about something. I go to SEE it.
Of course, the nature of development is that you keep working on a script until it's the best that it can be. And they did bring on another writer to do some drafts after this one. But something tells me the current approach of this script is unfixable. You can't neuter and borify the most ruthless killer in Boston history. You have to let a character like that loose.
I went into this script thinking Whitey Bulger was a major badass. I left thinking he was just a regular guy who occasionally committed crimes.
[ ] what the hell did I just read?
[x] wasn't for me
[ ] worth the read
[ ] impressive
[ ] genius
What I learned: Use visual cues to convey time passing. There was a moment in Black Mass where the FBI director tells Connolly, "It's been six months and Bulger hasn't given us anything!" So poorly was the passage of time conveyed, that had that same character said it had been "2 weeks," I wouldn't have batted an eye. Improperly conveying time can make a script feel drifty and sloppy. So use visual cues to help the reader along. For example, you might make a key female character pregnant. A tiny bump one scene and a big bump another scene instantly conveys 6-7 months have passed. A family gets a puppy. A few scenes down the line, that dog is now full grown. Highlight seasons changing. It's sunny and 85 out. Cut to next scene, it's now snowing. These are the most obvious examples so I actually encourage you to be creative and come up with your own. But if we have no idea how much time is passing in your story, we can become confused. And confusion often leads to frustration.
What I learned Two: If you have a compelling character, you want to construct a storyline that allows that character to thrive. For example, if you're writing a story about the greatest astronaut in history, you probably don't want to set the entire movie down on earth.