Genre: Sci-Fi
Premise: An astronaut in 1969 tries an experimental aircraft that accidentally sends him 50 years into the future.
About: This script finished with 10 votes on the 2014 Black List. The writer, Kimberly Barrante, graduated from the NYU Tisch School of Arts. According to an interview, this is the first script Barrante wrote, and one she started while at NYU.
Writer: Kimberly Barrante
Details: 111 pages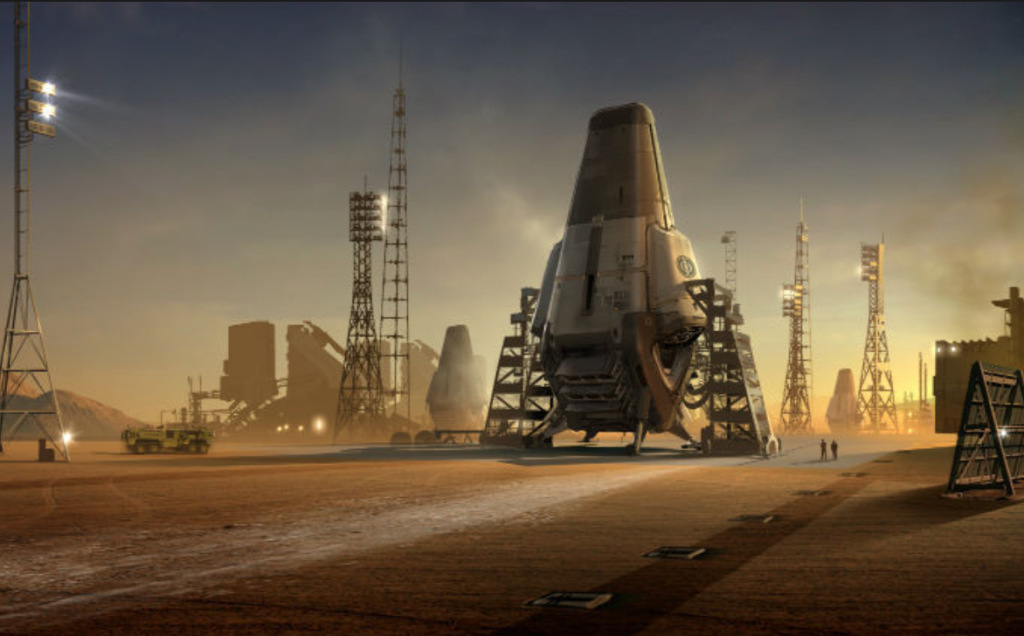 One of the things I've been struggling a lot with lately is originality. I'm reading the same shit over and over again, from concepts to execution, and, in most cases, am so far ahead of the script, I might as well skip to the last five pages.
This led to me asking the question: How do you find originality in a world with 100 years of cinema history and 400 tv shows? Do you just give up? Accept there's nothing new to say and copy your favorite writers?
Then last night I turned on Black Mirror, the unexpected British hit on Netflix, which spurned Netflix to produce another season, recruiting top level talent from the acting and directing worlds (Bryce Dallas Howard and Joe Wright take on the first episode of Season 3).
The show is about modern technology's effect on society – and it was from this synopsis that I realized: BAM. That's where you find originality, in the ways our world is changing, in the new developments, whether they be technological or sociological or psychological, stemming from the way our world evolves.
Of course, there's a caveat to that. You are now competing in a brainspace occupied by a LOT more people. For example, if you wanted to write a movie about the effect of Instagram on the populace, you'd be competing with the 50 million people who use the app and 50 million others who have heard of it.
In that sense, it's a double-edged sword. You've been given some originality real estate, yet everyone on the planet already owns a piece of it.
The connective tissue between this and Celeritas is that writer Kimberly Barrante has somehow managed to find originality in a world where it doesn't exist anymore. I've never seen a story told quite like this. But as we've pointed out here before on Scriptshadow – coming up with something original is one thing. Making it good is another. Let's see if Celeritas is good.
It's 1969 and Paul Hawkins is an ace astronaut about to get the opportunity of a lifetime. He's been chosen for a top secret project called "Janus," which will put him in an experimental aircraft that will attempt to break the speed of light.
Meanwhile, in 2020, NASA has just recovered a ship called "Janus" that has landed in the ocean. This is, of course, the same ship, which would imply the project was a success. However, NASA seems confused by the arrival of Paul, believing that his ship had blown up during take-off back in 1969.
Speaking of 1969, we repeatedly jump back to it where an entirely different story plays out. Paul has a twin brother, Norman, and both are in love with the same girl, Maggie. While Paul was always considered the Golden Child, Norman was more the workhorse of the family, the guy who gets all the shit done that nobody wants to do.
We keep cutting back and forth between the past and the future, eventually meeting Old Norman and Old Maggie, who are now married, as they attempt to break Paul out of NASA. Will NASA take Paul out? Or will this rag-tag group somehow escape? And if they do, how does Paul live in this new unfamiliar world?
Celeritas feels to me like a concept in search of a story. We have this pilot who jumps forward in time (the concept), yet the story doesn't want to focus on that. It would rather focus on 1969 and the more mundane story of this twins love triangle.
It'd be like if you wrote Jurassic Park, but instead of focusing on a group of people getting stuck in a park with killer dinosaurs trying to chase them, we instead focused on a young man who was trying to be the first in his family to graduate college.
We have fucking dinosaurs man! But instead we've got our eyes on a Diplomasaurus.
Celeritas is also lacking major GSU. Now I'm aware I have a bias towards GSU. And I recognize it's not the only way to tell a story. But when a script seems to openly avoid using any story-enhancer, I get frustrated.
Because without a goal, what are we looking forward to here? What's the end game? What are these people trying to do? Even when they break Paul out of NASA, which is around page 75, there isn't a plan to it. It's kind of like, "Okay, let's just go somewhere where NASA isn't."
The great thing about a goal is it gives your story purpose. The reader understands what needs to happen for the characters to complete the journey. And the added benefit with a goal is that you can now add STAKES, you can now add URGENCY, two things that turbo-ize a story.
Take the upcoming alien arrival flick, Arrival. That script could've been very similar to this one. Aliens are coming. But instead of focusing on them, you focus more on the psychological effects of people in a post-aliens world. There's no point. It's more of a character exploration.
But instead, Arrival gives us a clear goal – figure out the alien language so they can communicate. They then add stakes. Other countries are also talking to the aliens. Whoever breaks the language barrier first will receive alien tech that could alter the balance of the world. That naturally lends itself to urgency. It's imperative that they beat out these other nations.
A lot of newbie writers make this mistake. They attempt to write character-driven fare, but do so at such an expense to story, that there's no meat to the script. Sure, we're kind of interested in how Paul lost Maggie to Norman back in 1969. But since the cool conceptual stuff is so passively developed, it's hard to care that much.
There's a brief moment in Celeritas where the honchos at NASA imply that Paul may be connected to the Soviets somehow. That there's more going on here than meets the eye. I was like FINALLY! We're exploring this cool concept! But that thread is dropped as soon as it's raised, and we're stuck again with more hang-dog looks between Paul and Norman as they reconcile Maggie choosing between them.
I give Barrante major props for trying something different here. And as I mentioned before, this script reads unlike other scripts out there. But creating something different is just the beginning. You need to embed a compelling story along with it, preferably one with those storytelling tenets (GSU) that can take an average tale and turn it into a kick-ass one.
[ ] What the hell did I just read?
[x] wasn't for me
[ ] worth the read
[ ] impressive
[ ] genius
What I learned: Be careful about running away from your idea. If you have a cool idea, it probably shouldn't be the B-story. Doing so will definitely make your script more original. But unless you create a hell of an A-story, you're going to have the reader wondering why you aren't focusing on the coolest part of your premise.