Genre: Dramedy
Premise: A talented chef loses his job after a bad online review, which inspires him to open a food truck.
About: When your acting career is in shambles, what do you do? Why, you write a role for yourself! Jon Favreau did it with Swingers, and even though he's currently one of the biggest directors in town, acting opportunities have gotten so thin, he's gone back to his roots, this time with "Chef," which Favreau wrote, directed and starred in.  The film also stars his Iron Man buddy Robert Downey Jr., Scarlett Johannsen, Sofia Vergera and Dustin Hoffman.  I originally reviewed this script in my newsletter, but decided to post it since the trailer came out yesterday.
Writer: Jon Favreau
Details: 96 pages (1/31/13 draft)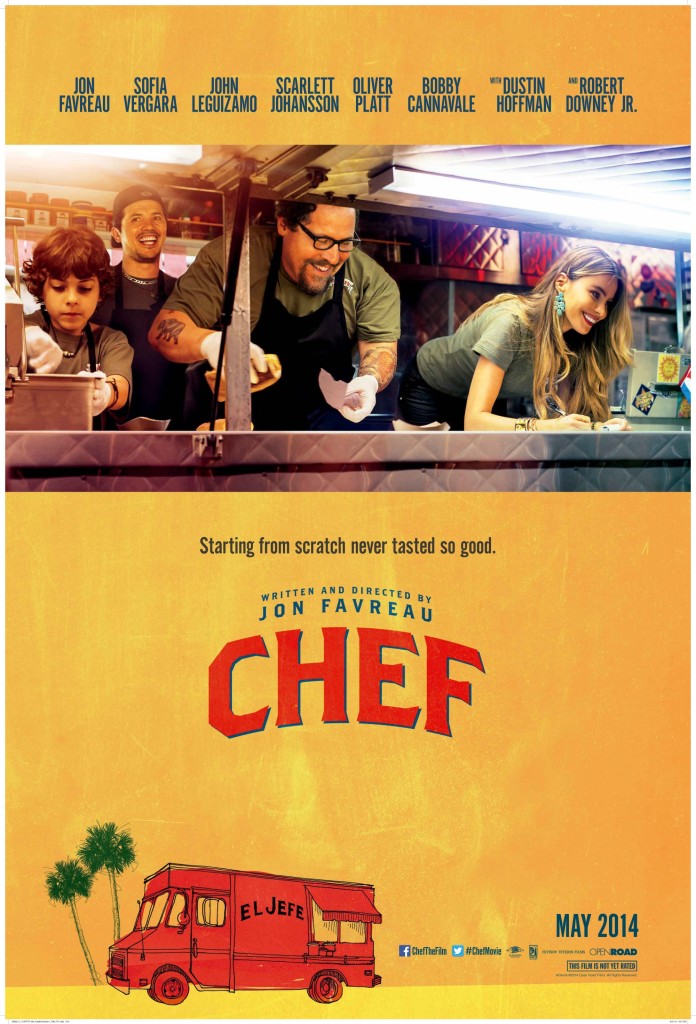 There's been lots of confusion in Hollywood over the "Chef" projects. On the one hand you have the undisputed heavyweight chef script champion in Steven Knight's "Untitled Chef Project," which began with David Fincher and Keanu Reeves attached. Currently, Bradley Cooper has come on, but that project is still without a director. Then you have this script, which has been causing all this confusion as people have been like, "Wait, is Jon Favreau now directing the Untitled Chef project?? I don't understand." I hear that Cannes was quite nutty as investors were approached by both projects and didn't know which was which (or if they were indeed the same project).  They finally sorted it out.  Favreau's Chef was pre-sold.  But we're still waiting for Untitled Chef Project to get produced.  :(
Favreau's career has always been on my radar because, DUH, he wrote Swingers, one of the best films of the 90s. He used that to launch his acting career, which led to his directing career, but he really hasn't written much since. There was Made, but that was kind of a disappointment. I guess it wasn't terrible, but there are movies that know want they want to be and there are those that don't.  Swingers knew exactly what it wanted to be.  "Made" never figured it out.   Luckily, Chef is a lot closer to Swingers than it is "Made."
The curiously named Carl Casper is a few years north of 40 and a few pounds north of the Surgeon General warning. But as someone everybody believes is an "up-and-coming" chef, he's got more important things to focus on, like his menu for tonight's big food critic, a culinary blogger with 3 million Twitter followers (Twitter plays such a big part in "Chef" that the subtitle "Twitter Gone Wild" could've easily been placed next to it).
The night doesn't go well, unfortunately, but it's only partly Carl's fault. The control freak owner of his restaurant demands that Carl not serve anything new to the blogger and stick with what's made them successful. Predictably, then, the blogger writes that the menu (and food) were generic. After the review goes viral, Carl gets pissed and gets his young son (who plays a prominent role in the script) to teach him what "viral" means. This leads to Carl's first Twitter account, which leads to him calling out the blogger, a result of him not really understanding how Twitter works.
The result is an online war that eventually leads to Carl getting fired from his job (or quitting, depending on how you look at it). With Carl landing on TMZ soon after and no restaurant in town willing to hire him, there are few prospects for the man who was once a happy place for foodies everywhere.
That's when Carl's ex-wife gets involved. A 2nd generation Cuban who's very opinionated, she thinks Carl doesn't do well working for others and should open up one of those trendy food trucks. She's got a lead (another ex-husband of hers owns some trucks actually) and suggests the whole family head down to Miami, get the truck, and see what happens. Carl reluctantly gives it a shot, and I don't think I'm spoiling anything (but turn away just in case) when I say the family gets back together, the truck turns out to be a great idea, and everyone lives happily ever after.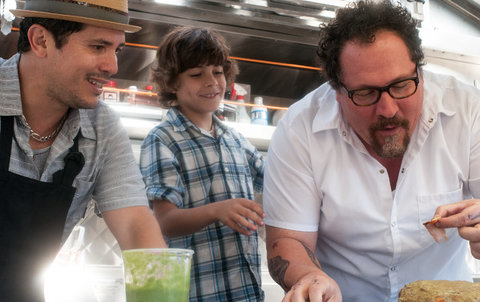 The biggest surprise to me about Chef is how it was structured. And I guess I shouldn't be surprised. Swingers had an awkward structure as well (they go to Vegas in the first act only to…come back to LA for the rest of the movie?). But Swingers almost celebrated its plot-less-ness.  "Chef" actually sounds like a movie. When you read the logline, you fully expect the script to be about a chef who falls from grace then tries to make it in the food truck business. The fall would happen in Act 1, and the food truck stuff would start in Act 2.
That's not how this works. We spend the ENTIRE first and second acts on Carl's fall. And then taking a page out of It's A Wonderful Life, Chef makes its final act the act that explores the hook (in this case, starting a food truck).  Does this unorthodox approach work?  Usually, it doesn't have a prayer.  Not getting to your "hook" until late is often the result of a writer who drags scenes on for way too long and uses groups of scenes to repeat information we already knew the first time they said it.
But I have to give it to Favreau. He has such a breezy fun way of writing (almost the entire script is dialogue) that you somehow don't notice the fun part of the story hasn't started yet.  As long as you can keep something happening (problems, conflicts, things that need to be resolved), you don't technically need to follow the 3-Act Structure in a screenplay.  Just continue to make bad shit happen to your hero and see how he gets out of it (or doesn't).  Here, Carl is dealing with enough issues that we stay entertained.
It starts with him getting ready for this evil food critic.  Right away, the stakes are high.   We have the heartbreak of the owner coming in and telling Carl he can't cook the food he wants to.  Instead he must cook his (the owner's) boring food.  Problem number uno!  We then have the fallout from the review, the Twitter war, the second critic showdown, and family problems, which take center stage as the script goes on. The conversations between Carl and his son are particularly heartbreaking, as he makes it clear every chance he gets that he wants mom and dad go get back together.
If there's a fault in this family dynamic, it's that Carl and Inez's (the ex-wife) relationship is very robotic. Or maybe not robotic, but businesslike. They're really good at having conversations and being cordial and giving each other advice. But I never got the feeling that they still pined for each other. So even though we want them to get back together for the son's sake, I'm not sure we care that much if they get back together for THEIR sake.
Another thing I liked about Chef was how Favreau is obviously exploring aspects of his own life. The chef position is his directing position. This blogger obviously represents his critics. When people are talking about how Carl used to take chances and now he does safe and predictable food, it's Favreau making stuff like Iron Man and Cowboys and Aliens. And clearly, moving his career to a food truck represents this here script, Favreau going back to his roots and making a small movie that he's passionate about.
Does it succeed? Yes, I think it does. But maybe not in the way Favreau intended. The script is good. But the story itself is a little soft. I mean, at its heart it's a family film. And I don't know how indie or "edgy" you can get with a family film. But you're not going to find an easier read this year. This is good solid spec writing.
[ ] what the hell did I just read?
[ ] wasn't for me
[xx] worth the read
[ ] impressive
[ ] genius
What I learned:  We all know to explore ourselves through our characters.  But if you really want those characters to pop, explore the parts of yourself that you hate the most, that you're the most embarrassed about, the things that are truly holding you back in life.   It must not have been easy for Favreau to admit to himself, through his character, that he's grown safe and generic. But that's exactly what he needed to do to make this character authentic, to make us care for him.