This might be the craziest sci-fi script I've ever read.
Genre: Sci-fi
Premise: In a future where oceans have risen and mind-controlling aliens have taken over, a psychiatrist fights to save his family, a task that gets progressively harder when he realizes that nothing is as it seems.
About: This is a rarity these days. A big sci-fi spec sale. It comes from the writer of Oblivion, which was a cool flick that could've been awesome if it had a bigger sandbox to play in.
Writer: Karl Gajdusek
Details: 121 pages (8/24/16 draft)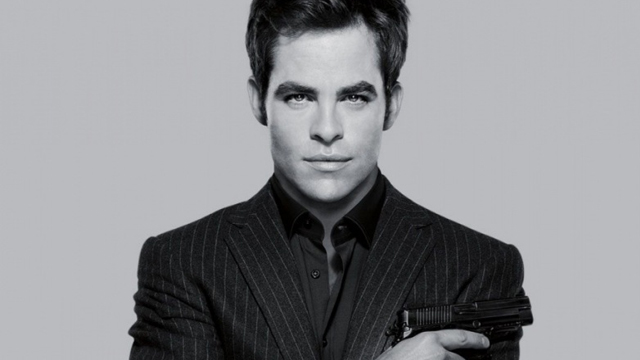 Chris Pine for Jake??
Yaaaay!
I'm in sci-fi heaven. Not only do I get Valerian in three days but I also get to read a big sci-fi spec sale today!
And for all you Valerian pre-haters, let me just say… uh, 68% Rotten Tomatoes!
What now?
Mic drop.
BOGHHHSHAFSSHSH! (explosion sound)
Valerian for life.
Valerian is actually the appropriate movie to be talking about in regards to Courage because both screenplays appear to be batshit crazy. But could Courage actually be crazier?
Courage opens up in a future Chicago that seems to be run like 1960s East Germany. People walk around in colorless clothes, don't look each other in the eye, and signs like, "Remember. Two is a conversation. Three is a conspiracy," are posted everywhere.
Jake Phobetor is a psychiatrist with a dying marriage trying to help people get through these troubling times, and after a few scenes, we learn just how troubling those times are. Chicago, it turns out, is encased in a giant glass dome that keeps out the swelling oceans which have risen due to the melting of the ice caps.
And, oh yeah, there are giant sea aliens known as the "Talis" trying to break in so they can kill everybody. Which is why there is an "Ark" spaceship that everyone's trying to win the lottery to get on. Jake knows he's not going to be picked, but he rigs the system to get his 8 year old son, Tash, on.
Right when they get to the ship, however, the dome breaks, and a 100 foot wall of water shoots at them. Too late for Jake and his son. Except that we CUT TO BLACK and Jake wakes up in a cryo chamber on that Ark 2 years later.
What Jake learns is that he was dreaming. Well, sort of. The Talis are real, but he and his family escaped. The reason Jake is being woken up now is because the Talis are on their tale. Their ship chased the Ark and have finally caught up. The woman who woke up Jake needs his help to pull a maneuver that will destroy the approaching Talisians.
Jake has no idea what's going on but does the best he can, only to black out and wake up… AGAIN. Except this time he's on a 1976 science-fiction movie set and he's the star of the movie. It turns out that the science-fiction story wasn't real. He's just playing a part. Or is he?
Jake, convinced that his family is still in danger, convinces the writer to tell him how to save his wife and son, then goes back into the Ark ship to finish what he started.
One of the most important qualities a writer can have is the courage to TAKE CHANCES. If you're not taking chances somewhere, your writing isn't going to be very compelling.
When I used to compete in tennis, the thing that often separated the good players from the great ones was fearlessness, the ability to let loose and take chances. Go for an inside-out forehand winner when you're down match point instead of gently pushing the ball back and hoping the other guy makes a mistake.
But here's the thing about letting loose and ripping forehands. They don't always go in.
And as much as I admire the hell out of this screenplay, I don't think it lands inside the court.
It's just too freaking crazy.
Don't get me wrong. I was rooting for it. You guys know me and sci-fi. I'm dying for the next great sci-fi movie that's not one of these studio assembly line doohickies. But if I'm being a fair chair umpire, I have to be honest and say this one was "out."
In attempting to figure out where the script lost me, I'd have to say when we showed up on a movie set. As a writer, you want to be aware of the audience's expectation. Once you set an expectation, you don't want to betray that. In other words, you don't want to promise an intense drama and then when people show up to see your movie, give them a romantic comedy. They're going to be disappointed.
And this script is set up as heavy imaginative alien science-fiction. That's the expectation I'm working with. So when we then end up on a 1976 science-fiction film set? I'm like, hmmmm. This is a huge tonal and subject matter shift. As much as I was trying to, I couldn't get on board with it.
And that's too bad because, structurally, the script is pretty sound. It utilizes a mystery approach in the beginning. We're living in this strange city with strange rules and we're trying to catch up with what's going on. Then, right when we do, we're thrust into this race to escape the chaos. And that's followed by us waking up on the ship and needing to take out an imminent alien attack. So we move from mystery (what's going on?) to a goal (get my son out on the Ark) to urgency (hurry and kill the approaching alien ship) through the first half of the screenplay and it's all good.
But when the movie set arrives, we switch from the intensity of a man trying to save his family to problems like: How tough it is to be a movie star. It's too radical a shift, way lower stakes, and, quite frankly, not as interesting.
Now we do jump back into Jake's pursuit to save his family but something about knowing this is all tied to a fake movie production lessens the desire to see Jake succeed.
Also, there's too much going on here. One of the temptations of science-fiction is to go nuts. Is to include every wild idea you have. But when there's already a lot going on, adding more eventually leads to the law of diminishing returns.
For example, a lot of time is spent early on setting up this idea that not only are these sea aliens attempting to break through the water bubble dome, but they also have some mind-melding power where they can telepathically destroy your brain so you're a vegetable. Even more time is put into explaining that this takes extra energy from the aliens and it will take them longer to break through the dome as long as they keep trying to destroy random human brains…
But ultimately, it's not important. The more pressing story is a guy trying to save his family amidst an alien attack. That's what the audience is emotionally attached to and therefore things like mind-melding brain attacks are distractions. The point is, you want to be creative and have fun in your sci-fi universe. But at a certain point you have to say, "This is the cut off point. I'm not going to keep adding more shit."
And hey, I'm not going to pretend like it's easy to know where that line is. It's often a feel thing. But my recommendation to all sci-fi writers out there, is "When in doubt, cut it out." I'm telling you, you're going to reap the most benefits from keeping your sci-fi story as simple as possible.
With all that said, I give Gudjesek credit. This is unlike ANYTHING I've read all year. If you like weird sci-fi and like to be surprised, you'll definitely want to check Courage out. I just think it's trying to juggle too many balls at once. And for that reason, it wasn't for me.
[ ] What the hell did I just read?
[x] wasn't for me
[ ] worth the read
[ ] impressive
[ ] genius
What I learned: Improve upon sci-fi tropes – A great way to up your sci-fi game is to take a sci-fi trope and ELEVATE IT TO THE NEXT LEVEL. For example, in Courage, we have a city under a dome. We've seen that, right? However, Gajdusek one-ups the trope by melting the polar ice caps and having 100 feet of water on all sides of the dome. I'd never seen that before. It's these things that give your sci-fi script a unique feel.